American fashion brand Kate Barton presented its Spring Summer 2024 Collection on September 11th, during the ongoing New York Fashion Week. With a firm commitment to pioneering textiles and sustainable practices, the Kate Barton Spring Summer 2024 Collection comes forth as a refreshing breath of fresh air in the fashion sphere. This season, Kate brings to the ramp an artistic marriage of innovation and timeless elegance, paving the way for a new era of American eveningwear. A portfolio of sculptural, breezy silhouettes and mesmerizing textures lay the groundwork for this phenomenal collection that is both conscious and luxurious.
SPRING SUMMER 2024 COLLECTIONS
The vibrant collection unfurls a rich tapestry of separates, coordinated outfits, and adaptable garments, all steeped deeply in the core tenets of versatility and longevity which form the crux of Kate's design manifesto. Kate crafts accessories utilizing chrome leather and incorporates magnetized detachable components into her clothing lines, skillfully creating a metallic illusion while preserving a practical ease of wear.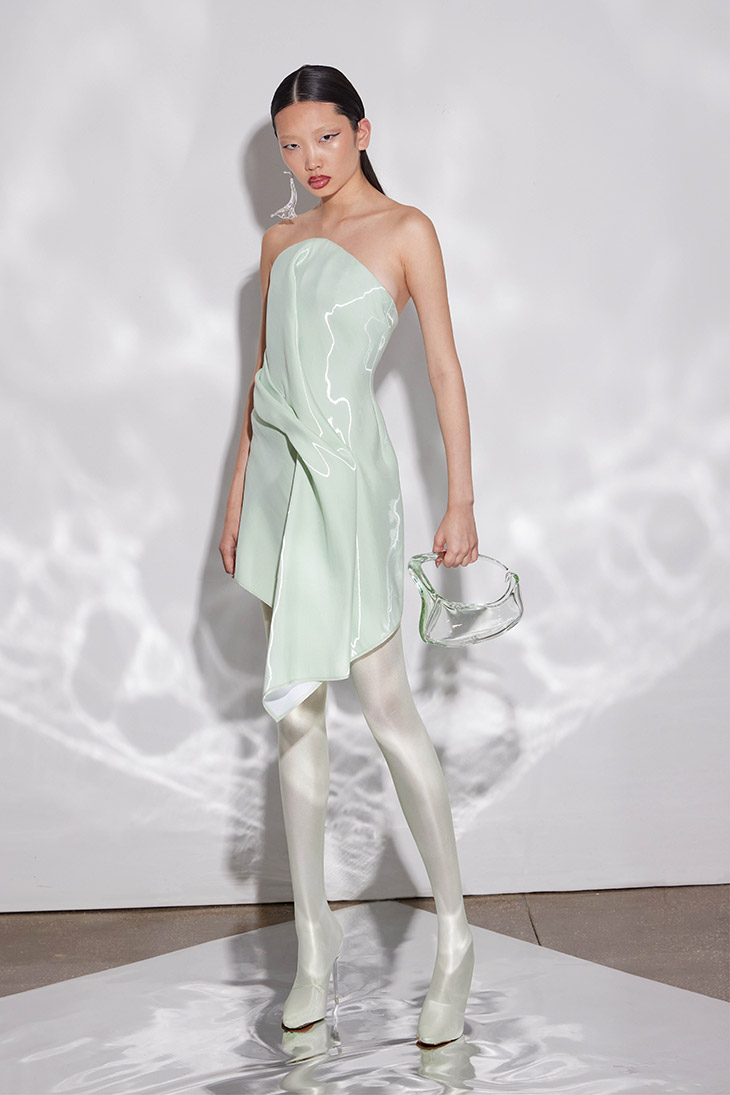 A noted alumnus of The Savannah College of Art and Design, Kate has continually been lauded for her exemplary approach to fashion. Based in New York, this American designer has carved a niche for herself, revolutionizing the realm with her tech-savvy approach, avant-garde draping techniques, and a knack for shape engineering. Her innovative lens has defined a distinctive pathway that goes beyond the conventional avenues explored in fashion.
The hallmark of Kate's brand lies in its departure from the industry's norm of relying heavily on personality-centric and theme-driven narratives. Rather, Kate's work speaks volumes of her unique processes, which prioritize the fabric as the main protagonist.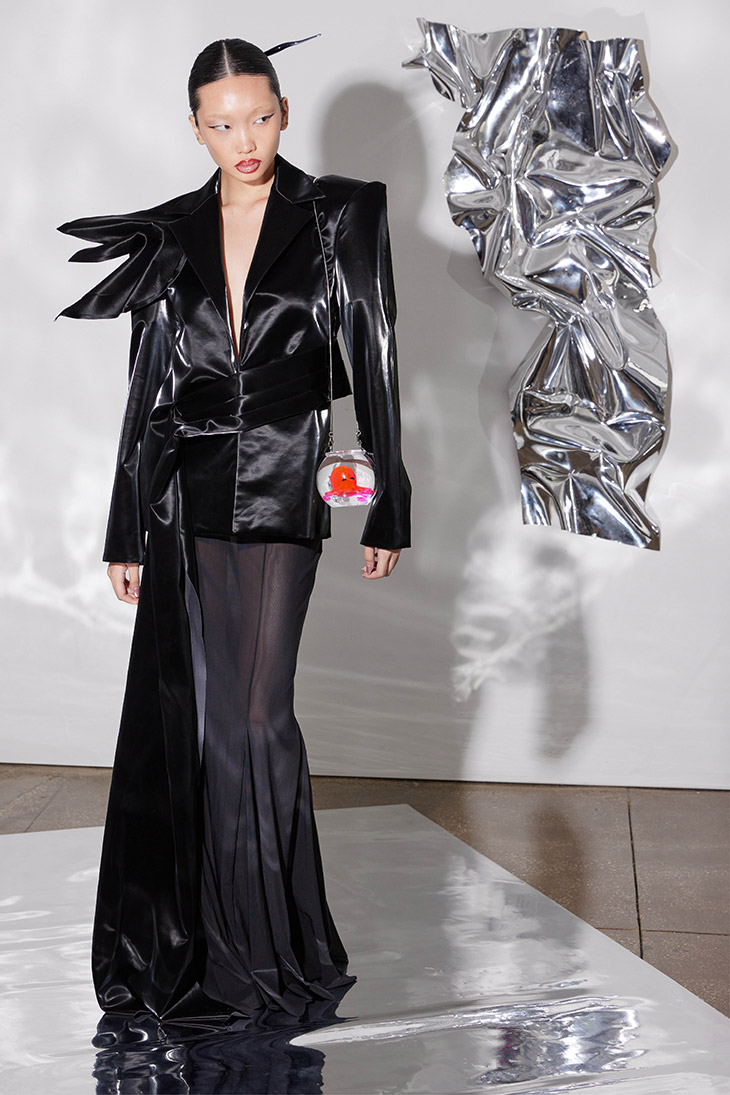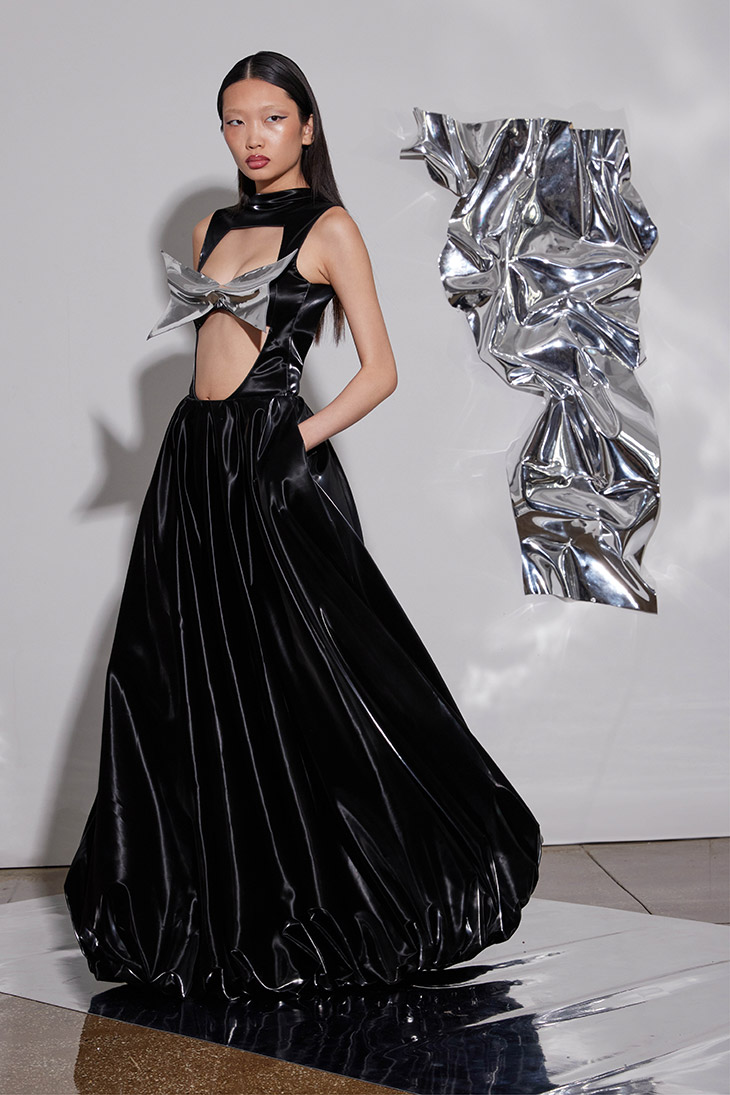 Delving deeper, this season introduces a fascinating array of crystal-encrusted sculptural belts and accessories, which add a dash of grandeur and a sprinkle of whimsy to the collection. These pieces stand as testimony to Kate's prowess in seamlessly amalgamating innovation, sustainability, and creativity with an unapologetic embrace of luxury. Through her visionary lens, she redefines and uplifts the American eveningwear scene, presenting a unique interpretation that is both modern and refreshing.
The Kate Barton Spring Summer 2024 Collection is a vivid canvas that beautifully illustrates the potential of fusing transformative textiles with sustainable practices. It's an ode to the future of fashion – where creativity meets responsibility, and luxury goes hand in hand with conscience.