Fashion house Mame Kurogouchi presented its Spring Summer 2024 Collection, titled Fragments, on Tuesday, September 26th, during the ongoing Paris Fashion Week. The collection delves deep into the heart of Arita town in Saga Prefecture, known historically for Early Imari pottery and the dawn of Japanese porcelain in the first half of the 17th century. The designer, Maiko Kurogouchi, translates stories emerging from fragments of memory and the mist of white porcelain into her collection.
SPRING SUMMER 2024 COLLECTIONS
Kurogouchi found herself captivated by the rich craftsmanship of Japanese porcelain, initially based on techniques from continental potters, and transformed over the ages into a unique, domestic art form. Contemporary artists like Ryohei Yamamoto and Yuki Hirakura of Komononari Kiln, and Mayumi Hamano, guide Kurogouchi to revisit the decades of history of Early Imari, exploring Japanised and individualised styles and learning the trial and error that lies behind them.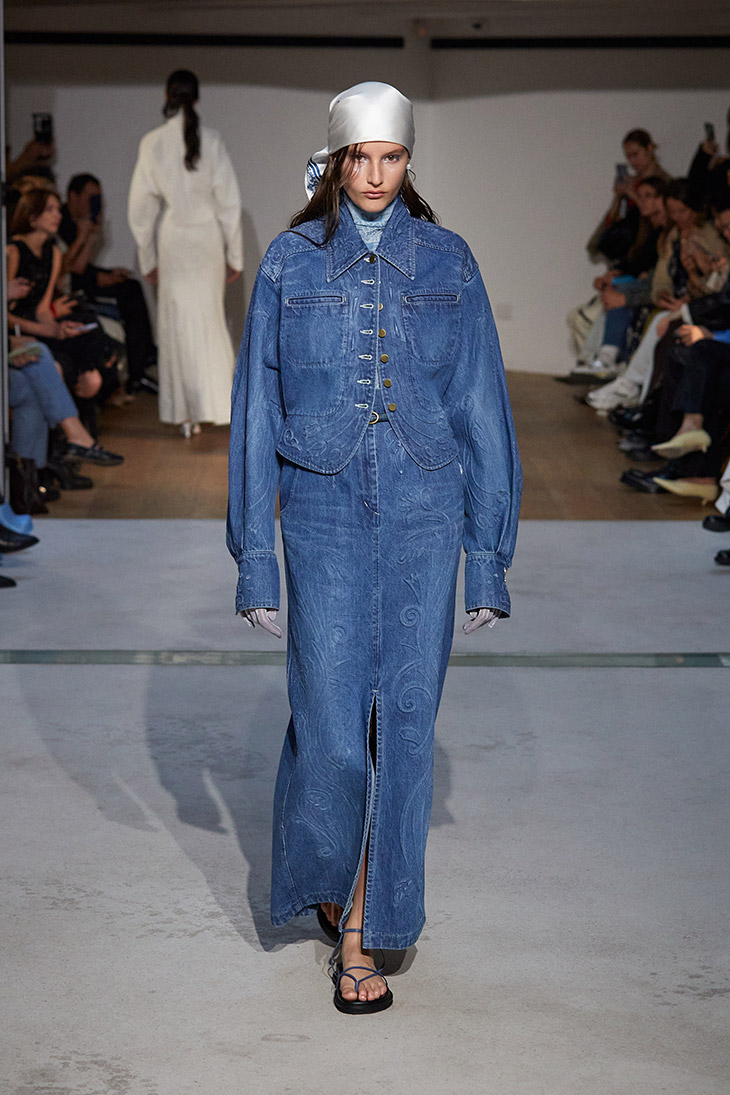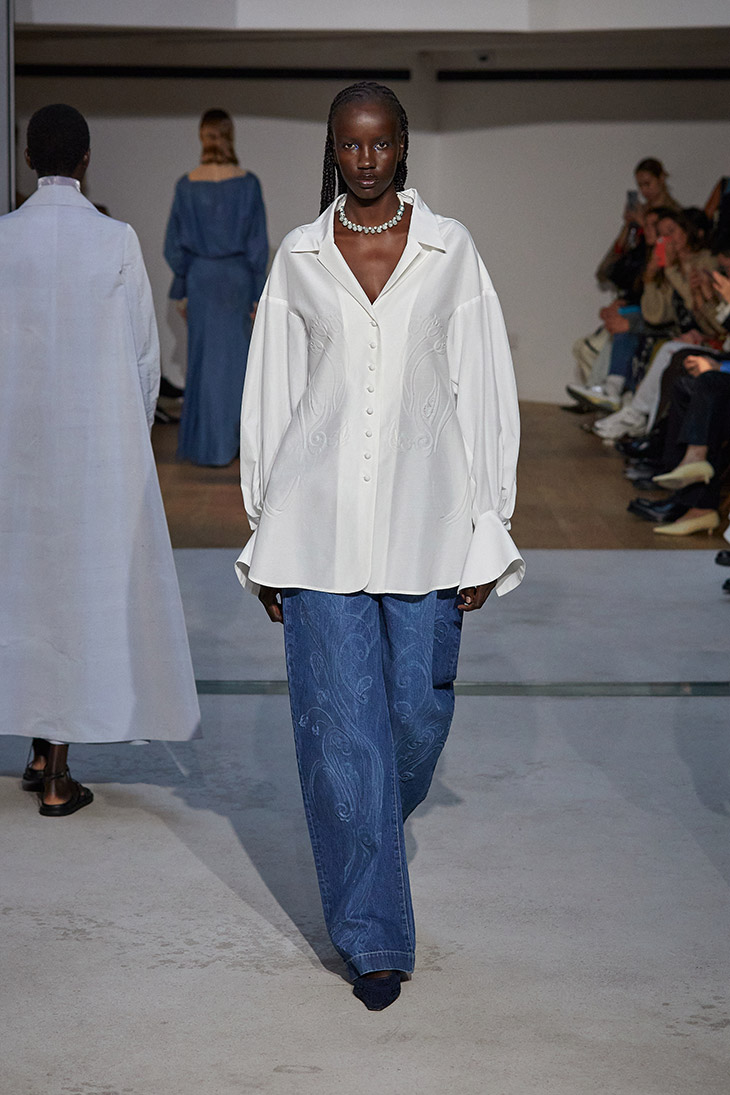 The collection embodies the pale tones of Early Imari, expressed in different tones and textures of white, ecru, and mint green fabrics, imbued with emotional freshness. It captures the gentle glow created by translucent glaze, transforming it into the lustrous glow of sheer lamé jersey series, as if glaze were flowing over the skin. This is complemented by unevenly dyed jacquard transformed into short blouson and long gilet, and asymmetrical hand-tie dyed dresses, evoking the hazy landscape that appears behind the glaze.
The Mame Kurogouchi Spring Summer 2024 collection features a special embossing technique as a key feature, inspired by 'Yokoku', a representative technique of Early-Imari. It is seen on various pieces, from denim pants and jackets to oversize silk cotton dresses and shirts, symbolizing the transformation of porcelain into clothes. The 'yoko-ku' embossed texture, not limited to floral patterns, is also gently brought into minimalist pieces such as compact recycled polyester jacquard dresses and geometric texture of tops.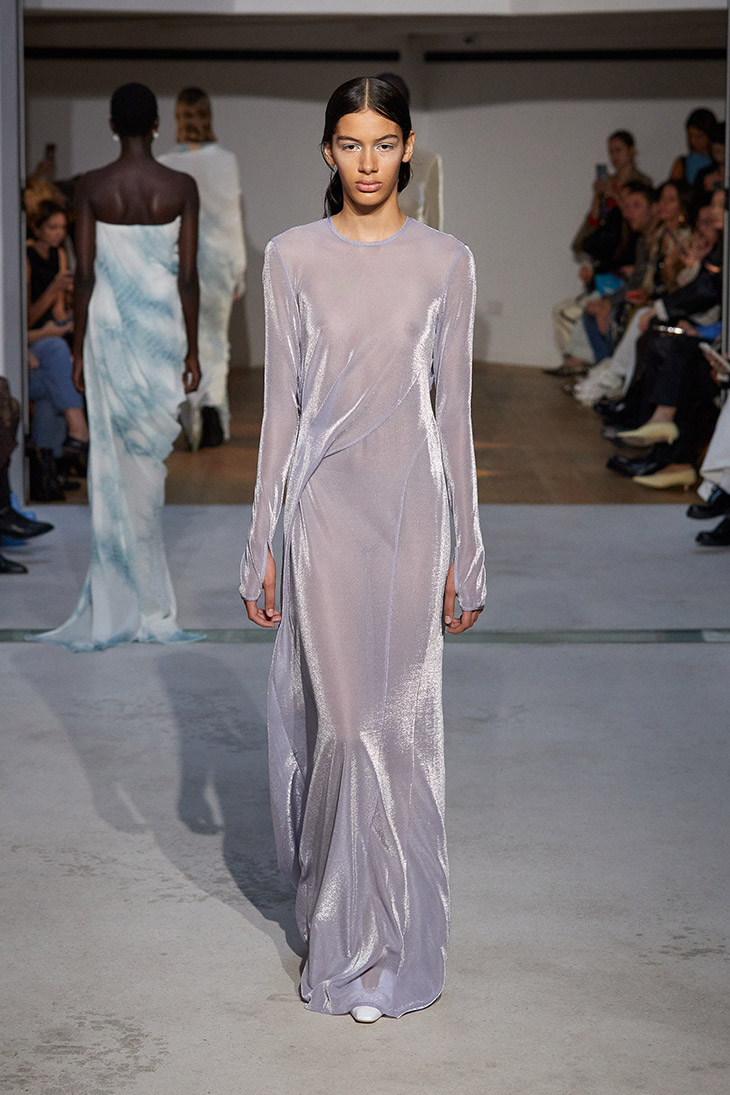 Mame Kurogouchi's Fragments Collection reflects the landscapes drawn on Early-Imari porcelain, translated and expressed in various styles in conjunction with the designer's own memories. It weaves the scenery of Saga into her designs, portraying fragments of Kurogouchi's memories and inviting one to a world of nostalgia moving between past and present. Pieces such as asymmetrically designed knit camisoles and casual knit vests are woven with delicate handwork, designed as if broken pieces of various sizes are combined, embodying one's body as porcelain fragments conveying the memories of the past.
In a beautiful collaboration, buttons used in the collection are shaped and painted by Maiko Kurogouchi herself in a small kiln in Arita Town, with the support of artist Mayumi Hamano, further accentuating the collection with personal and artistic touches.