Noon By Noor blossomed into an epitome of transcendent elegance and daring versatility with their Spring Summer 2024 collection aptly titled 'Moonlit' on the first day of London Fashion Week. Designers Shaikha Noor Rashid Al Khalifa and Shaikha Haya Mohamed Al Khalifa, steered their vision toward the delicate dance of light and darkness, reminiscent of the moon's ever-entrancing glow.
In the ever-buzzing venue of 'HERE at Outernet', the designers unveiled a line that brims with the duality of contrast yet harmonious elements that span across hues, textiles, and shapes. A discernible touch of both romance and resilience resided in pieces where airy, cape-like sleeves took flight, embracing volume with grace, lending a semblance of the lunar phases manifesting in fashion.
The garments whisper narratives of contrasts; juxtaposing the soft with the structured, the feminine with the masculine. This is exemplified in their meticulous choice of fabrics and details – a dialogue between the fluidity of low cuts and the structural poise of square-cut shirts, transitioning effortlessly into contemporary bib designs, and buttoned hems that speak to modern versatility.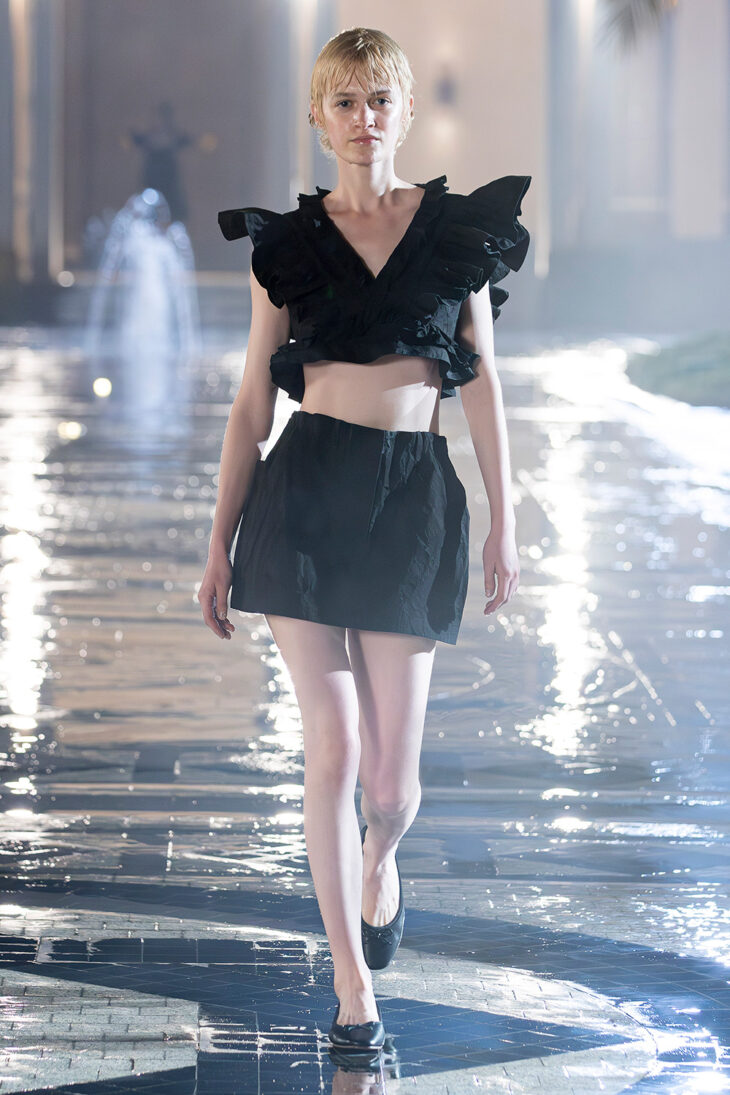 Noon By Noor collection pays homage to the modern woman, an embodiment of both softness and strength, standing independently in her unique individuality. It brings forth a certain empowerment through fashion, where one can embrace multiple facets of oneself – a reflection of Noon By Noor's commitment to celebrating the spirit of women in a manner that's both versatile and unique. "A mother, a boss, a lover, a leader. Our woman at Noon By Noor is all of these and more," shares Shaikha Noor.
The accompanying film, brought to life amidst the lush gardens of the RAK Art Foundation in Bahrain, resonates deeply with the brand's roots and illustrates their continued support for young artistic talents, both locally and globally.
What sets Noon By Noor collection apart is its essence of understated luxury that meets self-assured femininity. The designers have crafted an oasis where feminine meets masculine – in harmonious, relaxed silhouettes contrasted with detailed tailoring that echoes a deep appreciation of masculine dress codes. Signature pieces emerge as heroes of the collection, with impeccably tailored blazers and oversized shirts setting a new benchmark for modern aesthetics.

Special catwalk video directed by Boo George
Every detail in the 'Moonlit' collection has been touched by true artistry – from crisp cotton shirts that mirror masculine codes to flawlessly structured tailoring, all paired with immaculately cut trousers. The collection resonates a commitment to quality, sourcing only the finest materials that culminate in garments that are as luxurious to touch as they are to the eye.  "The Middle East in August is extremely hot and humid, so we worked with the elements, the heat and humidity as we created our show look. We made our woman glossy and wet as if she had just emerged from a shower or a swim in the sea, confident and strong," adds Shaikha Haya Al Khalifa.
Noon By Noor's Spring Summer 2024 collection is a testament to the brand's evolving vision, making us want more from the designer duo.
Discover the complete collection in our gallery:
Film credits:
Director – Boo George
DoP – Alex Reid
Styling – Hanna Kelifa
Hair – Olive Jeanne
Make Up – Sophie Leach
Nails – Sash Spa
Casting – Ben Grimes
Models – Ilse Rood, Anna Colridge, Joanne Zijlstra, Louisa Hesse, Diana Kovalchuk, Anna Bicanova, Uwe Doll
Production – I Heart Film
Editing – Studio RM
Location – RAK Art Foundation
Words by DSCENE Fashion Director Katarina Doric