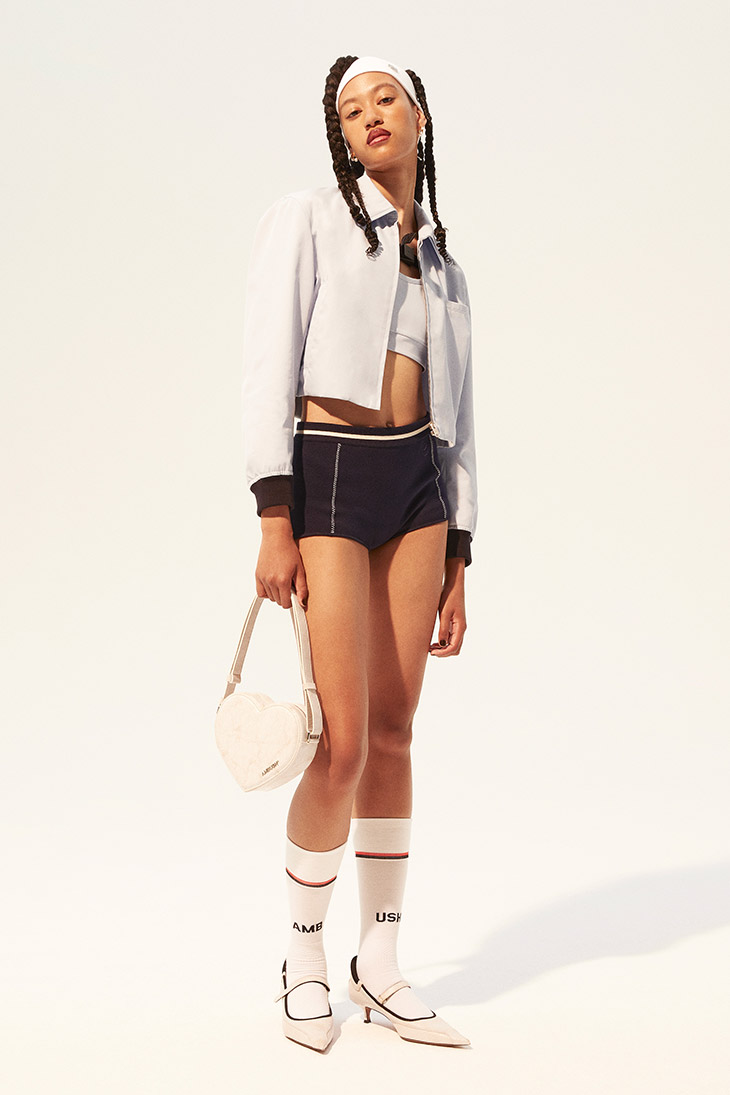 Fashion house AMBUSH® is all set to redefine the norms of fashion with its Spring Summer 2024 collection, where an enticing blend of punk-inspired AMBUSH® school uniforms meets vibrant, sporty accents, transforming the look from poised to energetic. Under the creative helm of designer Yoon Ahn, the brand's new collection exudes a distinct retro sportswear vibe, combined with AMBUSH®'s signature utilitarian and surreal evening attire.
SPRING SUMMER 2024 COLLECTIONS
Drawing inspiration from the playful days of youth, Spring-Summer '24 amalgamates classic 1950s structures with practical workwear outlines and modest materials. Key pieces, such as the khaki Harrington jackets, are paired with complementing miniskirts or cargo pants for women and oversized shorts and pants for men. These combinations, when layered with understated shirts and white socks, exude the essence of a summer uniform.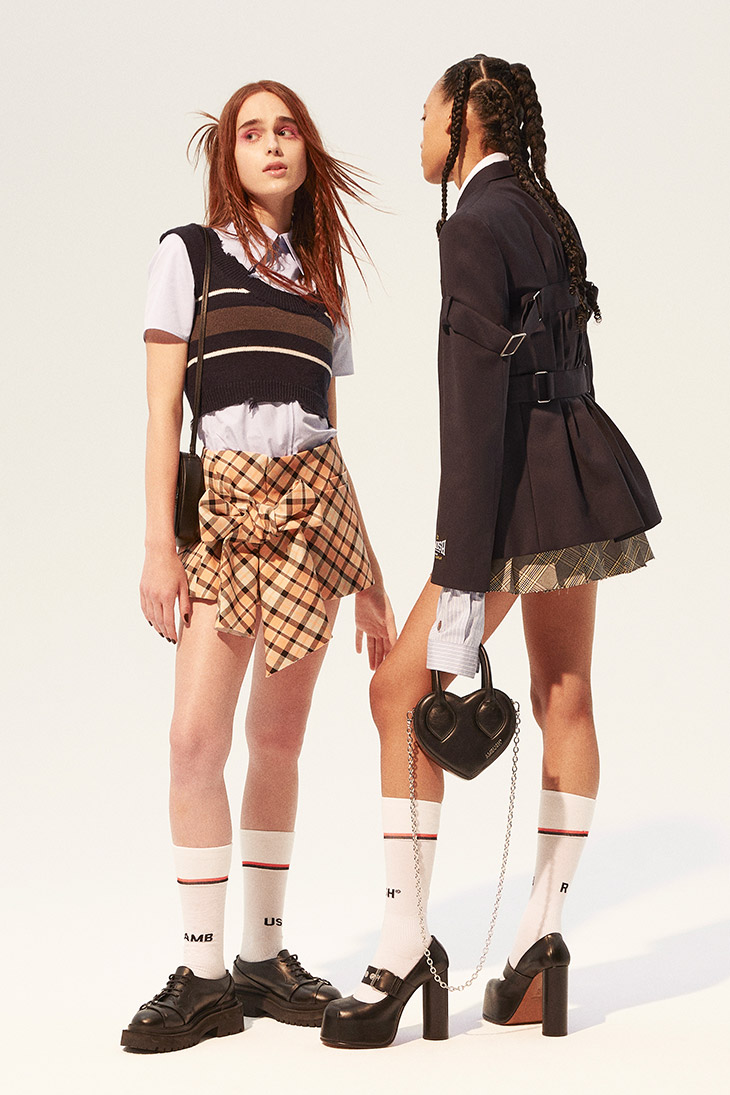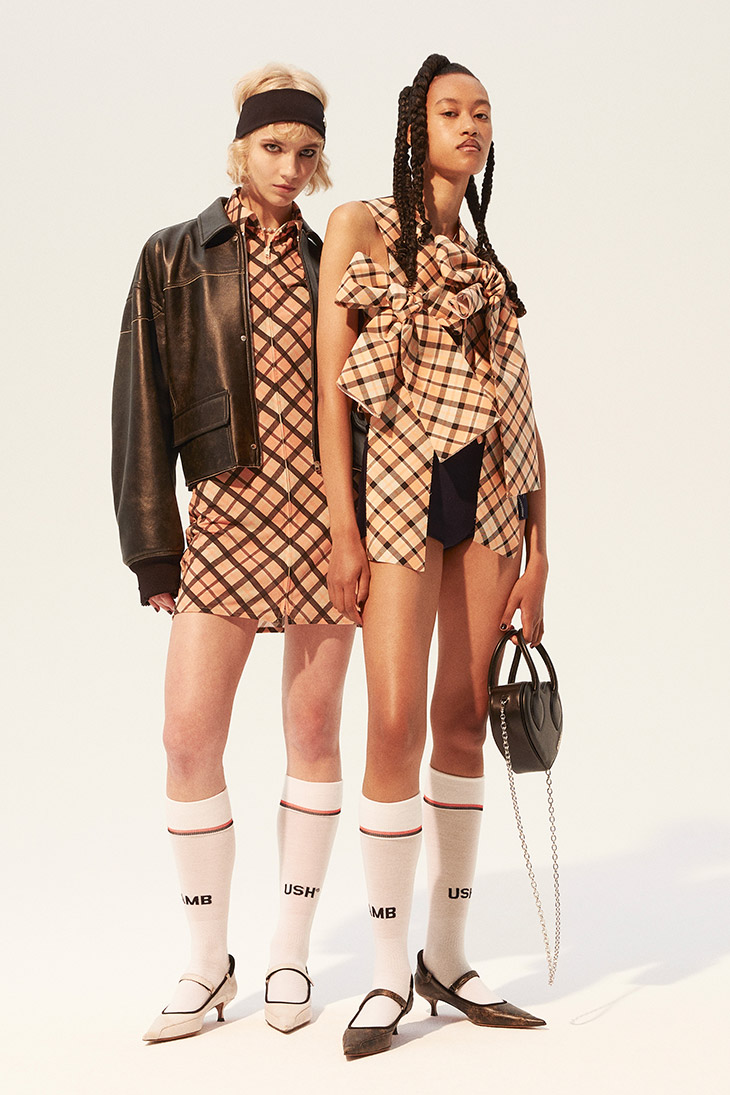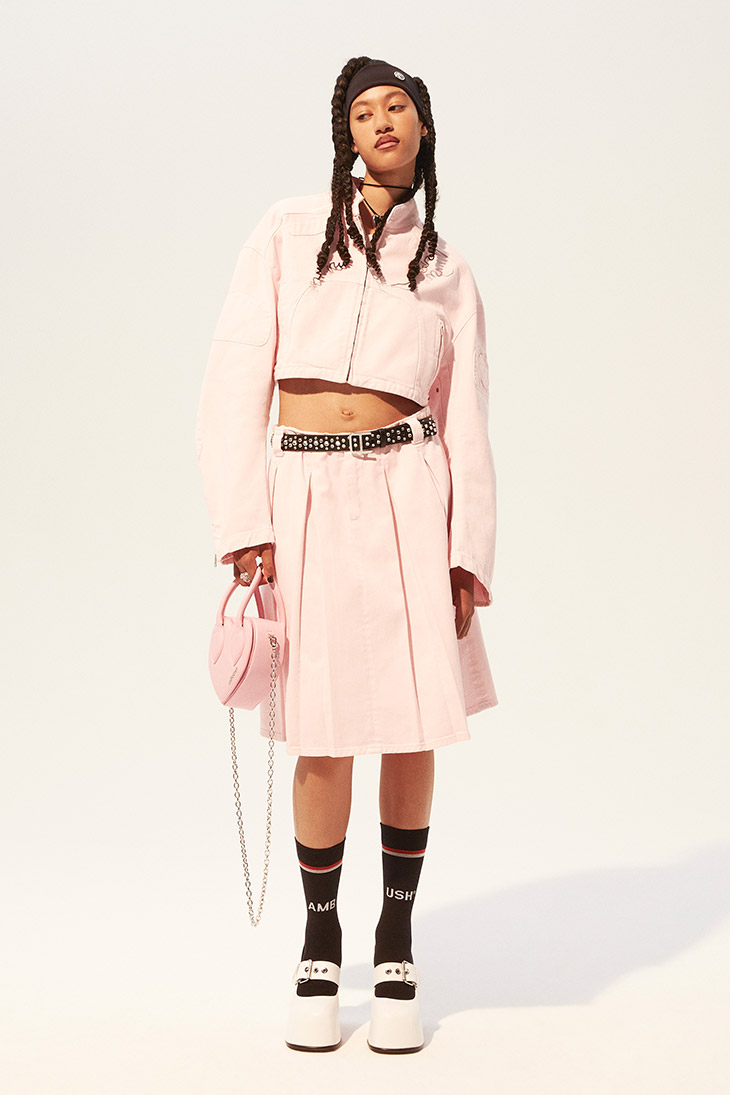 But AMBUSH® is not one to remain confined within established frameworks. As the collection unfolds, it delves into avant-garde territories. Blue and white striped shirts, vests, slender white knits, and cropped polos crafted from canvas, cotton, and wool lay the foundation. This base is then elevated with inventive elements, such as football laces that cinch a crop top and skirt, introducing an edgy spin on sports-inspired designs.
The collection seamlessly merges vintage athleticism with modern cuts. Blue and maroon track sets cater to all genders. Tennis miniskirts, zip-up jackets, shell jackets, and knit polos showcase a mix of the past and present. Embracing a departure from AMBUSH®'s recent oversized trend, the new proportions bring to mind '70s track stars, especially evident in the mini yellow running shorts and vests. Meanwhile, denim in the collection draws heavily from workwear, introducing jeans with prominent flapped pockets and jackets in both boxy and waisted styles.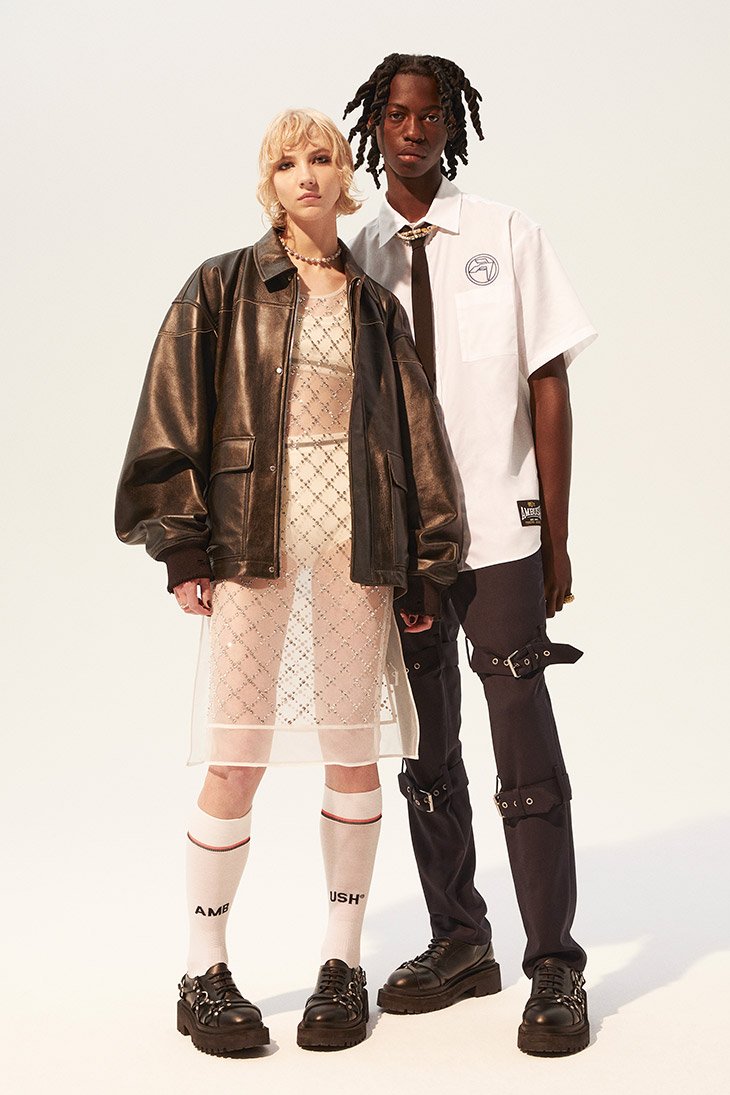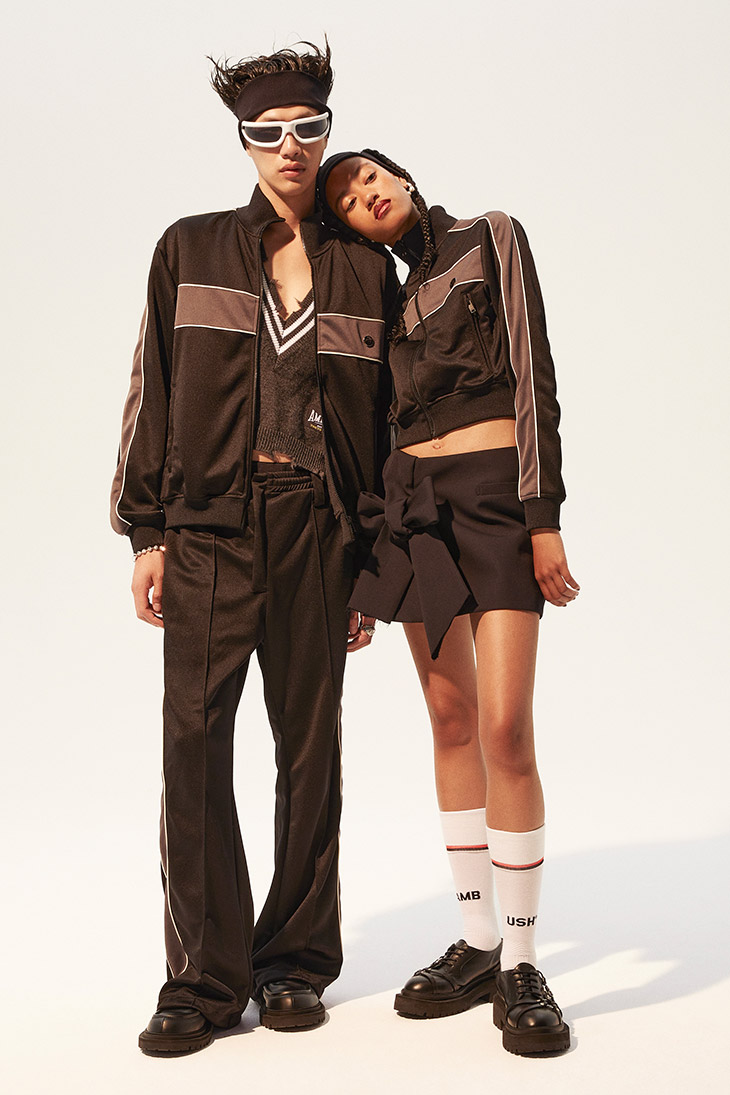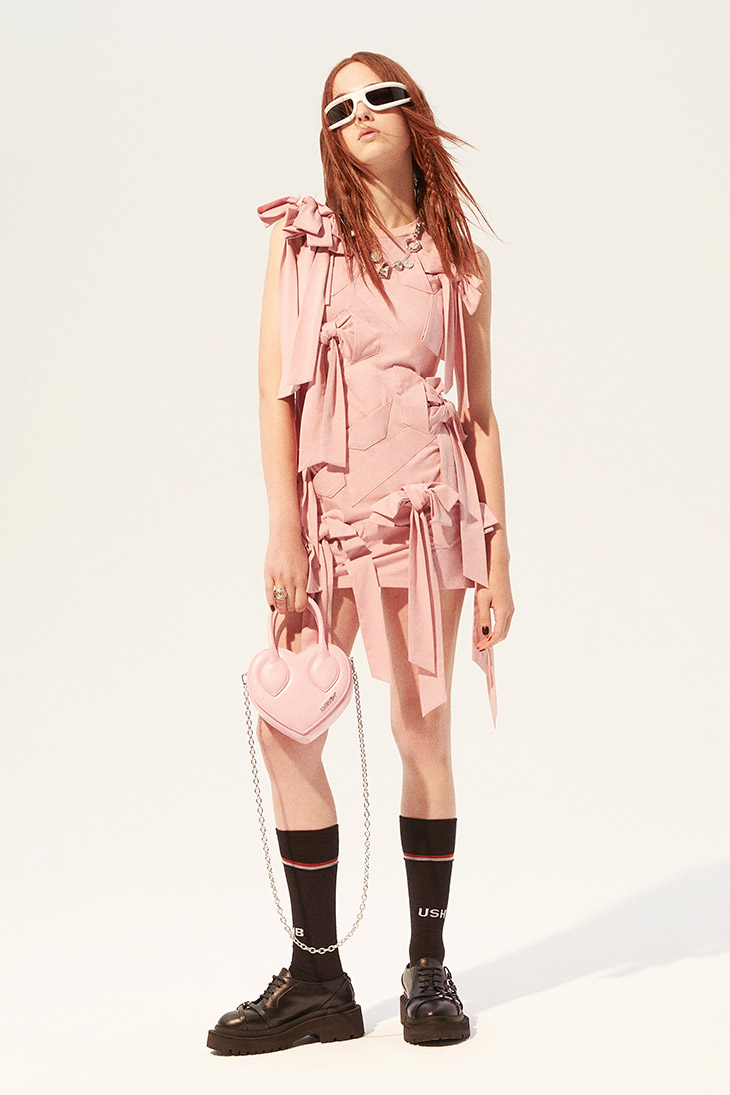 As evening approaches, the sportswear gracefully transitions into more refined attire. Transparent dresses adorned with crystals and faux fur shrugs paired with heels manifest AMBUSH®'s versatility. Recognizable brand motifs – the bow and buckle – make a noteworthy comeback. Ribbons, reminiscent of sports day accolades, dominate numerous outfits in a striking carnation pink hue. The inclusion of plaids in gray and peach/blue, paired with snug cardigans and boxer shorts, or navy and maroon cricket jumpers, evokes a feeling of nostalgia, hinting at garments borrowed from a fashion-forward grandparent.
In terms of footwear, the collection exudes a '70s thrifted feel, with chic loafers and kitten heels taking center stage. AMBUSH®'s iconic heart bag is adorned with an intricate lace patch, accentuating the bespoke nature of the collection. Jewelry, featuring luminous rhinestones, is generously layered, adding a hint of luxury to the muted color palette.
The AMBUSH® Spring Summer 2024 collection is a masterclass in blending boundaries. It encourages the juxtaposition of vintage treasures with modern staples, resulting in a cohesive, yet eclectic mix that remains true to the brand's avant-garde ethos.