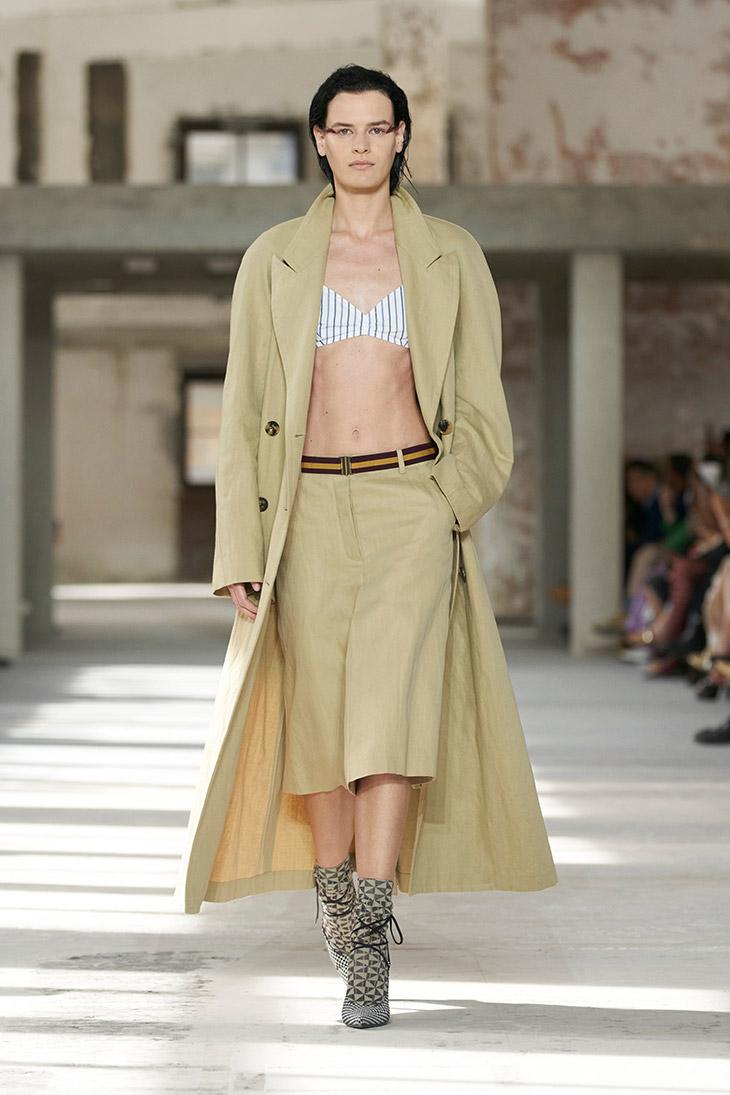 Fashion brand Dries Van Noten unveiled its Spring Summer 2024 Collection, titled Unfamiliar familiar, on Wednesday, September 27th, during the ongoing Paris Fashion Week. The collection is a fascinating exploration of reimagined tradition, infused with renewed energy, and represents a harmonious confluence of contrasting sensibilities and ideas.
SPRING SUMMER 2024 COLLECTIONS
The "Unfamiliar Familiar" collection by Dries Van Noten brings forth a juxtaposition of sports attire and formal wear, intertwined in unprecedented styles. The recurrent rugby stripe motif adorns asymmetric dresses, while tennis scarves are ingeniously transformed into knitted tops or skillfully reworked into the drape of skirts. The collection stands out with its graphic racer checks, contrasting club blazers with elegant grosgrain trims, and a unique feminine touch to men's tailoring.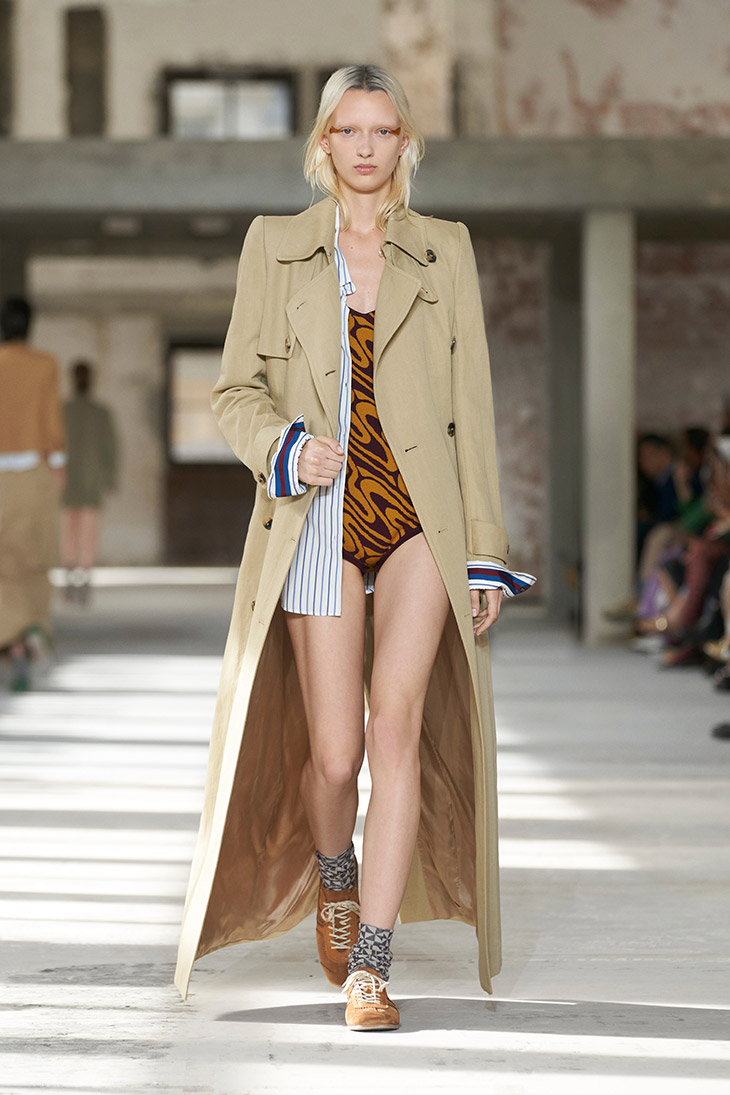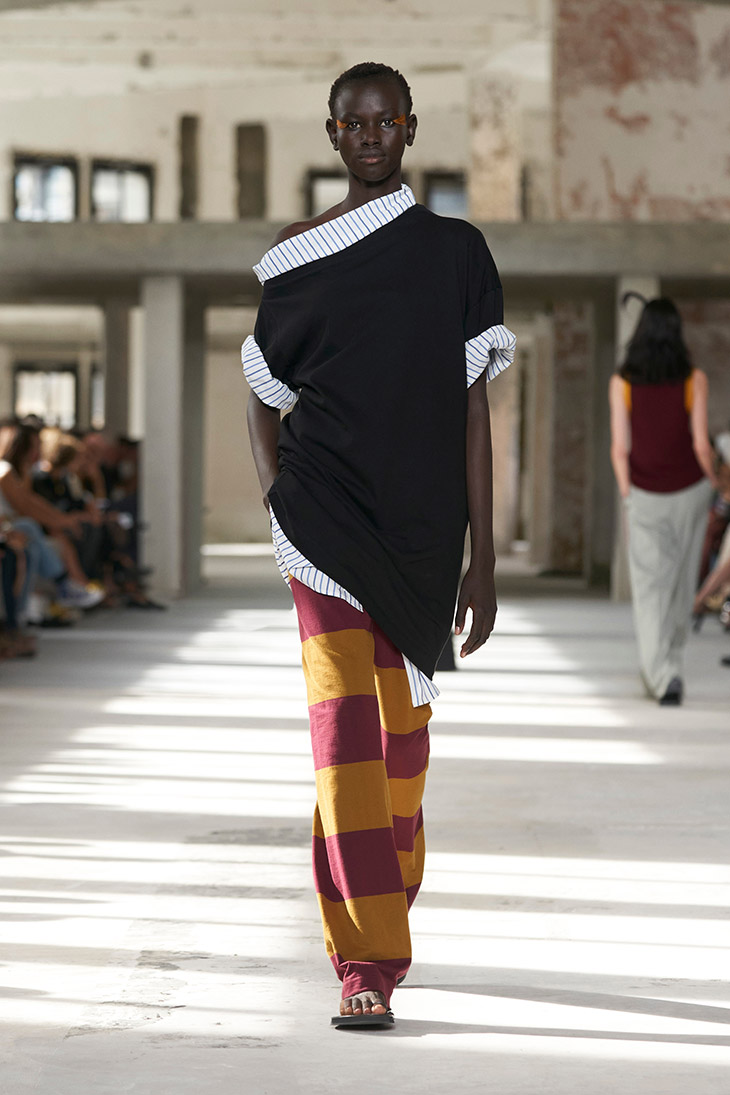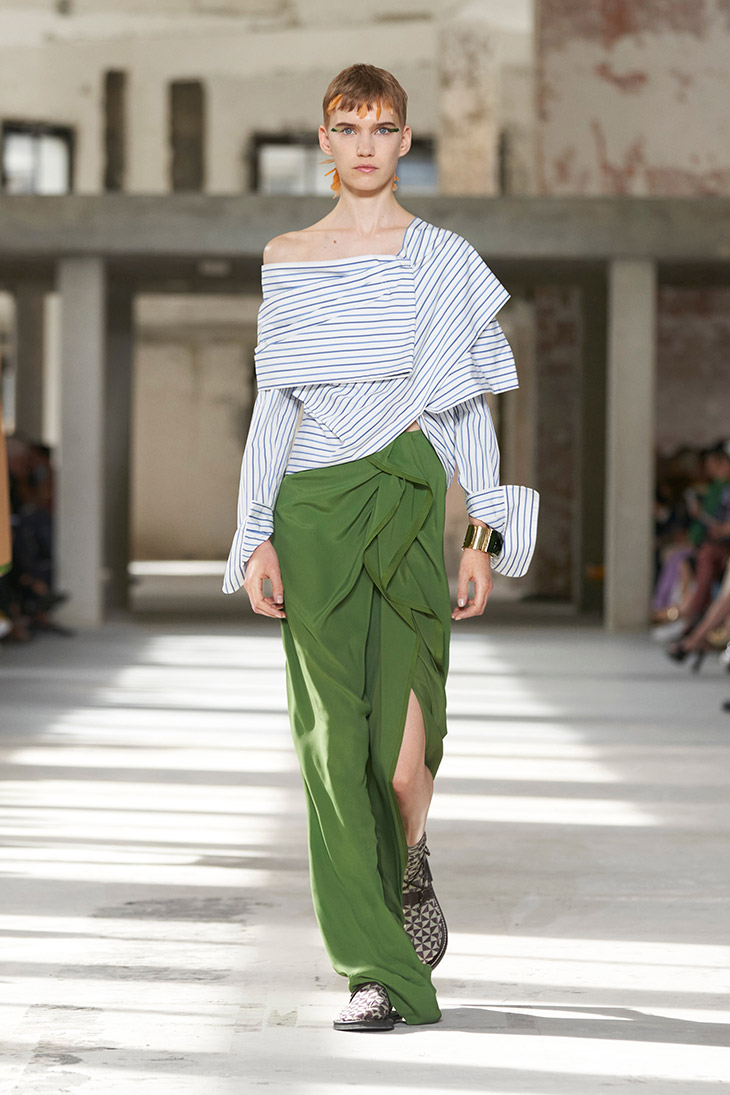 The classic shirt, a symbol of sartorial elegance, is reimagined and reshaped into new, innovative forms. Tuxedo jackets and double-breasted suits in the collection are draped and oversized, while trench coats are elongated, with their classic gabardine material seamlessly transitioning into skirts and dresses. This line represents the perfect blend of formal structure and casual ease, where the manipulation of silhouettes takes center stage, and proportions are either diminished or expanded, highlighting an emphasized waist and featuring precise pagoda shoulders.
The Dries Van Noten Spring Summer 2024 collection prioritizes authenticity in fabrics, using materials like cotton chino, striped poplin, gabardine, and Prince of Wales checks. Everyday washed denim is elegantly adapted into evening jackets or refined coats, showcasing the brand's commitment to versatile fashion. The prints echo simplicity, with motifs minimized to bi-colors and graphic patterns.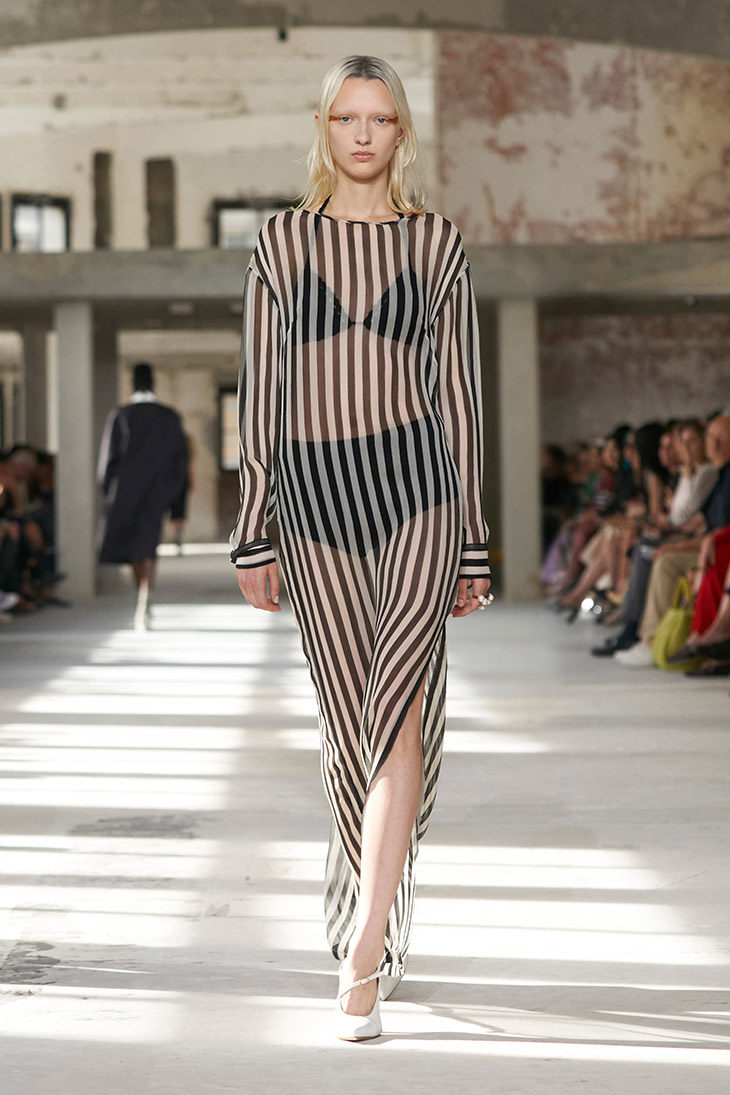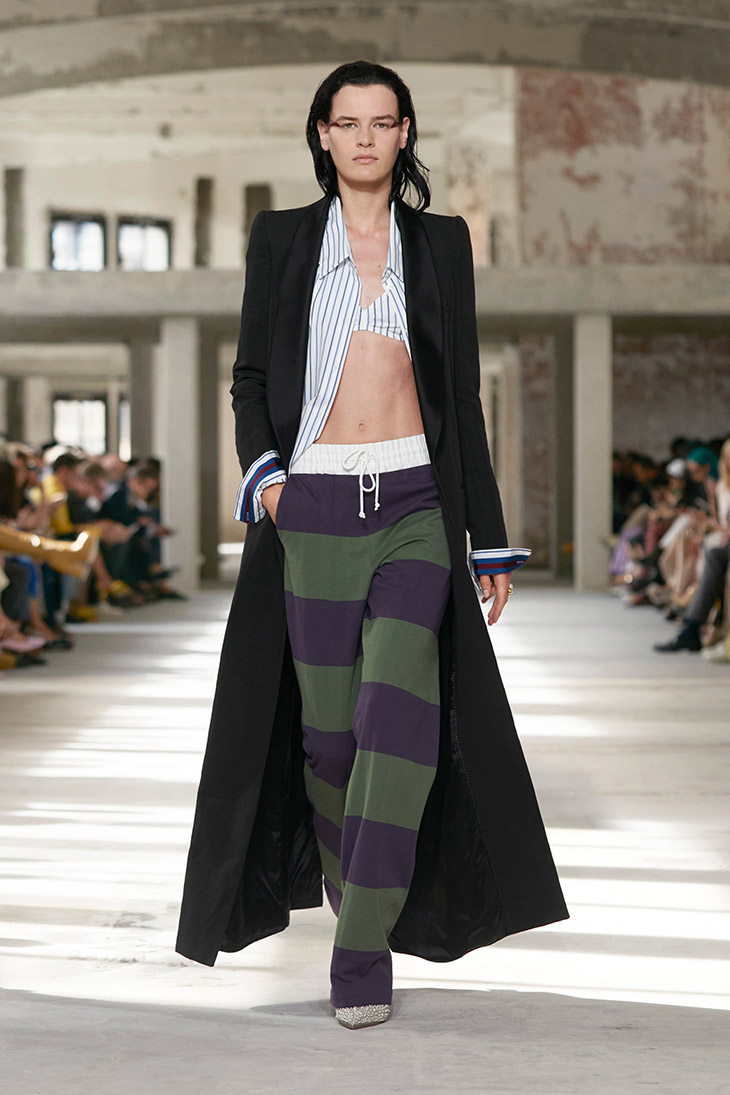 Adding a touch of luxury are jewels, beautifully arranged in fractured clusters, and pearls rendered in unexpected ways. The collection surprises with abundant embroidery in unlikely places: sequins adorn shoes, and paillettes punctuate a raincoat, exemplifying Dries Van Noten's attention to detail.
The collection challenges stereotypes, presenting reworked feminine pumps with exaggerated pointed toes, sports laces, and curving heels. It features Mediterranean one-toe sandals paired with socks and the plainness of men's Oxfords, offering a diverse range of footwear options.
Amidst the allure of the "Unfamiliar Familiar" collection, the soundtrack of female voices sharing intimate experiences resonates, symbolizing the unification of diverse stories and contrasting emotions. Through this evocative and innovative collection, Dries Van Noten womenswear embarks on a journey to explore different narratives, culminating in the discovery of a shared language of fashion, blending the old with the new, the formal with the casual, and the expected with the surprising.