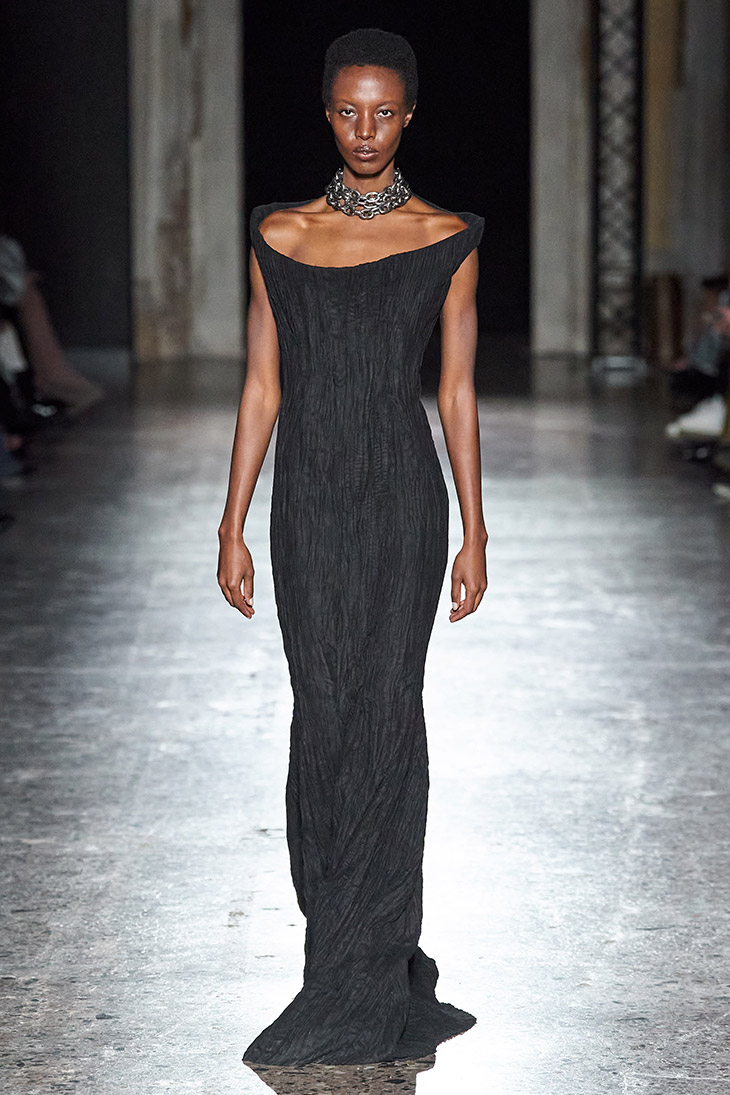 Danish fashion house Han Kjøbenhavn unveiled its latest Spring Summer 2024 pret-á-porter collection, titled "Unlightened Particles," at Milan Fashion Week. This avant-garde collection merges sculptural designs, unique metallic elements, and a striking collaboration with Sinful, Scandinavia's prime erotic accessories platform. The Palazzo Reale di Milano, a symbol of neoclassical grandeur, served as the backdrop for this co-ed runway show. The venue perfectly mirrored the collection's essence, balancing the dichotomies of elegance and raw intensity. The surprising partnership between Han Kjøbenhavn and Sinful introduced a unique fusion of fashion and erotic artistry.
SPRING SUMMER 2024 COLLECTIONS
Jannik Wikkelsø Davidsen, Han Kjøbenhavn's Artistic Director, draws inspiration from the concealed potentials and undiscovered facets of entities. He perceives "Unlightened Particles" as an allegory – representing those untouched aspects of something or someone, awaiting realization and enlightenment.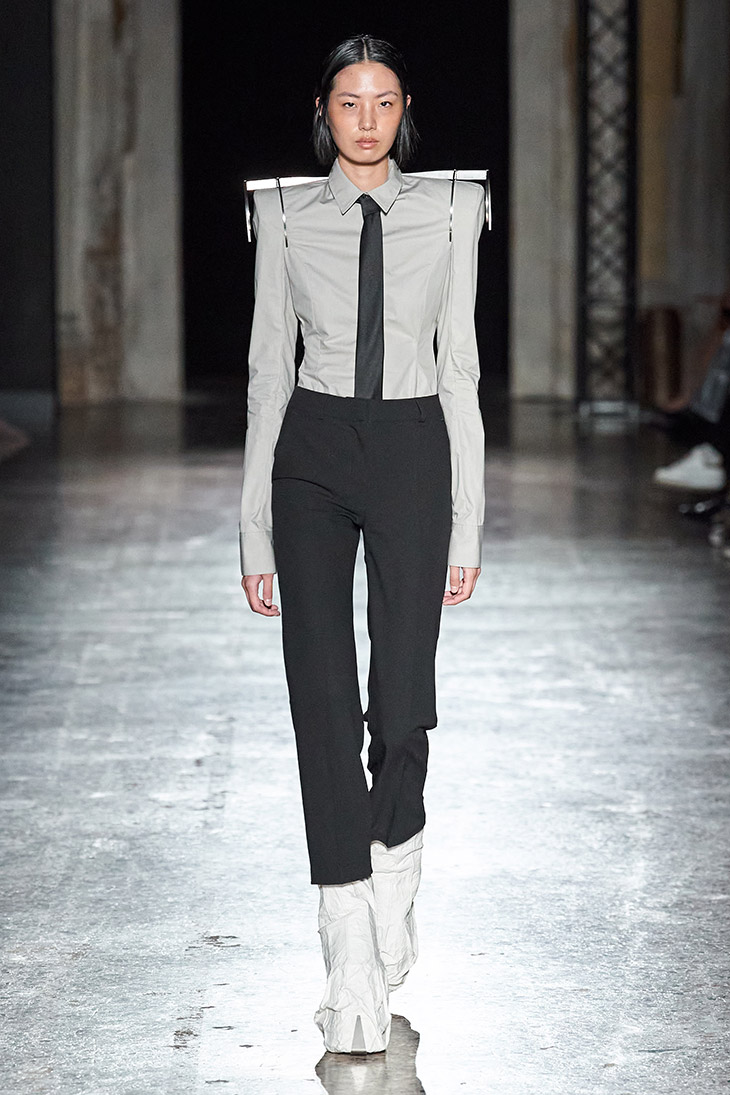 Known for its signature juxtaposition of delicate craftsmanship with raw metallic elements, Han Kjøbenhavn's new collection stays true to its essence. The designs prominently featured handcrafted metal details, subtly integrated into the clothes. These details stood out especially on the tailored suits and shirts, which sported pronounced metal-clad shoulders. The outfits, set in a subdued color palette, were complemented by robust leather boots adorned with metallic spikes. Dominant fabrics across the designs included memory leather, crepe wool, neoprene, and draped mesh.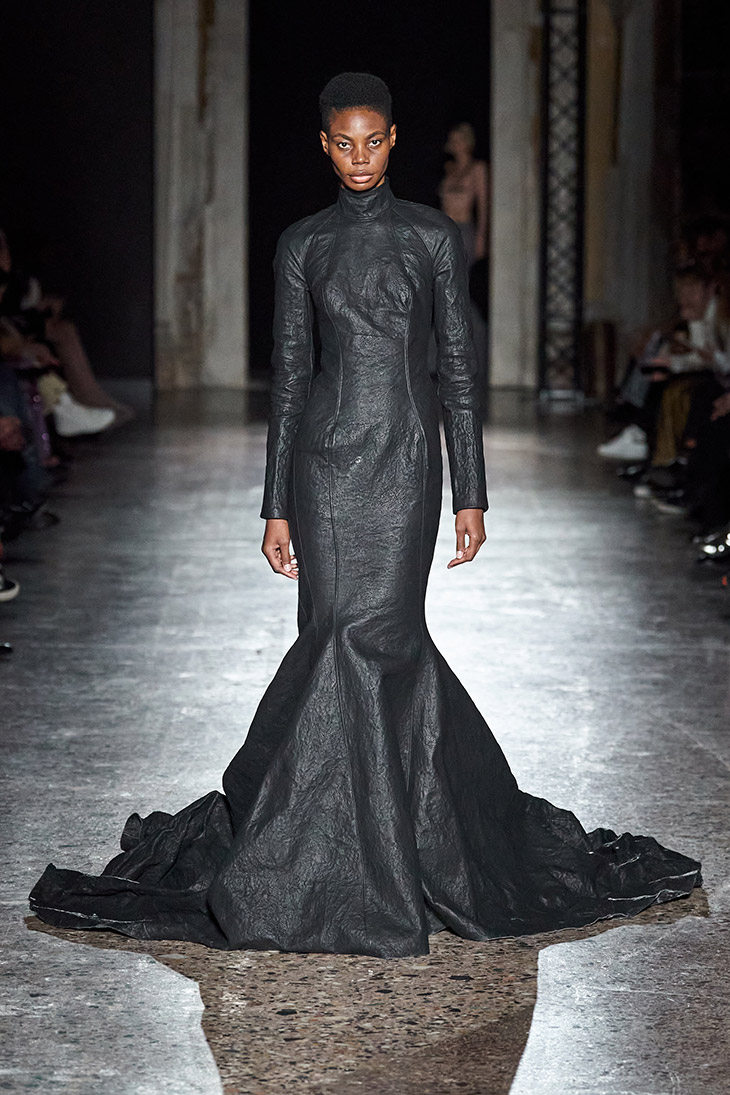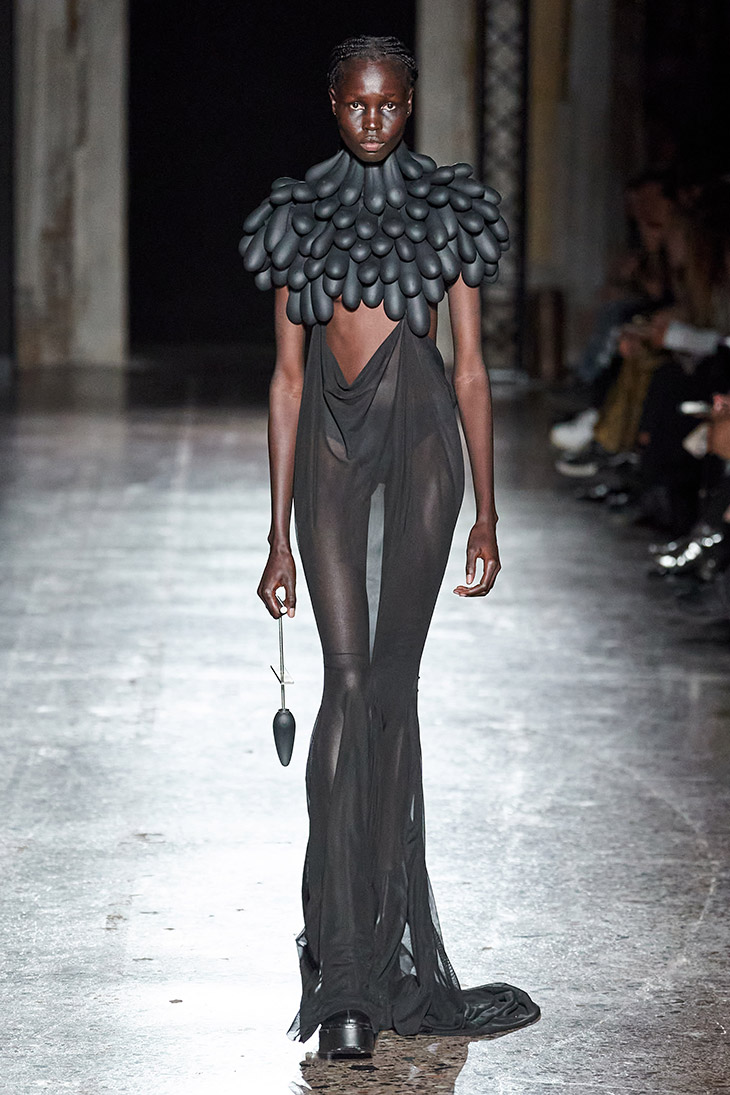 One of the collection's standout pieces seamlessly incorporated Sinful's "Tongue toy" into a mesh dress, symbolizing the confluence of fashion and human desires. Mathilde Machowski, Sinful's founder, elaborated on this collaboration's essence, underscoring the interconnected realms of fashion, art, and sensuality. This partnership further birthed custom-made tools inspired by Sinful's signature Tongue toy.
The Han Kjøbenhavn Spring Summer 2024 collection rounded off with several menswear designs. These showcased meticulously tailored suits crafted from luxe materials, characterized by crisp lines and refined silhouettes, further accentuated by artisanal metallic elements.