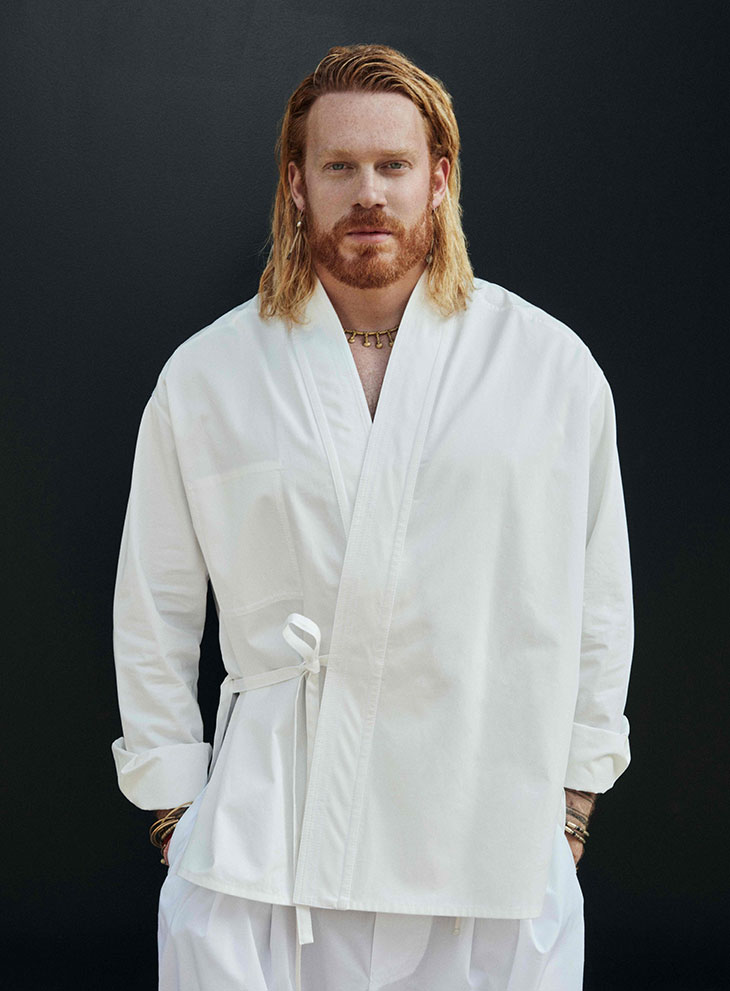 Ludovico Bruno, the creative force behind the emerging label Mordecai, is undeniably one of the visionary trailblazers, challenging the status quo and redefining the boundaries of style, function, and form. Bruno's career unfurled immediately after his graduation from the Pratt Institute in Brooklyn, where he embarked on an enriching trajectory. His early experiences at renowned fashion houses such as 3.1 Phillip Lim and working with Edward Buchanan equipped him with the indispensable knowledge of knitwear fundamentals. Subsequently, his journey led him to the prestigious Moncler, where he engaged in groundbreaking collaborations with celebrated designers. In 2020, Bruno ventured out on his own, and soon founded his label Mordecai.
In an exclusive interview with DSCENE magazine, Editor Katarina Doric sits down with Bruno to talk about his remarkable journey within the fashion industry, tracing his evolution from his early days with iconic figures like Edward Buchanan to the founding of his own label, Mordecai. This conversation unveils not only Bruno's compelling narrative but also his unique approach to design and the distinctive identity of his brand, set to reshape menswear as we know it.
Can you share more about your journey in the fashion industry, from your early days with Edward Buchanan at Sansovino 6 to founding your own label, Mordecai? – Immediately after graduating at the Pratt Institute in Brooklyn, my first work experience was in New York at 3.1.Phillip Lim. Then I had to return to Italy where I began a 2-year journey under the guidance of Edward Buchanan. With him I learned the knitwear fundamentals, both for Sansovino 6 and for various consultancies. It was a very enriching experience both for Mr. Buchanan's high expertise, knowledge and refinement, and for the possibility of working in a laboratory where making tests and seeing processes developing.
In 2014 I joined Moncler, dedicating myself to the first lines with the Moncler Gamme Rouge and Moncler Gamme Bleu collaborations. I worked on both men's and women's, combining a high level of technical sportswear with the most special tailoring and know-how of Thom Browns and Giambattista Valli. In 2017 from the ashes of Gamme, Moncler Genius was born.
For four years I looked after, designed and helped external creative directors to make capsules for Moncler Genius, like Hiroshi Fujiwara, Matthew Williams, Simone Rocha and Craig Green. In 2020 I made the decision to go solo with a consulting firm. I still work with many realities of the landscape, from Farfetch's private label to Ambush.
Your experience includes working with renowned designers like Thom Browne and Giambattista Valli. How have these collaborations influenced your approach to fashion and design? – In both cases they are two designers with a precise and very strong vision that does not change with the trends. An obsession with silhouettes, materials, and details. All declined and applied through Moncler to the functionality and technicality of high performance garments. I think that is a very strong point that Mordecai is based on.
Mordecai aims to revitalize menswear beyond traditional structures. What inspired you to take this unconventional approach, and what does it mean for the brand's identity? – I am not a scrapper. I don't want to break rules or revolutionize a system. Often the most radical changes are subtle and act without being perceived. What inspires me is a vision that starts from the global picture, but questions details. Let me explain: as Europeans, we are accustomed that in summer it is warm and we go to the beach and in winter we cover up and go to the mountains. The concept of functionality today stems from this view, which I consider to be short-sighted. In parts of the world that are increasingly important today and deserve more representation, the difference is not so much between seasons, but rather between different kinds of environments, such as indoors, often with AC, and outdoors with wet and rainy climate. It is this type of functionality, combined with climate and social change, that I want to question and propose a functional yet elevated alternative.
I don't want to break rules or revolutionize a system. Often the most radical changes are subtle and act without being perceived.
The Collection #0 from Mordecai is set to launch in November 2023. Can you give us a sneak peek into the collection's aesthetic and design philosophy? – Each garment is designed, tested and made to have a life of its own and to be worn covering several functions throughout the day. Silhouettes are loose but controlled. You will see an approach inspired by the comfortable aspects of sport, such as martial arts uniforms, and an agility in layering garments. The concept stems from a quote very important to me by Paul Valerie: "Il faut être léger comme l'oiseau et non comme la plume" (You must be light like a bird and not like a feather). Priority is given to lightness and precision. The garments do not give up neither on their volume nor on their functionality, because the construction is very light but precise.
You've mentioned applying technical sportswear codes to different materials. Could you elaborate on how this approach translates into the garments you create for Mordecai? – Materials are lightened, for example by adding bags of down. Cottons are waxed with parachute cloth treatments for windproof and wrinkle-resistant aspects. Garments are often adjustable and with several ways to close them, like kimono belts but with snaps, which allow the garments to be worn 'wrapped' or off the body. Several materials are natural, treated with resins and garments that are usually more tailored are made of fabrics with a technical composition but with a material touch that is not cold. We have revitalised the concept of 'detachables' such as military liners, attaching them to garments in innovative ways to lighten their construction while maintaining functionality.
Mordecai's collection features an array of versatile garments. Could you describe some of the key pieces and the inspiration behind them? – Key pieces are definitely the double blazer, the multifuncion long parka and the reversible aviator bomber jacket. They all share the same inspiration. As mentioned earlier, they are garments in which you section the complexity of the inner construction and separate it over several layers so that each of them is free from the others. By doing this you give more functions of use (vest, detachment, lining, etc.) and lighten everything.
The focus on details is fundamental, as is an approach aimed more at subtraction than addition: the ultimate goal is to remain light and concrete but not banal.
The brand seems to prioritize functionality and construction. How does this emphasis on craftsmanship play a role in your design process? – The creative process always starts from a base of real garment, a pattern that exists in the male wardrobe. So it becomes crucial how one acts on the pattern to make it modern and appropriate to what is everyday today. The focus on details is fundamental, as is an approach aimed more at subtraction than addition: the ultimate goal is to remain light and concrete but not banal.
Mordecai is positioned at the intersection of sport, work, street, and formal-wear. How do you balance these diverse influences while maintaining a cohesive brand identity? – I try to do this by filtering everything through a personal vision: to me sport is about contact, respect, discipline. It is balance and well-being. Workwear, on the other hand, is for me a functional approach to creativity in every detail. Every seam, every component, must be inserted for a specific reason. Streetwear comes from the intersection of different sub-urban movements and translates into the portability of each garment, while formal wear is nothing more than a uniform given by the combination of the obsession with the silhouette and the extreme wearability of the whole look.
Producing better means producing less. The best way to be sustainable is to stop with the overproduction of garments that nobody needs or that are of little use and for little time.
Sustainability is a growing concern in the fashion industry. How does Mordecai address sustainability in its designs and production processes? – Producing better means producing less. The best way to be sustainable is to stop with the overproduction of garments that nobody needs or that are of little use and for little time.
With Mordecai I try to develop a precise collection, made of subtractions, so that garments are originated by the will of transcending seasonality and trends. I would like to work on garments with a universal style and an excellent quality that, by opening the wardrobe after 10 years, you still want to wear.
What do you hope Mordecai will offer to its clientele that sets it apart in today's fashion landscape, particularly for those seeking timelessness and durability? – It's exactly the durability that I'd like the brand to be associated with, but also a certain character, given by a precise silhouette. I would like the customer to fall in love with a garment because the shape values them, and therefore they stay loyal to the brand. They find the same proportions, the same details, the same philosophy. I aim at being recognizable without saying it, without being noticed.