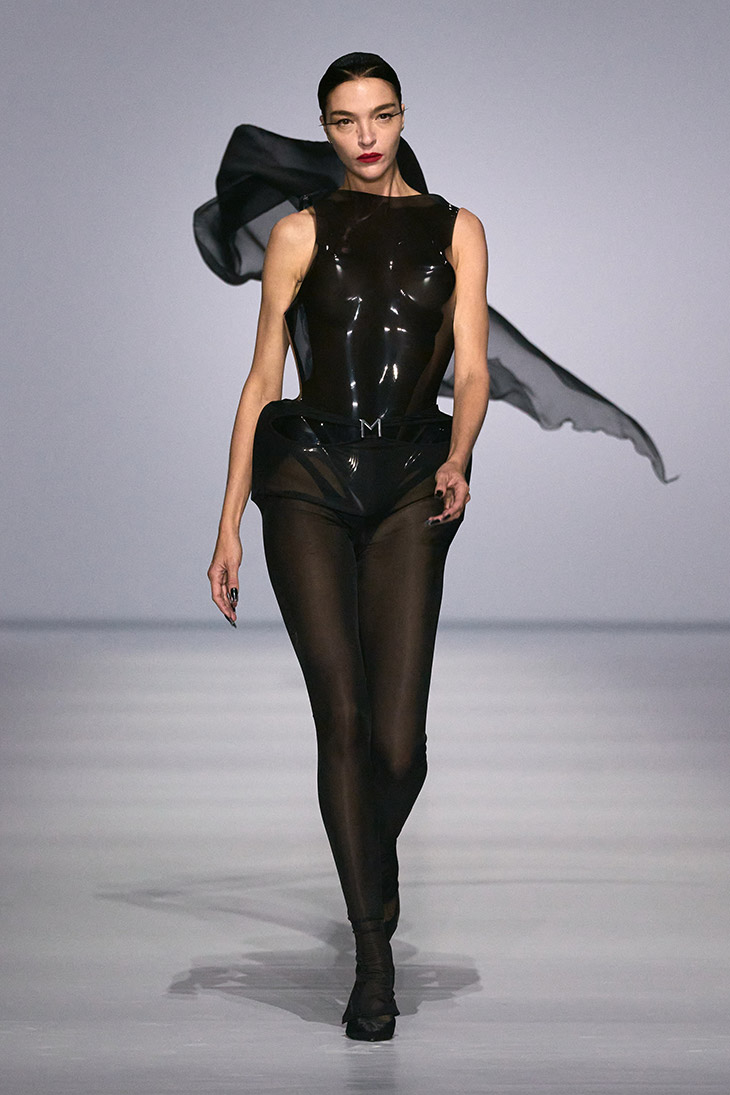 Fashion house Mugler showcased its Spring Summer 2024 Collection with a fashion show on Monday, October 2nd, as part of the recently concluded Paris Fashion Week. The Creative Director of Mugler, Casey Cadwallader, brings forth a unique collection inspired by the enchanting beauty of marine life. His personal experiences as a sailor and childhood passion for marine biology shine through in the collection. The collection captures the designer's deep respect for the strength of women, paralleled with a dramatic tribute to deep-sea creatures like octopuses, urchins, nudibranchs, and jellyfish.
SPRING SUMMER 2024 COLLECTIONS
Exotic marine species become the muse for this collection, evident in the bristling designs, speckled prints, and gradient hues. Fluid materials such as jersey and chiffon are heavily utilized to mirror the free-flowing movements of aquatic creatures. These materials dance around the body, creating a vivid palette of colors, movements, and adaptable structures.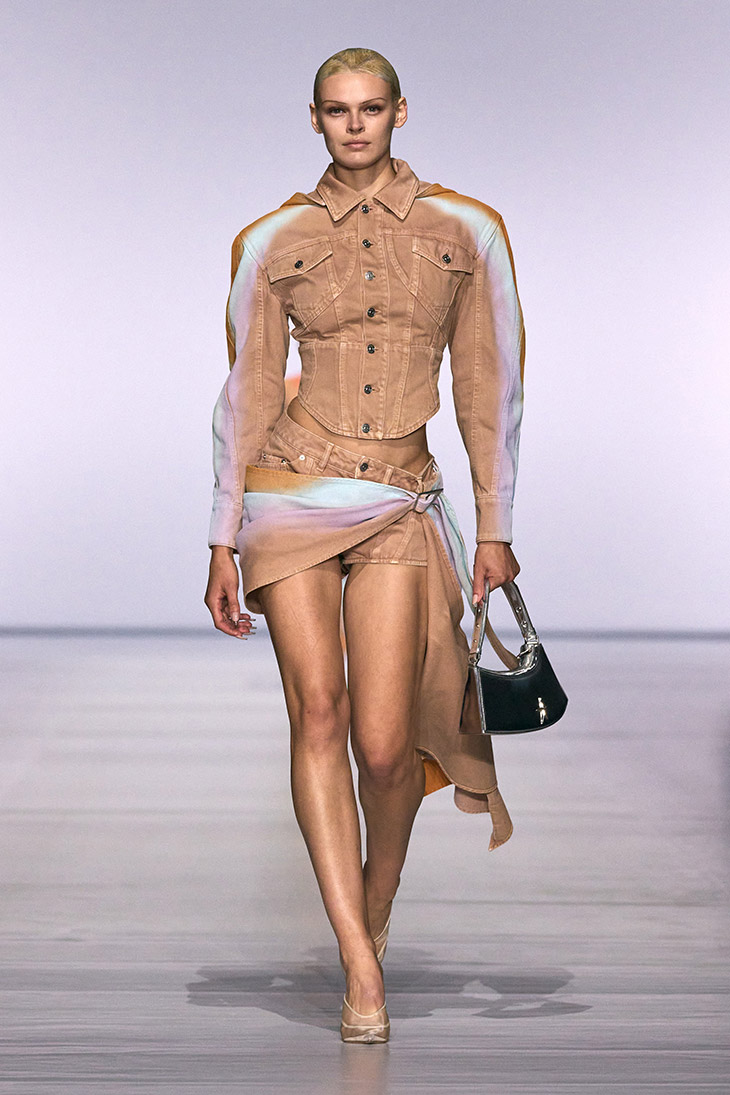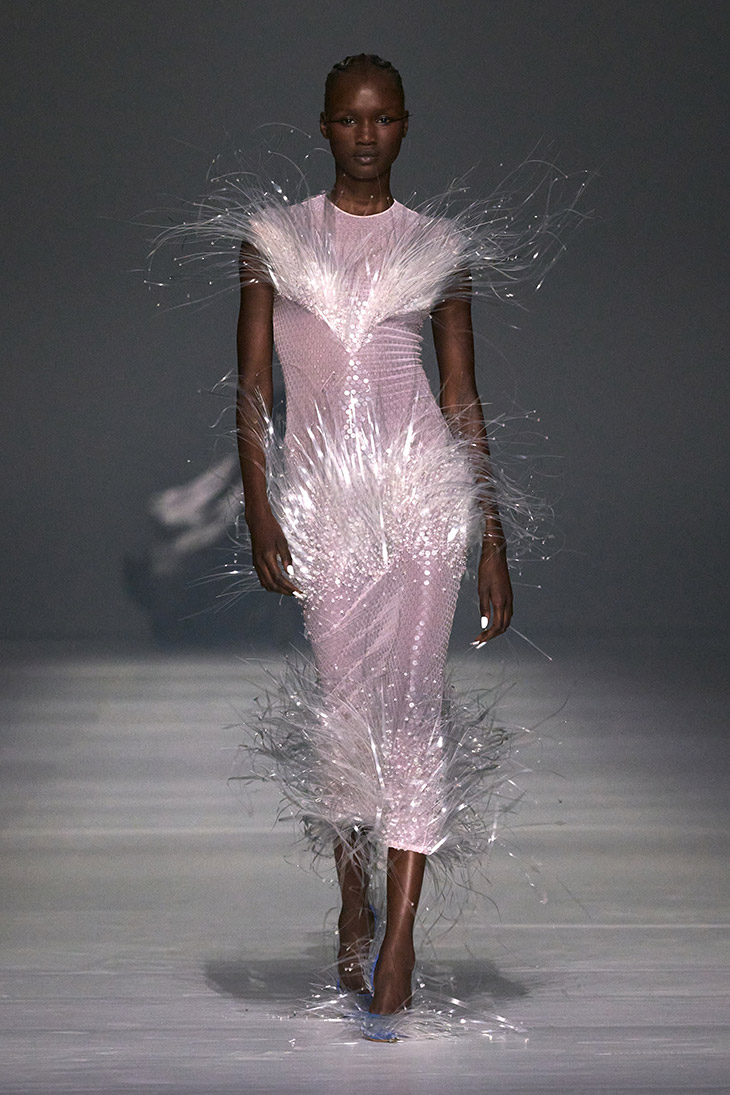 Pushing the boundaries of design, the collection showcases anatomical constructions that gleam with brilliance. These include 3D printed 'glass' corsets, protective body shields, and peplums made from resin. These firm, structured pieces are harmoniously paired with softer elements, ranging from columnar skirts to draped trousers. The collection further boasts boned corset jackets and dresses with hook-and-eye details that resemble the outer protective layers of marine creatures. These designs are enveloped in fluttering chiffon veils. Radiant sprayed spiral denim in neon shades complements the collection, as do the Spiral 01 and Spiral 02 handbags, complete with twisting anodized handles. Cadwallader's architectural prowess is evident in the modern interpretation of the Zenith handbag, which boasts a twisted design and a distinctive injection-molded Angel star.
Honoring the traditional Haute Couture craftsmanship that is intrinsic to Mugler's identity, Cadwallader delves into intricate artisanal creations reminiscent of the brand's iconic late 1990s collections. This exploration results in radical tributes, from sculpted miniskirts and floating tailoring to graphic anatomical seams, die-cut 'feather' embroideries, and dramatic fringed outerwear. These designs harmoniously tie the past, present, and future of the brand.
The fashion show itself was set in the historical venue of Les Salles du Carrousel, located below the renowned Musée du Louvre, a popular location for fashion events in the 1990s. In a theatrical touch, industrial fans were suspended above, turning the white runway into a wind tunnel, thereby creating an illusion of the outfits moving underwater.
The Mugler Spring Summer 2024 collection shows the brand's dedication to craftsmanship. Highlights include sequin 'feather' pumps and transparent sequin-embroidered bodysuits, which demand up to 360 hours of detailed embroidery and over a million individual components. Another showstopper is a transparent knit tube dress adorned with thousands of clear acrylic nails. Not to be outdone, a hand-dyed fringed overcoat in the collection contains an astonishing 7,900 meters of fringe.