Marc Cain Collections Spring Summer 2024 line titled 'A Symphony of Colours'
With the presentation of its Spring Summer 2024 line titled 'a symphony of colours', German traditional label Marc Cain focuses on a wide range of the most striking, eye-popping colours. Various vivid tones, such as tomatoe red and tourmaline blue, mint turquoise and midnight blue, are harmoniously united. These compelling combinations create a harmonious overall picture. Sophisticated shades, for instance classic black and endlessly elegant white, are paired with radiant malachite. Thus, an incredibly interesting colour clash is created. In addition to that, soft, pastel nuances must not be missing as well in this range: for example soft light blue which makes us dream of a summer sky, is applied with delicate lavender, rosé and stone nuances. Mysterious dark purple adds depth. Vivid yellow and lemon hues appear as fresh as a sunrise. Furthermore graceful peach tones are the perfect pick for warmer days. White and off-white build the perfect basis for all themes.
When you have a closer look at the designs, you will recognize their wide variety: Animal prints play a major role. Macro-zebra patterns and little elephants represent the animal world. These gentle giants are repeatedly used. They also team up with zebra prints and therfore create a distinctive look. Moreover swans and delicate floral motifs impress us with their graceful beauty. They underline the blithe, romantic approach of these outfits. Another highlight are tropical fruit prints, such as lime, lemon, papaya or pitahaya. They pop up in very vivid colourings and are therefore a true mood lifter.
Tailoring is shown in numerous variations: Soft scuba jersey is the perfect material for eye-catching patterns. Apart from that it also stands for unconditional comfort. As a contrast, firm woven fabric is used. It emphasizes the strict and correct approach of these looks. Therefore it is the perfect choice for double-breasted suits in bold colours. This line also contains knitwear for the warmer season. Slip dresses, tops, blouses and trousers often consist of satin in rosé, stone or light blue. Pleasant natural fabrics, such as various cotton blends and linen, are a must for the coming summer season. Shimmering yarns and sequins give the outfits a glamorous, elegant and shiny overall impression.
Influences from the '90s can be spotted in minimalist, clean costumes. The dresses are kept in various lengths: they are ranging from mini, midi to maxi length, as an A-shape or in shirt blouse form. Bustier tops which are made for strong women are preferably worn under large blazers or trenchcoats. Another eye-catcher for summer is the feminine bustier dress in cotton voile which is provided with a fresh fruit ornament. Besides are casual, loose trousers and narrow midi-skirts the perfect styling partners. With the use of all-over prints, ready-to-wear becomes a true statement. However it also makes a strong statement in plain colours. Certainly these looks are made for the cosmopolitan, independent and strong woman that dares to wear the styles she prefers. Aside from that, pleated skirts and trousers, which often contain several shades, create true fashion highlights. Another main feature is a figure-hugging black coat dress which is styled with a cotton blouse and a black tie. Simply sophisticated! A crash satin blazer asks for special attention when it is combined with the flowing sequin skirt. When you have a closer look at the denims, either printed or plain, you will recognize the very special detail-awareness of these looks: brooches, enamel buttons or reversible belts appear in the shades of the collections themes. The sophistication and playfulness of this line is also expressed in form of flounces, ruffles and scallops which become visible on dresses and blouses.
©Marc Cain GmbH
The accessories are perfectly coordinated with the outfits and also match the colours of the respective topics exactly. The bags appear in a wide range of shapes – from specious shoppers to business models and mini bags. Narrow belts round off the looks.
For Spring/Summer 2024, Marc Cain Collections focuses on a wide range of the most striking, eye-catching, powerful nuances. Furthermore it offers a wide range of designs and tailoring. 90's inspired looks are true highlights of this line.
Marc Cain Sports Spring Summer 2024 Collection
Marc Cain Sports introduces a casual Spring/Summer 2024 range full of sophistication and detail-awareness. The motto 'a symphony of colours' is implemented in all the themes. Fresh neon green and shimmering gold are faciliated by neutral nuances, for instance camel, beige and sand. Delicate lavender is creatively mixed and matched with a strong shade of mauve. Striking royal blue is applied all-over or as an eye-catcher. Lime, sage and olive create a striking team. Off-white and black round off these creations and build their framework.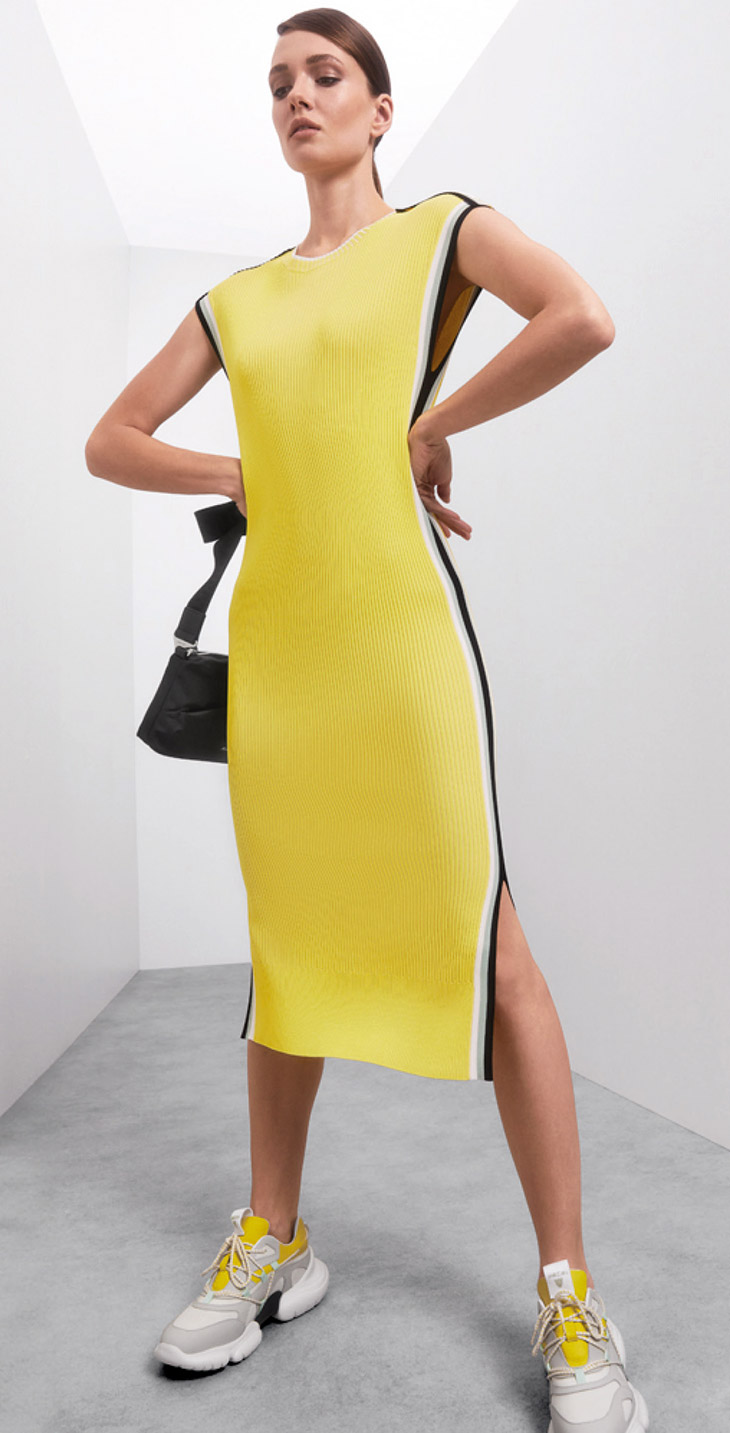 Of course the leopard must not be missing this season anew. It appears in combination with pink and green. Blithe banana prints contribute to the fun factor of these styles. Their combination with lettering prints underlines the sporty note of the outfits. Creative flowers and plants can be mixed with each other and are applied on various backgrounds. Additionally, white stripes are utilized.
To underline the practical and dynamic character of these styles, technical fabrics and surfaces are essential. Spacer or scuba jerseys and knit-nylon blends are often applied. Elastic fabrics which are very comfortable to wear are released in natural fabrics. Vegan summer down shows up in short jackets or waistcoats.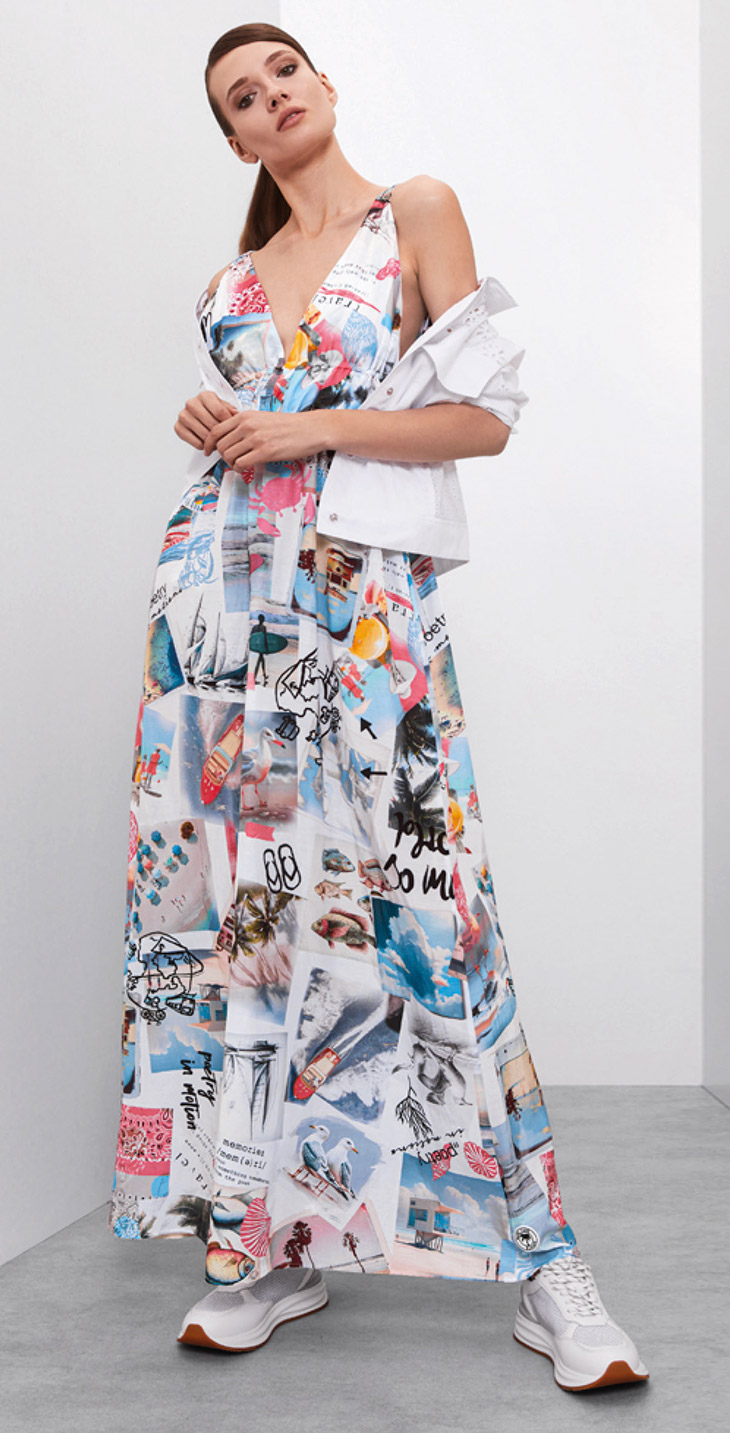 Oversized, loose cotton shirts are worn casually over small tops. Additionally, narrow dresses are combined with large blazers and cabana jackets. Another highlight are denims that appear endlessly elegant, as they are provided with rhinestones. The interplay of metallic surfaces and transparencies builds exciting contrasts. The cargo trend is often transferred when it comes to the trousers of this line. Gathers, appliqué pockets and zip details are their key features.
The footwear is, of course, kept sporty and practical. Motif sandals and sneakers are repeatedly used. Sporty cross-body bags are a big theme. They team up with all the looks and themes. Cool fisherman's hats and caps round off the sporty outfits.
For Spring Summer 2024, Marc Cain Sports showcases a range full of sophistication and detail-awareness. 'A Symphony of Colours' is a celebration of life in all its different colours and facets. Furthermore the creative patterns are the perfect addition for the practical, stylish and sporty styles.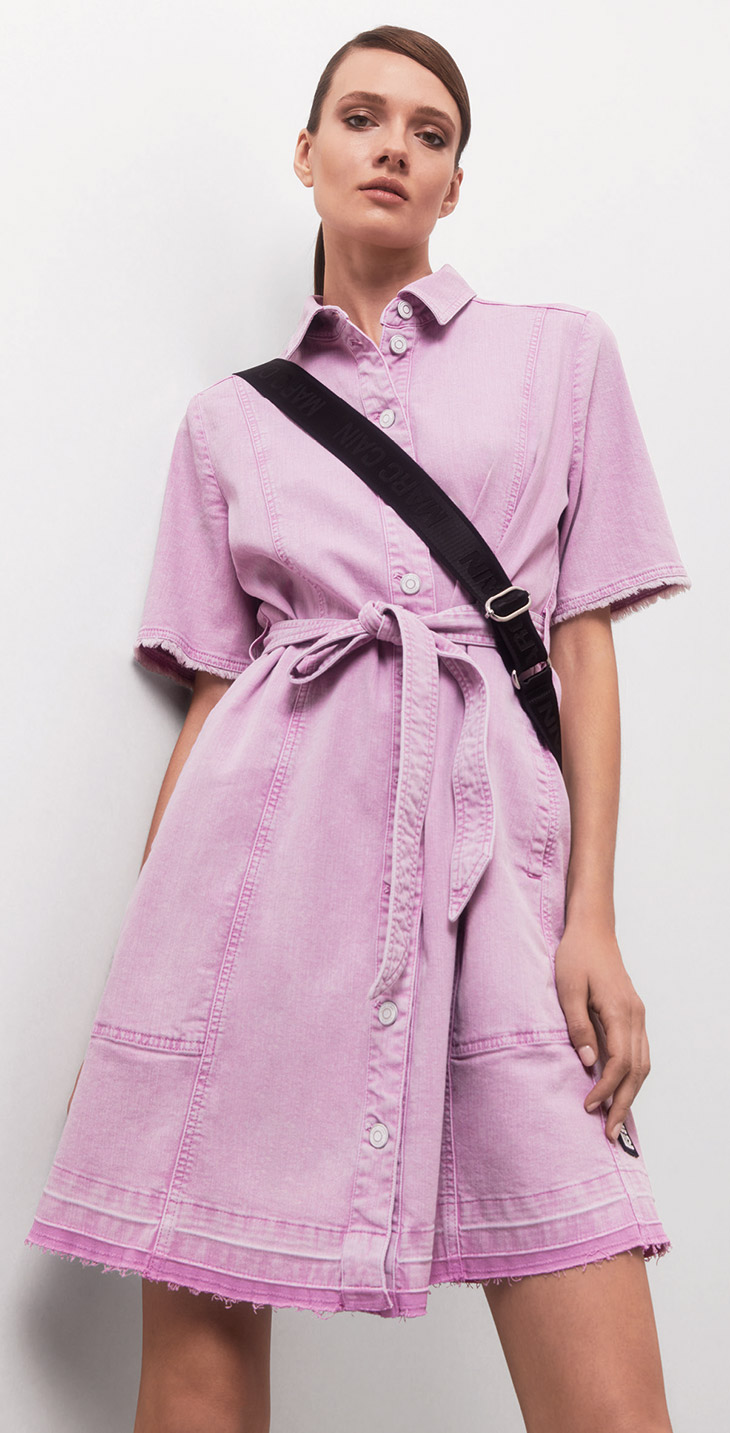 ©Marc Cain GmbH
Review by Sussan Zeck for DSCENE Magazine
All Images Courtesy of ©MARC CAIN GMBH