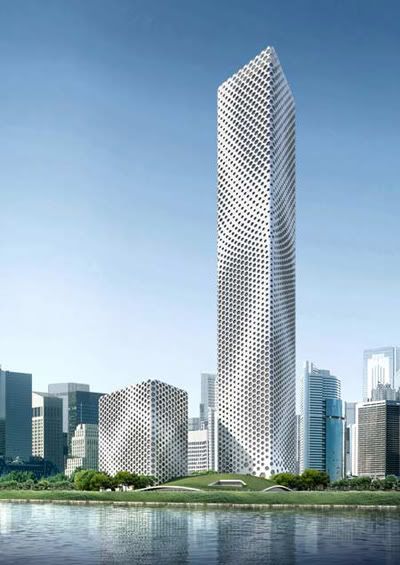 Project:
SINOSTEEL International Plaza (Tianjin) Ltd
Date of estimated completion:
2012
Programme:
Office, Hotel, Service Apartment
Building Area:
350,000 sqm
Director in Charge:
Ma Yansong, Qun Dang
Design Team:
Eric Spencer, Liu Xiaopu, Tony Yam, So Sugita, Zhao Wei, Wang Xingfang, Li Jieran, Lu Lu
Associate Architects/Engineers:
Jiang Architects & Engineers
A new MAD building is under construction. The Sinosteel International Plaza will be a new organic, honeycomb icon for the redeveloped city of Tinajin. The building will be completed by 2012. Sino Steel, China's state owned steel giant, commissioned MAD to create a landmark for Tianjin a new central business district. They specified two towers: an office tower (358 metres) and a smaller hotel (88 metres). MAD designers and architects wanted to move away from the usual business district image, rows and rows of glass and steel, instead they designed a natural, organic and futuristic concept. Honeycomb facade will also hold the building up, the skin is the structure, which will remove any need for internal structures, freeing up the building to a much more flexible use. MAD away not shying away from the future, made a solution which will challenge conventional construction technology, at the same time achieving a perfect combination of strength and beauty. Although the pattern at first appears to be random, it actually responds to patterns of sun and wind on the building, making the building energy efficient, by mapping different air flows and solar patters, MAD architects were able to position different sized windows accordingly, minimizing heat loss in the winter and heat gain in the summer. For more MAD projects click
HERE
.