First Look: Tim Burton's 'Wonderland'

"Off his rocker": Johnny Depp concocts another memorably trippy character as the Mad Hatter. Besides his Carrot Top mop, Depp undergoes a transformation with the addition of enlarged eyes tinted yellow. "He is so much fun and so nutty, I can't imagine anyone else doing it," says producer Richard Zanuck. The actor also employs an accent that Zanuck can only describe as indescribable. More Johnny Depp, Anne Hathaway, Helena Bonham Carters and other Wonderland artwork with more additional under the cut: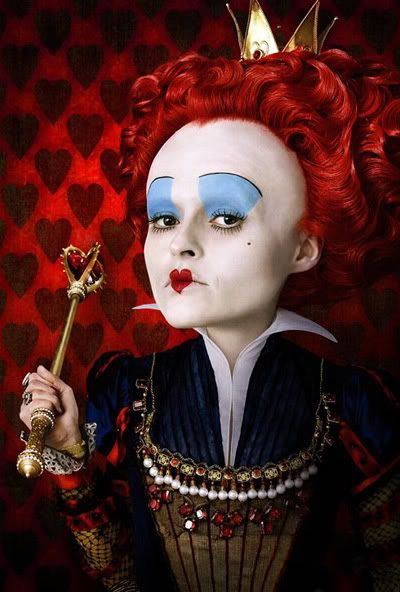 Wonderland was a peaceful kingdom until the Red Queen (Helena Bonham Carter) took power. "The creatures are ready to revolt and waiting for Alice to help them," says Zanuck. Bonham Carter has a digitally enhanced swelled head to play the domineering crimson ruler, who likes nothing better than to scream "Off with their heads!"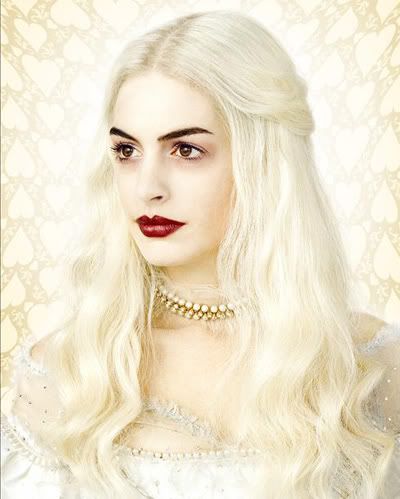 The White Queen (Anne Hathaway), who was overthrown by her sister, "is beautiful but over the top. She doesn't walk. She floats. She's very eccentric," Zanuck says.

You might have gone down the rabbit hole before. But never with a guide quite as attuned to the fantastic as Tim Burton.

Those who have grown curiouser and curiouser about what the offbeat reinventor of Charlie and the Chocolate Factory might conjure up in his version of Alice in Wonderland can feast their eyes on this array of concept art and publicity images, due to hang in movie theaters this week to promote the March 5, 2010, release.

"It has been Burton-ized" is how producer Richard Zanuck describes the director's vision of the Lewis Carroll classic. Many elements are familiar, from the enigmatic Caterpillar (Alan Rickman) to the fierce Jabberwock (Christopher Lee). But none has been presented in this sort of visually surreal fashion.

"We finished shooting in December after only 40 days," Zanuck says. Now the live action is being merged with CG animation and motion-capture creatures, and then transferred into 3-D.

The traditional tale has been freshened with a blast of girl power, courtesy of writer Linda Woolverton (Beauty and the Beast). Alice, 17, attends a party at a Victorian estate only to find she is about to be proposed to in front of hundreds of snooty society types. Off she runs, following a white rabbit into a hole and ending up in Wonderland, a place she visited 10 years before yet doesn't remember.

Among those who welcome her back is the Mad Hatter, a part tailor-made for Johnny Depp as he collaborates with Burton for the seventh time. "This character is off his rocker," Zanuck says.

Aussie actress Mia Wasikowska, 19, best known for HBO's In Treatment, has the coveted title role. "There is something real, honest and sincere about her," Zanuck says. "She's not a typical Hollywood starlet."

There is the usual Burton-esque ghoulishness (Helena Bonham Carter's Red Queen, whose favorite retort is "Off with their heads," has a moat filled with bobbing noggins), but Zanuck assures most kids can handle it. "The book itself is pretty dark," he notes. "This is for little people and people who read it when they were little 50 years ago."