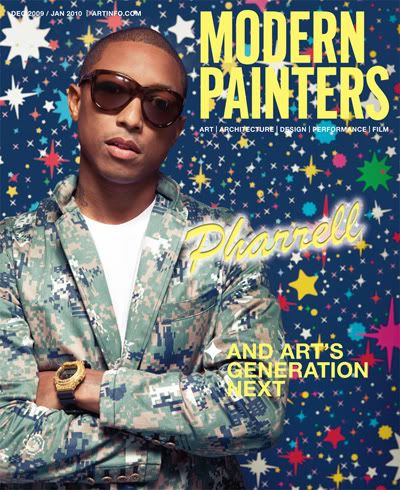 Magazine:

Modern Painting
Website:
artinfo.com/modernpainters
This month Pharrell Williams shows off his passion for design in the December issue of Modern Painters which is dedicated to Art's Generation Next. While many artists and celebrities seem to be doing design collaborations these days – from sneakers to accessories – few are taking it to Pharrell's level. Read more after the jump:
Pharrell's collaboration with Japanese pop-artist Takashi Murakami called The Simple Things (2008-2009) – a six-foot-tall fiberglass, steel and acrylic head set in gold and encrusted in 26,000 gemstones – sold at Emmanuel Perrotin's gallery for $2 Million. In the creature's mouth are seven objects – including a cupcake, a Coke can and a Heinz ketchup bottle – that Williams regards as underappreciated essentials. ("Imagine the public outcry if there were no ketchup for a day?")
The Grammy Award-winning producer and cofounder of the rock band N.E.R.D. also has a passion for furniture – turning again to Perrotin and the French firm Domeau & Peres to manufacture the "Perspective" chair. (sketch and image below). His newest project with Craig Robins is expected to be unveiled at next month's Design Miami, but details are still hush-hush.
Pharrell's definition of art:
"When you're moved, you're moved, and if you should seize the moment to express the feeling. It's that moment of expression that I define as art."
Courtesy of ARTinfo