Project:

Exhibition Center Hotel
Location:

U.A.E.
Designed by

Oppenheim
Scope:

552,642 SF
Type:

Hotel and Mixed-use development
Estimated completion:

2011
Website:
www.oppenoffice.com
This mixed-use development takes a more self assured approach, moving beyond the one-dimensional landmark fetish and desire of iconography, to arrive at an architecture that is simultaneously sensual, sustainable, and sensible. Conceived of crystalline volumes of varying height wrapped in an ornamental lattice, Oppenheim's proposal extracts the essence of the site, capitalizing on its potential to deliver pleasure and delight, in turn maximizing return on investment. Continue for more after the jump: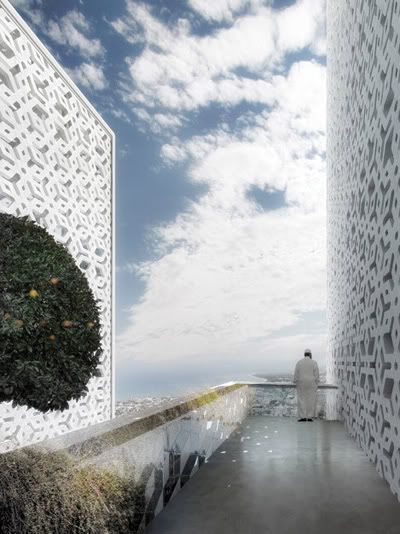 Through a thorough investigation of the site and the views offered, Oppenheims proposal takes as a point of departure a fragmentation of the rectangular plan suggested by the site constraints in both plan and section established by the single room module. The formal displacement allows each unit to get the best possible views while permitting perpetually sought after levels of privacy. The voids generated by these shifts also provide opportunities for intimate private gardens that offer a spatial experience towards the sublime.
The project is both ecologically and socially attuned, beneficial to human and environmental condition that are progressive, yet derived from the ingenuities of the past. Nestled courtyard, interior and rooftop gardens, compositionally compelling, the towers establish a harmony of proportion and experience at various scales. Capitalizing the location, the architecture is nestled within verdant gardens and establishes a sensible landmark at the end of the park. – from Oppenheim