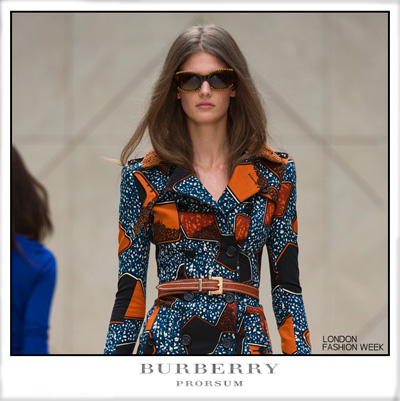 Collection: Burberry Prorsum Womenswear
Season: Spring Summer 2012
Chief Creative Officer: Christopher Bailey
Website: www.burberry.com
The location of Kensington Gardens, expected. The show space in the glass marquee, the same enormous wonder. The attendees of Samantha Cameron, Anna Wintour and Mario Testino, the regulars. If you think that, that is a sign of consistency in the lineup then youve been fooled. You'd be fooled in to thinking that this would be like any other Burberry show.
For collection images and the rest of our review continue after the jump:
The meeting of the digital vs the anthropological. Man meets machine. It was digital communication of the fallible fabric and detailed hand crafted innovation. Burberry had created a collection of what seemed to be sustainability with hand finished and inspired beads, weaves and prints, saturated in tumeric yellows, saphire blues and orange ochres. It looked like a painstaking masterpiece of the hand with the handafted crochet collars, wooden beaded trims and time consuming artisan raffia and whipstitching accessories. It was a very earthy and wholsesome collection with the use of natural fabrics from cottons, to lightweight linens and silks. All these vulnerable pieces were contrasted up against the creation of a 'tweetwalk' show.
Burberry bursted on to the digital scene, streaming live from every social network possible making their painstaking concoxions available to all around the world. It was the fashion worlds most major contradiction of the year and it was fantastically received from Hyde Park via twitter, facebook, youtube and itunes as well as thousands of other fashion websites. The focus this season was really on the oversized shoes and bags that had been whipstitched in what seemed to be an endless weave. Christopher Baileys 'whimsical woven hats' complete with bobbles were as ever evident as the essential to any finishing of a Burberry ensemble. The highlights had to be the woven stripped pencil skirt and matching trench that were stunning in contrast and brightness even in its colours of pale wheat and black. Ofcourse the cropped parkas also caught the eye sculputural and oversized. There were new silhouettes in the full military skirt and another new was the eye blinding colour of the leather trenches also modelled in red by the body of burberry Rosie Huntington Whitely, also present at the show.
Congratulations to Christopher Bailey for a magnificent show and collection. Although there was a great surge for the digital, i cant help but feel that the real battle had been won by the immense handcrafted detail of the garments which could not be denied glory whether they had been seen in the flesh or on screen half way across the world. It seems technology has really brought the individual back to us and through the medium of Burberry. Its not a notion of the past or of the present, but possibly a moment of the future. – by Diamando Christofi, Design Scene's London Contributing Editor
Images courtesy of Burberry