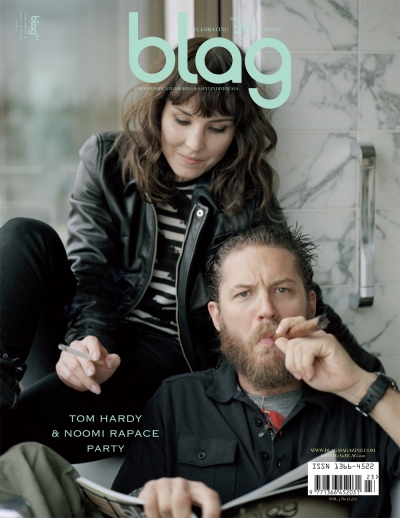 Magazine: BLAG
Issue: Vol.3 Nø 3 |20th Anniversary Edition|
Cover Stars: Tom Hardy & Noomi Rapace
Design & Art Direction: Sally A. Edwards
Photographer: Sarah J. Edwards
Website: www.blagmagazine.com
Actors Tom Hardy (The Dark Knight Rises) and Noomi Rapace (Prometheus) take the cover of BLAG's 20th Anniversary Edition captured by Sarah J. Edwards. Find out who else appears in this massive issue after the jump: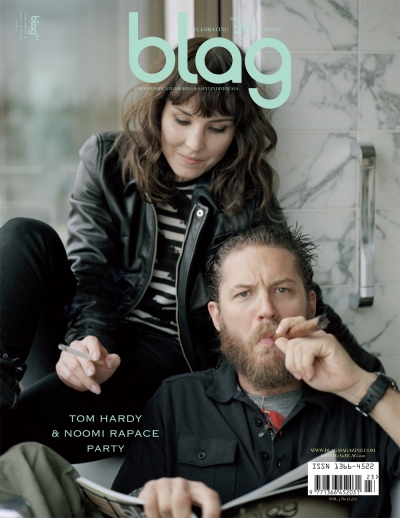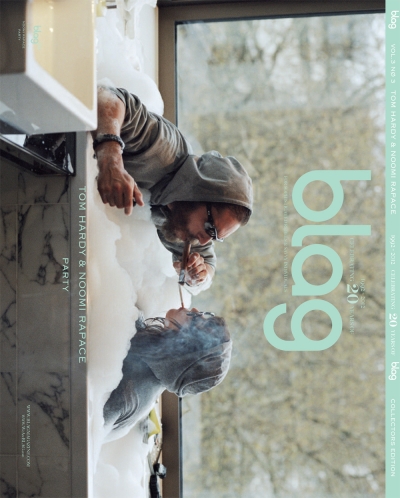 Original photography and stories with: Tom Hardy (The Dark Knight Rises, Lawless, Mad Max: Fury Road) (20 pages), Noomi Rapace (Prometheus, The Girl With The Dragon Tattoo trilogy, ) (20 pages), Phil Frost, Chuck D, ?uestlove of The Roots + historical BLAG journey including unseen photos, polaroids, the funniest and most inspiration stories – this shows how Sally and I went from modeling and working on one side of the industry to another. Included in that feature: Beastie Boys, OutKast, Nelly Furtado, James McAvoy, N*E*R*D, Franz Ferdinand, José Parlá, Rupert Grint, Aaron Johnson, Andrew Garfield, Queens of the Stone Age, Lupe Fiasco, Sam Riley, The Game, Adrien Brody, The Hives, Dizzee Rascal, The Raconteurs, Amy Winehouse, Kasabian, The Pharcyde, Phoenix, Common, 50 Cent, Slum Village, Redman, GZA, Ash and YOU!
A-Z featuring: Aaron LaCrate, Daisuke Sakaguchi, Mercedes Helnwein, St. James Paris, Rohan Marley, Sweet Relief, Phil Knott, Belgraves, Beasts of the Southern Wild, Theo Martins, End of Watch, Rust and Bone, Sipsmith, jeffstaple, Django Unchained, Bull, Untouchable, David Byrne & St. Vincent, House of Marley, La Purificadora in Zona Puebla, Mexico and Maison Kitsuné.