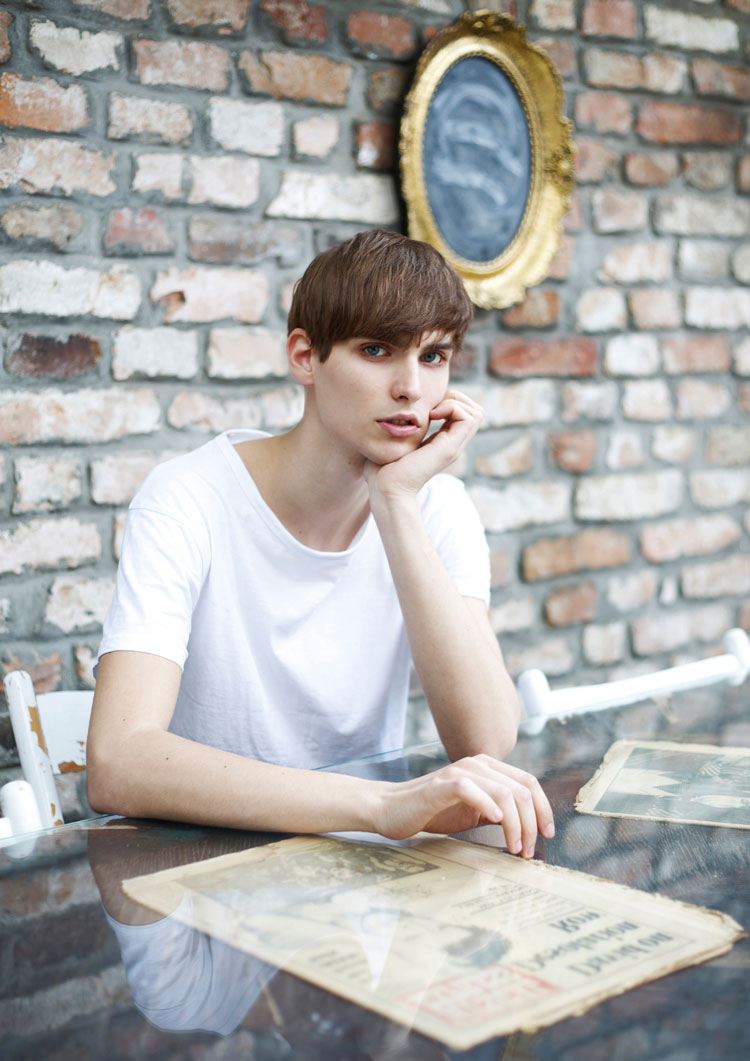 Selling shirts can be easy when you get your shirts in front of those people who are interested in buying what you have to sell. The problem is that most people simply don't know how to market to their intended audience. In fact, not every business owner even knows who the intended audience is. These are essential elements for any company to get a grasp of, but especially those in a highly competitive market like selling shirts. With some good advice, you can go from a nonexistent, or underserviced, marketing plan to one that sells shirts and generates revenue
(Photo above Filip Timotijevic by Maud Maillard for Male Model Scene)
Discover Whether Your Marketing Is Working

If you currently have marketing in place, you need to establish whether it's being productive or not. This can be hard to determine, but a simple poll of your customers can help you to realize what helped to form their decision to make their purchase. In most cases, you're going to discover exactly what you need in your marketing plan right from the people you're trying to market to. Rather than putting a question out there to a random audience, ask your customers when they make their purchase to answer a few questions with the promise of a discount on the purchase. This will help you learn how to sell t shirts right from the people already interested in buying your products. If you discover most of the people buying from you did not make the decision to buy based on your marketing, it's time to make a change.
Be Willing to Invest in Marketing

One of the biggest misconceptions business owners have when it comes to marketing is that this is just another cost they have to worry about. In fact, marketing is an investment. You are investing in the tool that will bring you the return on investment you're looking for. As you're going along, it's important to constantly evaluate your marketing needs. If you're not getting the results you want from your marketing, and it appears additional investment will generate even more revenue, it's time to look over your budget. A marketing budget should be a living organism that grows or shrinks, depending on your needs, but is always present. Make sure marketing is a part of your business plan as well as factoring it into the cost of the shirts you're selling. Remember that even huge corporations are willing to invest millions every year in marketing. This is how these companies maintain their edge and their market.
(Scott by JM Dayao for Male Model Scene)
Target Your Market Accurately
Selling to your market means you first need to know who your market is. One of the first things to consider when you're deciding how to sell t shirts is to identify exactly who is going to buy your shirt in the first place. If you have a specific audience in mind, determine what their interests are and create a marketing plan that focuses directly on those interests. Always remember your audience can shift at any given time. As a result, you need to be flexible in who you are speaking to in your marketing. Keep asking your buyers who they are and what they're interested in. As your audience changes, change your marketing plan to reflect this new audience. Whenever possible, test out your marketing strategies on your audience before investing in it. This can be an informal test using a select few people to look at some marketing ideas. Get their take on whether this would sway them to purchase a shirt from you or not. If the answer is a resounding yes, you may want to go ahead with your marketing plan. If there is less enthusiasm, it's time to get back to the drawing board.
Hook Your Customers with Marketing
When you talk with your customers, make sure you're discovering what challenges they face when deciding what shirt to buy. Your marketing should then center on how your shirt is the solution to the problem the buyer is trying to solve. Your customers will think it's amazing that you have tapped into what they're thinking, and that you identify so completely with what they're looking for. Often, the language used to sell your shirts is not even written. Having a model for your shirts that looks like your target audience improves your chances of selling to that audience. When your target audience sees the image, they think about wearing the shirt themselves and it clicks in their mind. Whenever you do come up with a marketing plan, don't talk about your company or the people running it. Always focus on the target audience by saying "you" rather than "I." With these ideas in place you'll start selling more shirts and making more money.