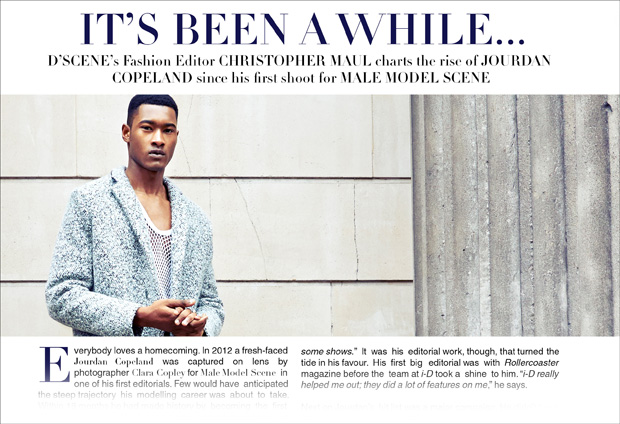 Our throwback moment goes to the launch edition of D'SCENE magazine where our Fashion Editor CHRISTOPHER MAUL charts the rise of JOURDAN COPELAND since his first shoot for MALE MODEL SCENE. Everybody loves a homecoming.
In 2012 a fresh-faced Jourdan Copeland was captured on lens by photographer Clara Copley for Male Model Scene in one of his first editorials. Few would have anticipated the steep trajectory his modelling career was about to take. Within 18 months he had made history by becoming the first black model to walk for Burberry, scored a Calvin Klein fragrance campaign and earned a ranking on the models.com Hot List. Now, as fashion's newest poster boy, Jourdan reunites with Clara to celebrate Male Model Scene's transition to print.

With Jamrock blood coursing through his veins, Jourdan can thank his Caribbean heritage for his good looks and sky-high cheekbones. However, it's his upbringing in South East London that has influenced his style. "I guess I have a street style," he says, "but if there's an occasion to wear a suit, then I'm up for it."
He was on a tube journey to work when he was scouted. "Patrick [his agent] was just sat there staring at me and I had no idea why at first," he laughs. Little did he know how boarding that train carriage would change his future entirely, and that of the fashion industry. Initially reluctant to model, Jourdan found out this nonchalance acted in his favour. "A lot of good models that I've met never had plans to be a model. They're carefree," he says.
124 pages, published 10/15/2014
The premiere edition of D'SCENE magazine
Jourdan made a rapid impact on the fashion circuit. His first season saw him walk for YMC and Christopher Shannon, not long before his shoot with Clara Copley for Male Model Scene."I joined [AMCK] just before London Fashion Week. I didn't even have any showcards but they managed to get me some shows." It was his editorial work, though, that turned the tide in his favour. His first big editorial was with Rollercoaster magazine before the team at i-D took a shine to him. "i-D really helped me out; they did a lot of features on me," he says.
Next on Jourdan's hit list was a major campaign. He didn't have to wait long. Now the face of Calvin Klein's Red Edition fragrance, he couldn't believe his luck when he found out. "I was in bed with a hangover when I got that call and I had to cut my holiday short," he says. "It was the best hangover cure ever!"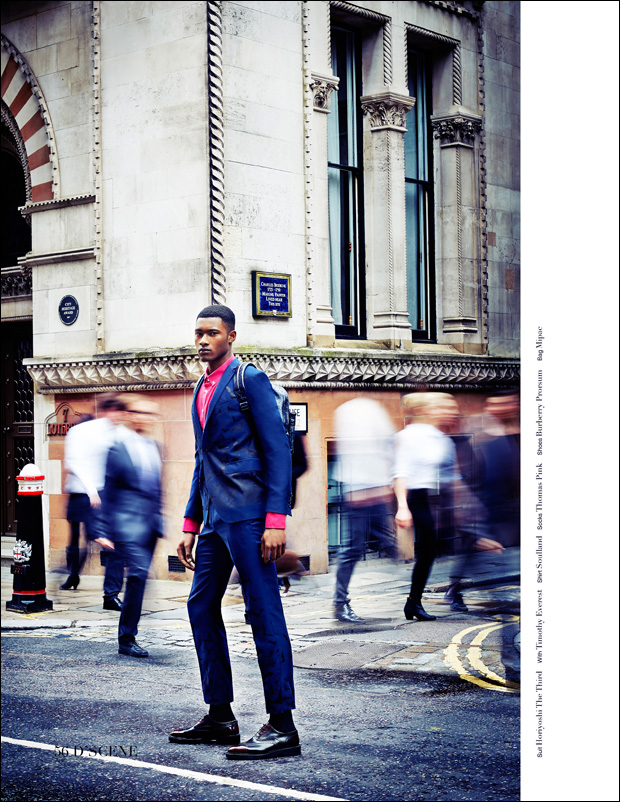 When Jourdan found out he was the first black model to walk the Burberry runway he felt a mixture of pride, excitement and shock but he feels that black models have to swim against the current in the fashion industry. "I do think it's harder in some ways for black models to make it [in the industry] but it shouldn't be that way. I'm really happy to have been the first black model for Burberry, but I don't understand why it needs to be a thing."
So has modelling affected Jourdan? "I'm definitely more open minded, especially with styling choices. During an early shoot I didn't want to be there – I didn't like the clothes, the make up and everyone watching me. I called my agent at the time and he reassured me. I'm glad he did because now I enjoy it all," he says. Now he takes modelling in his stride and he's become a more confident and outgoing individual.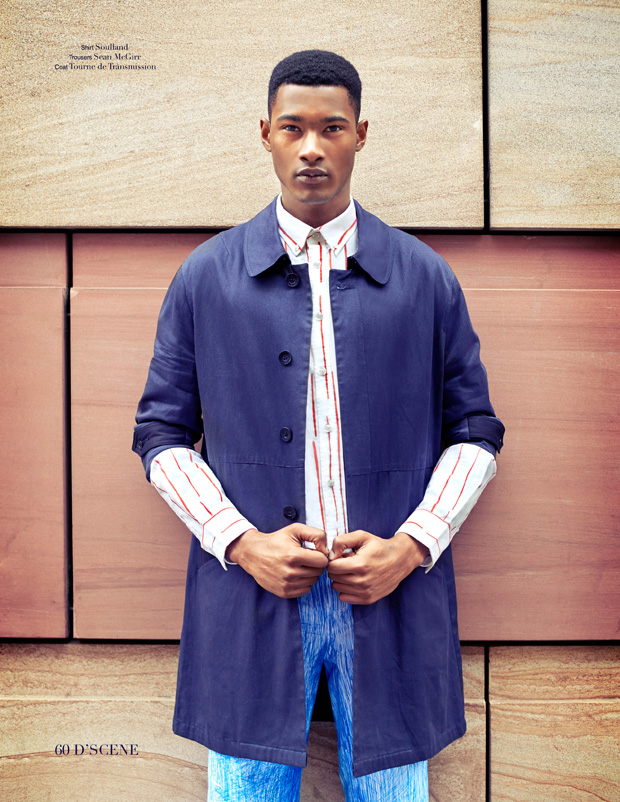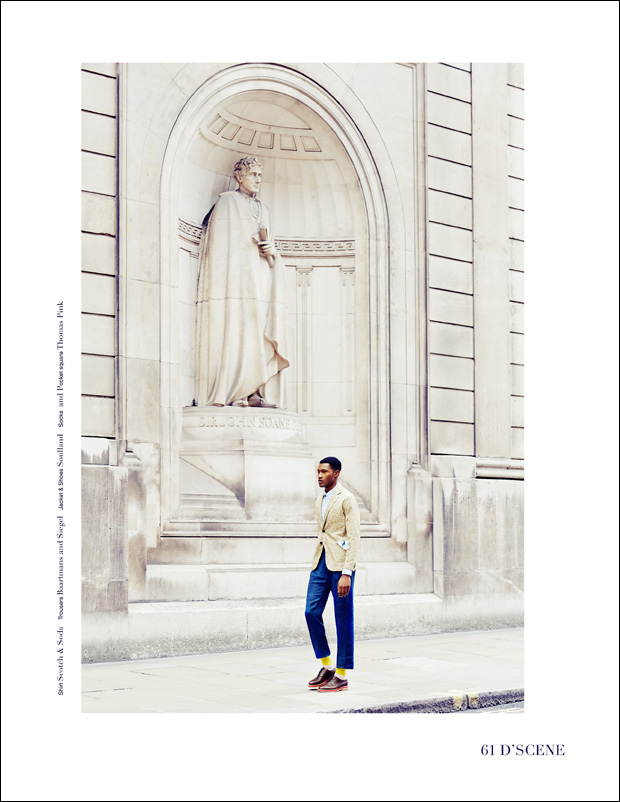 If it wasn't for modelling, Jourdan would have become a pastry chef. "It's still an interest of mine but I've closed that door for now to pursue modelling. I'd like to work more in New York soon. It would be cool to have my own cooking show one day," he says. We hope he doesn't quit his day job just yet.
Photographer Clara Copley
Fashion Editor: Christopher Maul @styleofmaul
Grooming: Tabby Casto
Model: Jourdan Copeland at AMCK
Fashion Assistant: Saskia Beazley
For the session Christopher selected pieces from Adrien Sauvage, Samoe & Samoe, Hardy Amies, Carlo Pazolini, Horiyoshi The Third, DODD, JShoes, Thomas Pink, Burberry Prorsum, William Palmer, Uniforms for the Dedicated, Duggers of London, Soulland, Sean McGirr, Tourne de Transmission, Baartmans and Siegel, Plectrum by Ben Sherman, Alan Taylor, SoPopular, and TRIWA among other.