British designer Christopher Kane presents a showstopping spring summer 2015 men's collection with some of the best pieces now at Wrong Weather. Our friends over at WW have gone through the designer's latest, and selected some of the most coveted garments prepared for the next season.
While the collection still holds a sportswear note, with sweatpants and sweatshirts dominating the same, what makes Christopher's new designs stand out is an array of prints. Already a signature of the designer the statement prints have morphed once again. Unlike the horror themed Frankenstein theme a season ago, this time Kane returns to graphic shapes, presenting a myriad of geometric and nevertheless colourful results.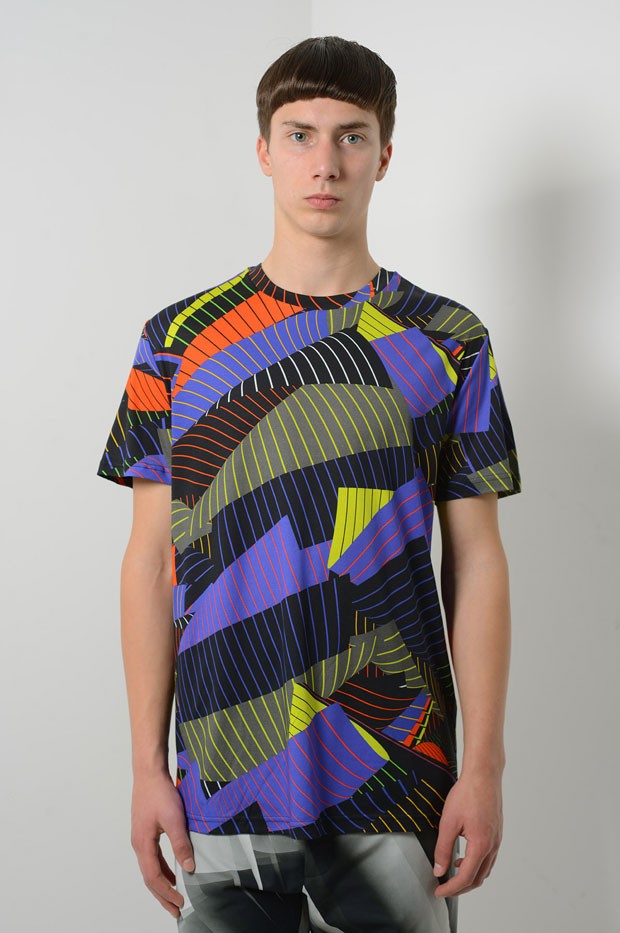 Beyond the company employees we have a factory in London who produce entirely for me, so I do feel a heavy responsibility sometimes. I know that these machinists need to have work or the factory will send them home. So, yes it can be pretty intense at times. Some months cashflow can be prohibitive and it stops me from being creative or doing exactly what I want with fabrics etc… At the end of each month I have salaries to pay. I've never once in six years missed a wage run and I am proud of that. Tammy takes care of that side of the business but we share an office so I hear about all of the dilemmas and heartache. I try not to let it affect my designing because that ultimately will be the money coming in six months' time. – Kane talking about the business side for PONYSTEP
Proving Kane is doing everything right is the ongoing partnership of his once indie label with Kering, one of leading fashion industry giants. Furthermore little over a year ago, Kane was awarded Women's Wear Designer of the year at the British Fashion Awards held by BFC – British Fashion Council.
What stood out the most for us in the new men's collection are the sweatshirts, surpassing their sports role, into a highly coveted fashion item. Wrong Weather team got their hands on some of the best from Kane's spring summer 2015 collection.
Some of our fave Kane pieces from the Wrong Weather shelves are below: