Workout clothes have to allow free movement and keep the body cool during exercise, at the very least. However, the advancements in technology now mean that clothes for sport, exercise and going to the gym do far more than this. In addition, with the wide range of styles, designs and colours available, you can look efficient and tidy in the gym, and ultra-stylish outside it. Don't restrict yourself to the basics when dressing for the gym; you deserve much more if you are taking the time to look after your body. Not only will you look good, you are more likely to feel confident, be supported as you exercise, and perform better.
To begin with, most people own at least one quintessential hoodie – ideal for your warm-up and cool down. The style, range and quality of hoodies available now means that a hoodie can be found for any season and whatever your taste. They are great for pulling on over workout clothes for your journey to the gym, have pockets for keys and phone, and are extremely comfortable.
When it comes to actual workout wear, you can expect to find items of clothing that incorporate one or more of the following features:
• Moisture-wicking fabric to draw away sweat whilst you workout.
• Fabric to keep the body cool and comfortable, which is also odour resisting.
• Flat seams to avoid rubbing or chafing.
• Shape-retaining fabric that provides a close, comfortable fit.
• Mesh inserts in tops and gussets to release body heat and maximise airflow.
• The use of 50+ UPF fabric to protect skin from the sun.
• Reflective paneling on tops, or a sheen to catch cars'headlights.
• Fleece to hold warmth in and help the body regulate its temperature.
Muscle support
Serious workout fans can find clothing designed to focus muscle energy and reduce muscle vibration for maximum physical performance. Compression gear is great for aiding injured body parts, and Tommie Copper's compression items are not only functional but also look good. It is up to you whether you keep them hidden, in which case they are streamlined and unobtrusive, or show them off. Tommie Copper compression gear is available online from their official website.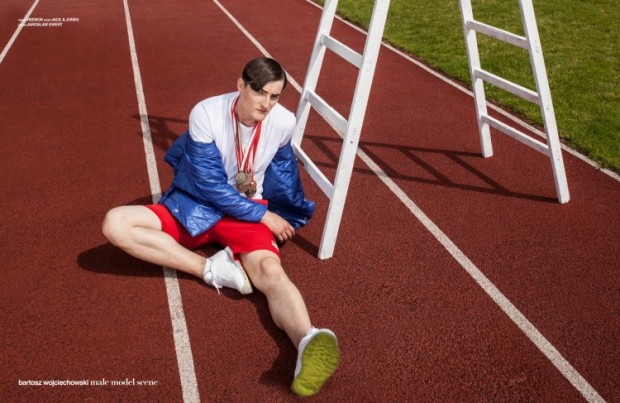 Specific sports
Clothing can be chosen that has been adapted for a specific sport; for example, tops to accommodate the extra arm movement needed during racquet sports.Socks now provide support in the arch of your foot and Achilles tendon during your workout. When it comes to footwear, whether you want to take part in weightlifting, handball, running or tennis, there are sports shoes tailored to support your feet and cater for the requirements of that specific activity.
Workout gear is becoming more functional and advanced as we expect more from our apparel, but the way you look when you are at the gym or when working out does not need to suffer or come second to practicality. You do not need to compromise. It will be possible to find clothing that will meet your personal needs, in a style you like, whatever your chosen sport or method of exercising.
All Photos Above Bartosz Wojciechowski for Male Model Scene