With increasing global attention being paid to the Chinese fashion industry, POOKY LEE considers for D'SCENE Magazine's print issue how the country itself is sometimes confused, too.
"You meet everybody in China these days!" Wrote Vogue China's chief editor Angelica Cheung, as she post pictures of herself with other industry influencers she met in Beijing on her Instagram account.
Which is literally true. Just like last month, I personally had the pleasure of meeting several London College of Fashion's researchers, who came to Shanghai for a collaborative research project with local textile and fashion design school Donghua University. Legendary fashion historian and writer Colin McDowell, who was invited to attend Shanghai Fashion Week around the same time, also gave a short panel talk about Chinese design.
The list can go on and on: Imran Amed, founder and editor-in-chief of Businessoffashion.com flew especially to Shanghai to announce the launch of website's Chinese language edition. Even the prestigious The Metropolitan Museum of Art didn't fall behind. Its Costume Institute department's upcoming annual exhibition of 2015 will be all about this oriental country. China: Through the Looking Glass, presented by museum's Chinese Galleries and Anna Wintour Costume Center, will explore how China has fueled the fashionable imagination for centuries.
Designers and brands shown as exhibits include some rather well-known ones like Yves Saint Laurent and Valentino, both of which once presented spectacular fashion collections that featured classic Chinese elements like pagoda-shaped hats and jackets with mandarin collars. Even the creators themselves were invited to be appointed as China's fashion design consultants during the eighties and nineties, though at that time we would use the word "textile" instead of "fashion".
Chinese influence in other designers' work may seem less apparent. Craig Green's 2015 spring/summer menswear collection will be another highlight of the exhibition, but perhaps not that many people would get the reference: it's a delicate yet subtle replication of a classic Chinese ghost and love film called Qian Nv You Hun, mixed with Mr. Green's signature poetic touch.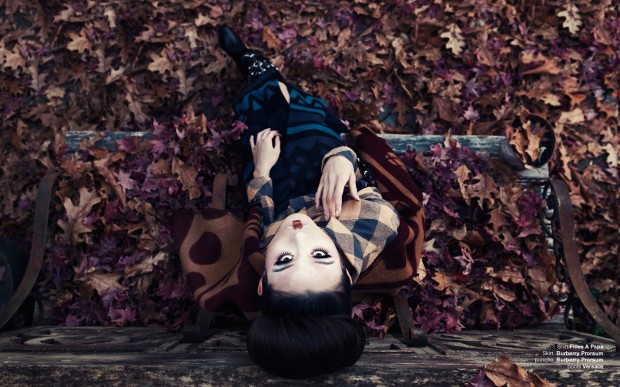 But the initial idea of staging this exhibition still is doubtful. Back in 1994, The Metropolitan Museum of Art has already presented an exhibition called Orientalism: Visions of the East in Western Dress, curated by then curator-in-charge late Richard Martin. Chinese influence certainly made up one particular section of the whole exhibition. In 1999, the current curator Andrew Bolton himself even once did exhibitions on similar themes like Fashioning Mao for Victoria & Albert Museum. So what's really the point of repeating themselves again now after nearly two decades?
Perhaps the newsletter indicated some reason why museum would choose to feature China this time. "Additional financial support for the 2015 exhibition and benefit is provided by a group of donors." Says the press release, loud and clear.
144 pages, published 2/8/2015
D'SCENE Magazine winter 2015 edition – fashion magazine starring top models in editorials captured in New York, Milan, London, Sydney, Dubai, and Belgrade.
"It seems apparent that there's a relationship between the sponsorship and exhibition's theme. Only we don't really know which one came out first." A fashion scholar and former business consultant, who preferred to be anonymous in this article, explained to me when I show her the press release content. "Which isn't that surprising or a very bad thing. Because as far as I know, many foreign institutions are lack of funding to support their events and researches today. And China, together with its rising new rich people, would actually much like to 'buy' that experience and knowledge, or even titles and fame, from these foreign institutions. That could sometimes actually be a win-win situation for both sides."
While China's busy participating in this international big fashion game, Chinese influence in terms of fashion aesthetics remains, awkward to say, still out-dated. Most major ones, like Yves Saint Laurent and Valentino Garavani's interpretation of China, shall be traced back to Qing Dynasty more than a century ago, an era that most Chinese people are not even familiar with nowadays.
Whereas local Chinese designers are divided into two groups. Older generation sticks to traditional motifs like dragon and phoenix. But unlike foreign designers who might use these motifs to create something with an exotic allure, local designers' approach is simply trying to bring back a time and style that celebrates the ultimate emperor power, which happens to cater to certain Chinese high official leaders and their wives.
Newer generation of Chinese designers would usually get their education and training overseas. Their design philosophy is mostly globalized and hard to be put into different categories. But here comes another question: since their designs rarely have significant national identities, they somehow lose the selling point when they're competing with other people on an international stage.
Earlier when I interviewed Didier Grumbach, the former chairman of the Chambre Syndicale de la Haute Couture, he said something rather cynical yet interesting: 'There will never be any Chinese fashion designers because they only come to Europe to present their collections, and they're not that favored by buyers or foreign media, either." My friend Anja Aronowsky Cronberg, founder of academic journal VESTOJ and a senior research fellow of London College of Fashion, told me when I met her in Shanghai months ago.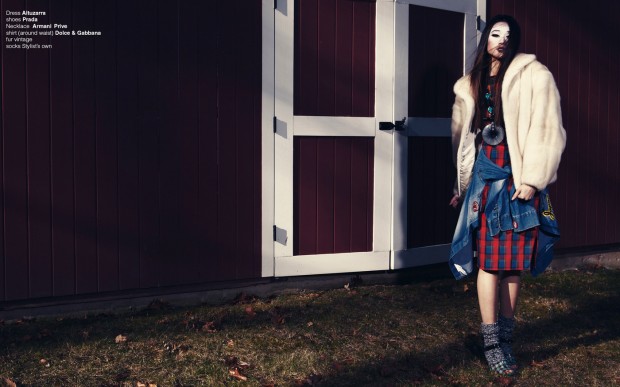 Though in that case, doing fashion shows overseas and using that as a media gimmick to attract attention back in China could sincerely establish designer's name fast. And the case isn't really rare here, either.
So what exactly should designers do to develop this Chinese identities and influence? Or should we ask, is it still relevant to talk about this subject under the global circumstance?
"I think there will be a time when people around the world are interested in distinct cultural identities, even if it means that designers will have to revive them." Said fashion critic Cathy Horyn, who did a profile article on Chinese designer Guo Pei for T magazine in 2010, when I consulted her thoughts on this issue. "But that process, a kind of historical excavation, can be interesting and produce new forms. It's just that we're in an incredible whirlwind now, have been for a decade or more, and we have to wait for that change."
One fact we have to admit is China is now insanely fast-moving. This is a country that offers numerous opportunities, as well as traps. All people could do is throw themselves into the history flow and let time test who's got real talent and would finally stand out. Until then, no one is really sure what will be happening tomorrow in China. So for now, we could only hold our heads high and pose a positive look.
Written by Pooky Lee Twitter @pookylee1992
Photography by Sinem Yazici – www.sinemyazici.com.
Stylists Charles Ward and Lara Glassman
Makeup Artist Brian Dean
Hair Stylist Kelley Louise
Photographer's Assistant Chris Carroll
Model Cindy Stella Nguyen at Fenton Moon Models