Saying that women can be "picky" when it comes to the sort of gift they'll like is the same as saying that the sun is only "sorta" big. While they may say that "it's the thought that counts," boyfriends and husbands all around the world know that this phrase is code for "no, we don't like it". Choosing a gift can be a stressful, disheartening and at times rushed experience since, for many husbands out there, they tend to go gift shopping at the very last minute (i.e. a few days before Christmas). While Christmas season has a wide assortment of different products that you can choose for your significant other, there are some simple tricks you can use so that it'll be faster for you to get a present that she'll definitely love. Image above by Giel Domen for Design SCENE.

Get Her Something Practical or Unique
Sure, she'll "definitely" love that 45 inch LED TV with surround sound speakers you got for her, or she'll probably think that you got that for yourself and that you're trying to convince her that it's her gift. In order to appease the love of your life, you need something that will appeal to her from a physical or practical standpoint. One way that you can do so is to get her something that she really needs in the form of a designer clutch bag with multiple compartments on the inside. Husbands all around the world have experienced seeing their wives bring the equivalent of a small grocery store in their bags. You can get this type of product in a wide variety of different designer stores at malls and they're quite affordable as compared to their larger counter parts. The multiple compartments inside are ideal for keeping the wide assortment of different items that women love to carry around and, as such, she would definitely appreciate the design and practicality of it. Aside from this, you could always go for the "unique" gift idea such as Ippolita jewelry from TrueFacet which is a type of jewelry with designs that are definitely different from what you can see from most jewelry stores. Your choice between practical or unique depends entirely on what you know your wife loves so choose what you think would appeal to her the most. Image above by Katerina Anna for Design SCENE exclusive stories.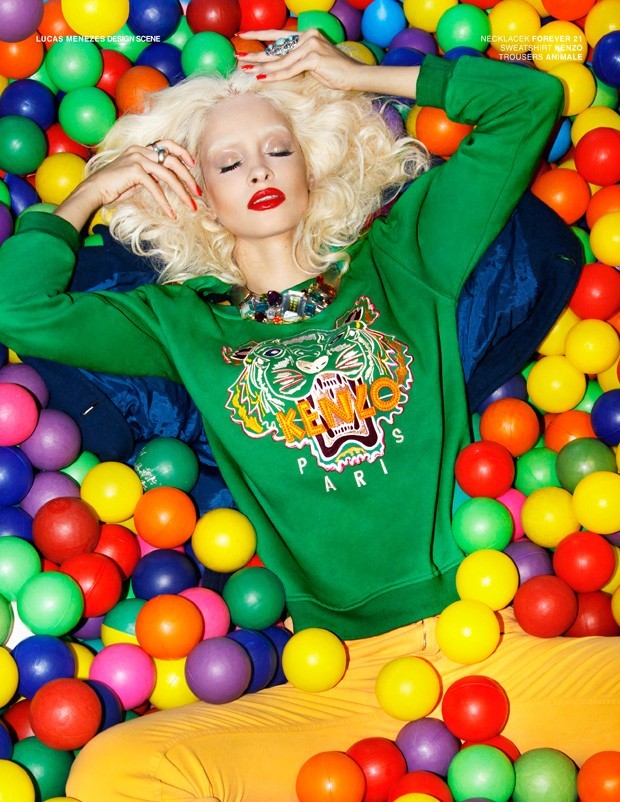 Does She Love Pets?
If your wife loves pets and you don't have pets of your own, you can always opt to get a pet dog or cat. There are various online pet websites where you can get pets with good pedigrees ranging from a German Shepard to a Persian cat. This of course depends on whether your wife loves cats or dogs. You can't really go wrong with coming home a day before Christmas with a small puppy or kitten in your arm that you can give to your wife. Considering the fact that puppies and kittens are irresistibly adorable, your wife would definitely be screaming with joy if you got her an adorable pet. One way to make the gift even better would be if you could match the pet you will get with one that your wife had when she was younger. This would definitely bring out a lot of happy memories for her as she reminisces about her long dead pet. Do note though that aside from going to breeder for the type of pet that you want, you can also visit your local pound and get a rescue pet. These types of pets are often very grateful to you for saving them and not only that, getting a rescue pet is far cheaper as compared to one with a pedigree. Image above by Lucas Menezes for Design SCENE.
When all else fails
As you can see from the title of this section, this is about knowing where to get a Christmas present when all else fails and you have absolutely no idea what to get for your wife. There are two possible places that you can check out for great Christmas presents, Etsy.com or your local antique shop. Etsy is basically a site where people sell their unique handmade home creations. These can range from sweaters that they made themselves to various types of figurines that look as if they were alive. It's basically a one stop shop for different types of home creations that appeal to the creative side of people and it is likely that you can find something on the site for your wife. Aside from etsy, you can try visiting your local antique shop and see if you can find the equivalent of an antique vanity table. These are definitely unique and would appeal to most women due to its connection to beauty and elegance.
Just remember that you know your wife best and, as such, any Christmas present selection should be based on what you think she will like and not what's popular. So, finding a gift for your wife is covered now it's time to find something you want! Lucky for you, this is very easy with the help from Gear Hungry.