Painting #23

Dutch visual artist
DAAN ROUKENS
is known for his abstract design, taking on a unique relationship of form, composition and color. To talk about his work and the art scene we sent our editor
KATARINA DJORIC
to sit down for an interview with the promising artist.
Tell me something about you and your work.
My name is Daan Roukens (1987) and I'm a Dutch visual artist from Amsterdam. My work various from painting, wall painting and design, in which I want to challenge the viewer to experience abstraction in the relationship of form, color and composition. I am an obsessive perfectionist, so I'm constantly searching for balance, while at the same time I'm trying to break free and allow experiment to happen. While remaining true to classic painting, I also work with contemporary media in which patterns and color combinations used in previous artworks often return on new surfaces, such as clothing and design.
Read more after the jump:

What are you working on right now, is there a project you are currently obsessed with?
As mentioned before I'm always obsessed with everything around me, hence the name for my blog: NO REST FOR THE OBSESSED. I'm currently working towards a solo exhibition in the summer, and I will release new prints and paintings in the upcoming months. Also some very interesting projects are coming up 🙂
Painting #22

How do you keep your creative spark? What keeps you fascinated?
My interests are quite extensive, ranging from the Squeegee paintings by Gerhard Richter to the fascination of Warhol, who brought art closer to a larger audience by reproducing. I also draw a lot of inspiration from fashion, design and architecture, and truly believe that art can be manifested in many ways from the beautiful white cube to our daily life on the streets. What keeps me fascinated is the continuous stream of creating and I want as many people as possible to experience this.
What is your dream project?
I have too many ideas for one dream project, but there are two major goals I would like to achieve. An exhibition of my paintings and murals in a major museum like the MOMA. As well as a collaborative project with Nike on an installation with sneakers and art.
What are your professional goals?
To share my work with the world, through galleries, musea and inspirational projects with brands and companies.
What's the first artwork you ever sold?
It was during my final year in the fine arts academy, which at that moment was not supported by my tutors, because I should've waited after my graduation. I'm glad I was stubborn, because it helped me very much setting up my artistic career.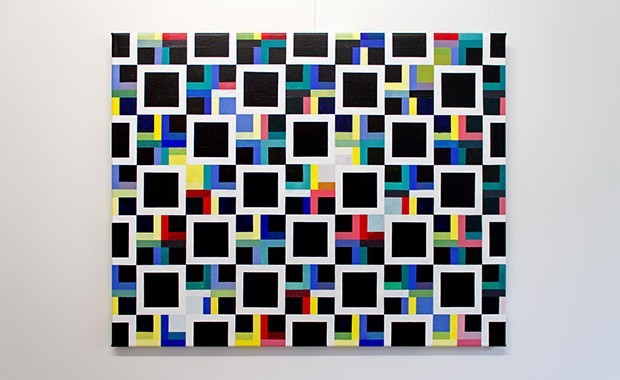 Painting #21
What work of art do you wish you owned?
Oh wow that's a lot, but I would definitely like to have a Piet Mondriaan in my collection.
Who's your favorite living artist?
Also too many to pick one out, but at the moment I'm very interested in Kaws, who makes a perfect mix of creating fine art in combination with his designer projects. And I'm also very curious to see if his paintings will become even more abstract in the future. And I'm looking forward to visit David Hockney's biggest exhibition ever at the Tate Britain London in 2017.
What superpower would you like to have and why?
I think teleportation would be awesome!
Name 5 things you can not live without?
Art, music, sneakers, creating and of course friends & family.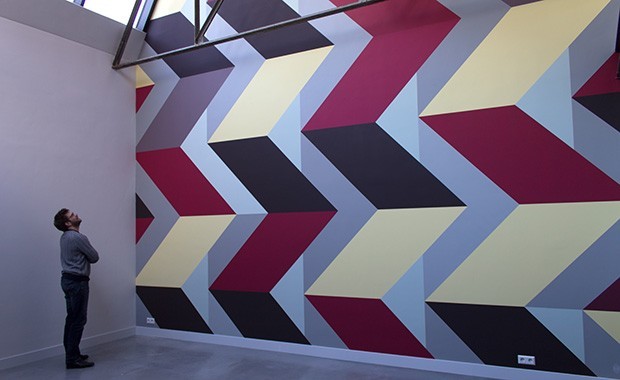 Wall Painting #6