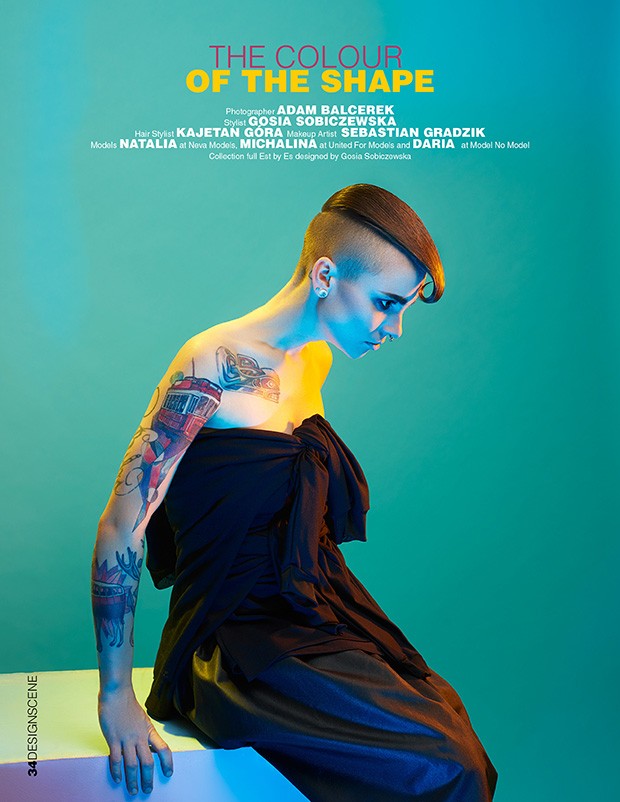 The Colour Of The Shape story from this months Design SCENE magazine issue, out now in PRINT & DIGITAL. Every professional in the fashion industry will tell you good hair styling is as important as much as good photography and spectacular clothes for any photo shoot. Photographer Adam Balcerek has teamed up with the talented Gosia Sobiczewska who stands behind Polish brand ESTby eS as well as the world class wig maker Kajetan Góra.
DESIGN SCENE took the occasion to interview both Gosia and Kajetan.

Kajetan Góra
Kajetan, wig making is not an easy skill how did you end up with such a unique profession?
As a child I did not know what I want to do in the future. Life brought me to Warsaw, which was so different from my little hometown. All those opportunities appeared to be so fascinating, and absorbed me compeletely. I fell in love with all what was about artistic expression. In the dark nooks and crannies of the theatre I discovered the art of wig making. I learned fast, and soon felt that I want to something more, not only wigs.
So what happened then?
I felt that I need to come out, to work with people, to show them what is inspiring me. And most of all, I wanted to show how something, which is almost gone, is important and needed. That's why I worked harder and discovered what are expectations of many women. Each women wants to look and feel feminine, to feel self confident – and this longing does not change a bit. I am not afraid to state that the art wig making can be a blessing for some women, and emotions, in the meetings, are very overwhelming. Sometimes I cry with them, sometimes we laugh together. Wig making is no more a craft, it became a passion, my goal. I have decided to help people in need, to support them in their way to the beauty, to self esteem.
It seems to be a mission. In that case you specialize in a medical wig making?
No. It is one of manny paths of that profession. Another is media and celebrities world. We have to know promotion strategy in each project, single, role creation, which involves change of hair, make up – generally speaking the image, often with the total change.
There are no hair, which are able to grow overnight to the required length, and there are no hair which will stand to too frequent styling, or color changes. It happens that during one show a star has to change several times the hair length, or colour. This is the moment when wig making gives a helping hand, and meets directors' and producers' expectations.
Thanks to wig making even the most cosmic, and fairy-tale like creations are possible.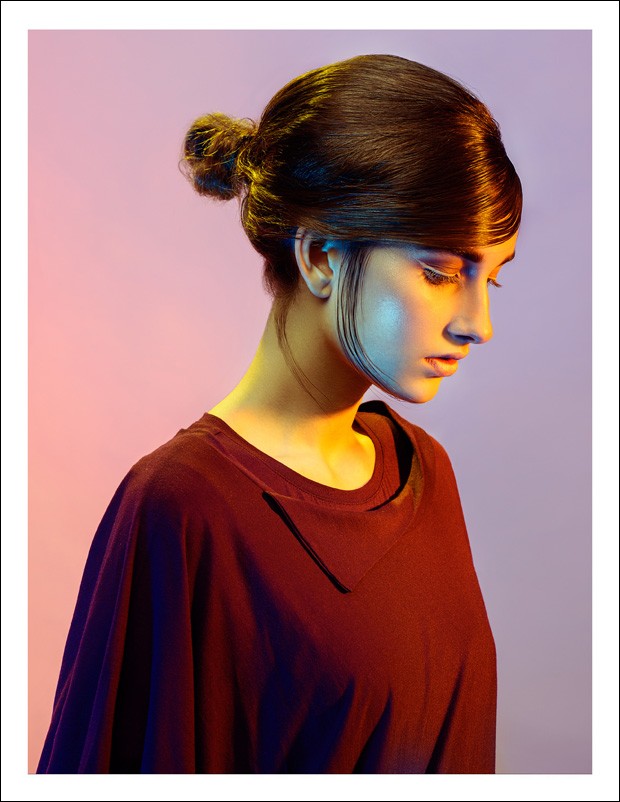 It makes you a very busy man. Is there anything what distinguishes you from other wigmakers?
As a very creative person, once again, I went one step further – I began to patent my designs, new solutions I elaborated. Also I have created new nomenclature, which becomes more and more popular and common, such as different "modules" – top, rear, side, wedding.
You will notice that not once, and not once you will hear about it.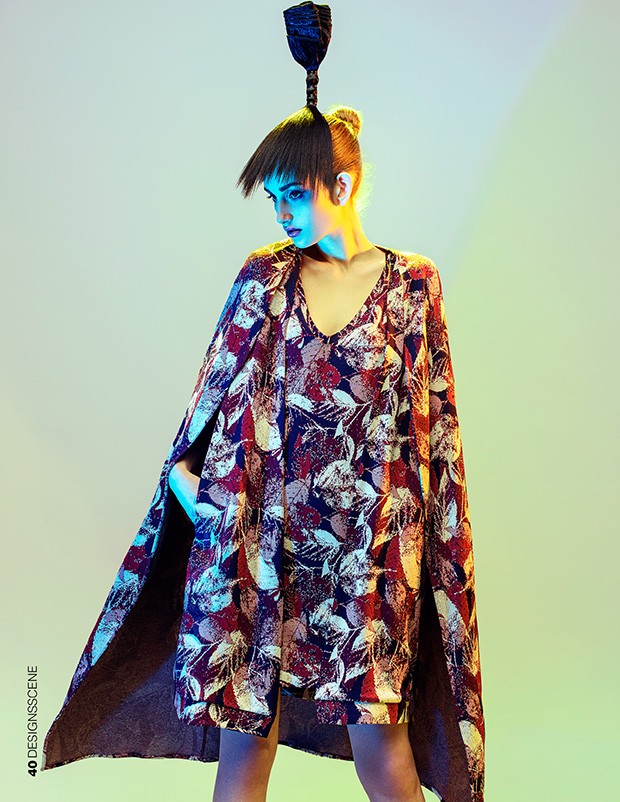 Have you ever thought to quit hair styling? To be only a wigmaker?
Never!!! Those are two professions, which are perfectly complementary. When one meant its limits, the second one comes with helping hand. I am Pisces, two opposing natures in one person. One is relaxed and quiet – just like wig maker. Other is crazy and defiant, which is better for hair stylist. It makes a great symbiosis, which makes it impossible to choose.
How does it looks like internationally?
In Poland, and all over the world wig making is a dying profession.
Most of the wigs are "Made In Asia" which is not a good recommendation. The best wigs are tailored, every detail is important, I mean head shape, measurements. All has to fit, and head circuit, and forehead's line are extremely important. I looked into the foreign market, and even in US, Hollywood to be exact, lacks of wigs and wigmakres.
Are you going to be a wigmaker to the end?
I do not know. It is hard to answer such question. 'Till it makes me and other people happy, I do not see any other way. But when that will be lost, I will choose new path. I can not imagine myself doing that without passion and excitement. Our deeds and actions define us, and it does not make any sence to do it opposite way.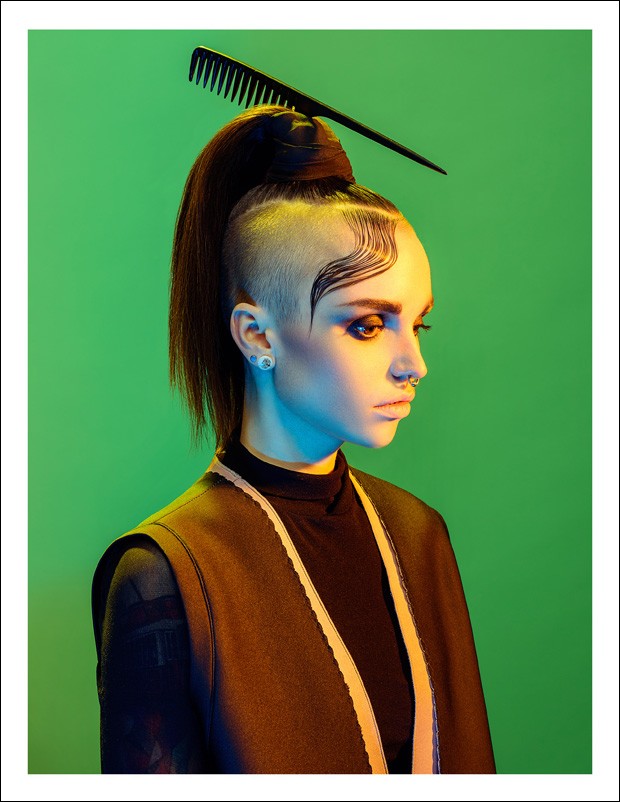 Gosia Sobiczewska
What was for you the most interesting moment in this shoot?
It is to look at my collection in a different way. To find other meaning of each model. So I was thinking about each piece like about new component to new dishes. That can bring the new taste of fashion. The main clue was to follow the layers, to mutliplicate clothes or using it in a diffrett way. Could the skirt be a sleeve? Yes, why not!
What were you inspired by while styling this shoot?
Variety of personality of our models: the one, that they have, and the second one, that they became thanks to new hairstyle. That was really exciting.
I believe, that all my clothes have got its owners – but they have to meet at the same place and time. And that experience was a great answer to that dream.
Photography Adam Balcerek – adambalcerek.com
Stylist Gosia Sobiczewska
Hair Stylist / Wig Maker Kajetan Góra – kajetangora.pl
Makeup Artist Sebastian Gradzik
Models: Natalia at Neva Models, Michalina at United For Models, Daria at Model No Model

Styling features exclusively colelction Est by Es designed by Gosia Sobiczewska