Last summer, Billionaire Magazine presented an intriguing top-ten list of the world's most prestigious residential roads. Naturally, New York's Upper Fifth Avenue was mentioned, along with such other notable streets as Peak Road in Hong Kong, Avenue Princesse Grace in Monaco and Hyde Park, London.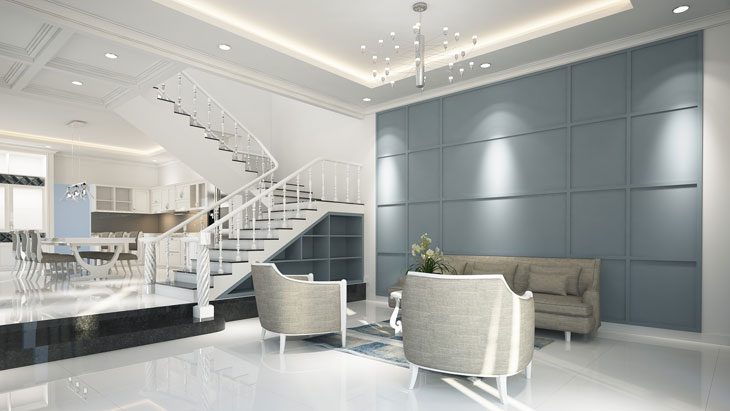 London's Priciest Digs
The pale and elegant Kensington Palace Gardens estate is among the most stunning residences in all of London. According to Forbes Magazine, the prestigious property was purchased by billionaire Roman Abramovich for around £90 million pounds in 2011.
In July 2015, the Mirror UK reported that another remarkable property in the Mayfair district also sold for around £90 million. At the time of the transaction, the phenomenal manse had not been used as a private residence in more than eight decades. The 21,000 square foot structure underwent a thorough makeover and now comprises a ball room, health spa and Olympic size swimming pool. As if that weren't enough over-the-top glamour, the property also boasts a private movie theater, an after-dinner bar, an extensive reading library and an immense formal dining room.
Apartments in London can also cost a large sum of money. In 2011, Ukrainian financier Rinat Akhmetov paid more than £136 million for a third-floor penthouse at One Hype Park. At the time of its sale, it was ranked as the #1 most expensive apartment in the entire world. If you want to see even more super-special London homes, check out Blundell's.com.
America's Most Affluent Addresses
Microsoft founder Bill Gates and his wife Melinda own the magnificent Xanadu 2.0, and it just may be the most expensive mansion in all of Seattle, Washington. According to 2012 tax records, the sprawling estate is valued at more than $120 million.
Woodside, California may not be as well known as San Francisco half an hour to the north, but the little San Mateo County town is home to some of the costliest residences in America. The Ellison Estate is one of them. Built for Oracle founder Larry Ellison at a cost of more than $200 million, the magnificent, Japanese-influenced compound is currently for sale, according to Virtual Globetrotting. Neighboring homes in the upscale neighborhood include the residence owned by Apple founder Steve Jobs prior to his demise.
Homes in the Hamptons go for a pretty penny, as well. Located at the easternmost end of Long Island in New York, residences in the Hamptons list for multiple millions. This is not to say that bargains cannot be had. According to Curbed Magazine, the Briar Patch estate in the Hamptons' Walter Mill neighborhood was originally listed for $140 million. Currently, the asking price is dropped to a mere $32 mil.
High Living in Hong Kong
If you can afford to live in The Peak, you know you've hit the big time. In 2015 it was revealed that a 1949-era residence had recently sold for a price in excess of HK$1.5 billion. Designed and built by Karl Shiu Ka-leung of KLS Planners, the home sits high above Hong Kong's Victoria Harbor comprises seven separate living rooms, three full bathrooms, four balconies and a view that seems to go on forever. The home, which underwent major renovations, is currently owned by Alibaba founder, Jack Ma.
In the winter of 2015, Kong Kong's costliest apartment sold for approximately $66 million. By far the most expensive apartment in Hong Kong, the 5,444 square foot Presidential Unit atop the Opus Hong Kong features four bedrooms, four bathrooms, a study and a private powder room. If you think that's scarcely enough to warrant the hefty price tag, bear in mind that the pricey property also comes with two parking spaces. In a city as densely populated as Hong Kong, that in itself is worth a small fortune.
In a world where many people are happy just to make their monthly rent payment, others live a deluxe life indeed. We hope you enjoyed this loving look at some of the world's most prestigious and affluent addresses.
Bobby Anderson has lived all over the world; London, New York, Tokyo and beyond. Now settled in LA he enjoys writing about luxury; cars, real estate, fashion. Look out for his articles on luxury lifestyle sites.