For the latest edition of DESIGN SCENE we had the pleasure to sit down for an interview with MARC TH. VAN DER VOORN one of the most promising furniture and product designers in Netherlands. Impressed by Marc's designs we wanted to know what inspires him but also what he thinks about working in today's design industry. (image: Branch Dining Table)

What would you say are your main influences when conceiving a piece of work?
Many of my designs have an element of surprise which turns heads and makes you view the design again. Maybe that  is what seduces people and makes them want to own the design. I also make sure to create pieces allowing people to appreciate the design for its shape, detail and  function. At the end of the day I want it to be relevant and able to withstand the test of time.
Read more after the jump:
Epic chair
What's your background and how did furniture design become your passion?
I grew up with a lot of design classics-to-be surrounding me. My parents bought them at the time when they where 'new', and later on those pieces became classics of our time. I believe somehow that must have inspired me. I got my degree in interiordesign, so that would make me a interiordesign, however  I made a switch to product design. For me creating furniture is like writing a song, it is about emotions in the end.
What designers have influenced you over the years? Is there a particular era you draw from?
I have to say I´m a fan of Benjamin Hubert and Patrick Norguet. They inspire me to push myself to the next level in design as well as production methods. I think design is like an evolution; as designers we create new furniture in the hope it becomes the norm.
What part of the process excites you the most?
Working together on a design is fantastic. When crafstmen come up with impressive solutions that makes me happy. The energy of pushing the limmits and getting away with it in the end is great.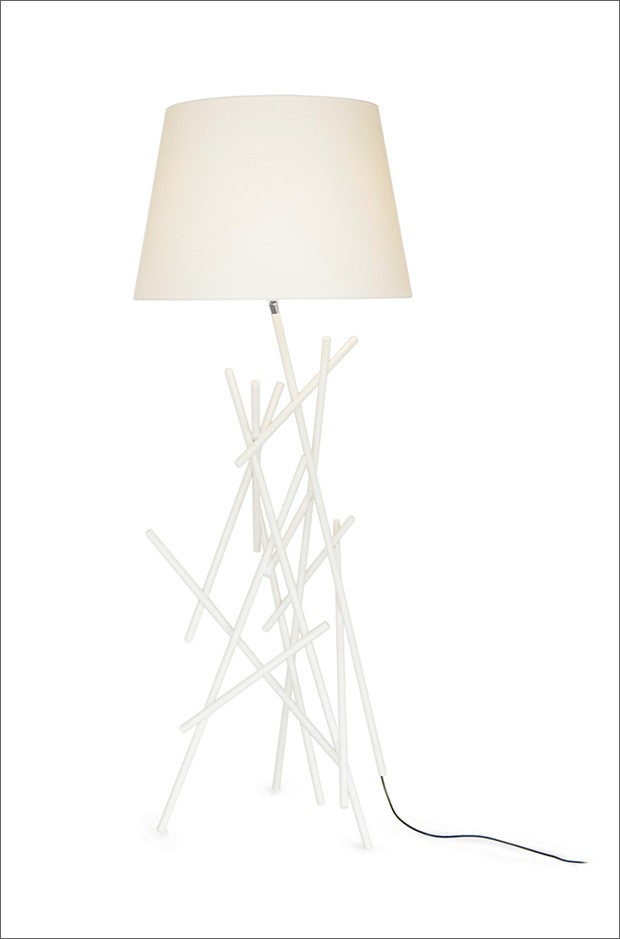 Roots Floor Lapm
What do you enjoy most about your job?
A design is like a recipe. Improving it and changing its taste or appearance is what's so fascinating.
When you look at a chair for an example, the function is always the same. However by adding or leaving out some ingredients you can spice up the sitting experiance.
What are you currently working on?
At this moment i'm working on a chair. Actually it is a family of two chairs and a bar stool. It was first introduced in Milan during the Salone del Mobile this year. Now we are finishing it for production.
It's called EPIC and i'm proud of the chair's back, it literally splits the frame in two and gives the EPIC its distinctive look. It was a technical challenge to make it look modest nevertheles I believe we succeeded.
How long does it take to develop a product?
The development can take up to 2 or even 3 years sometimes. That is from the first scatch 'till the final introduction to the public. For example the mentioned EPIC family took us about three years to develop.
Pi Sidetable
What piece would you most like to make that you have not worked on so far?
I would love to work with glass for once, to create a lamp family. Glass has the ability to last for ever. That is a quality not many pure materials have.
What was the best design advice anyone gave you?
To keep things simple and not to design too much. When I started as a designer 13 years ago I wanted to work with new materials, new technics, new shapes and combine it all into my work.
Nowadays I choose one, max two disciplines. The audiance can´t handel too much ´new´. They like it to be new and exiting but in a modest way. 
For more of Marc's work visit www.marcvandervoorn.nl