The eponymous label of Turkish designer HAKAAN YILDIRIM embodies the rock chic attitude of Paris where the collections are presented. Hakaan while staying away from the fashion scene's mainstream is a sartorial and provocative genius whose designs enchanted the likes of Lady Gaga, Skin and Jennifer Lopez. Our fashion features editor Katarina Djoric meets with Hakaan to discusses his inspirations, the future of his label and what makes the Hakaan Yildirim woman.
How did you get into fashion?
My interest in fashion rose during high school years when I was taking art and drawing lessons. The university I aimed, MSU, is a university that requires an aptitude test in art. And when I got in, advanced drawing lessons with a wide knowledge in art and fashion were required challenges. On top of my education, I did internships in textile companies, and started working, so I gained some business experience. After graduating, I started working and I did not want to do anything else but fashion design. Now I am still driven with the same passion as I first started.
See more after the jump: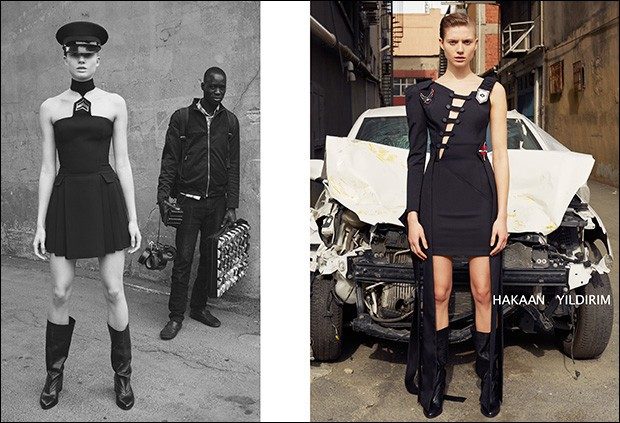 How would you describe your design aesthetic?
My design philosophy has been connected with my roots and has taken shape within the current changes in the world. Today, we live in an environment where it is related to technology and it has a big impact on the fashion scene. Therefore the innovation in fabrics, accessories, etc. always keeps me updated. But the most aesthetic thing to me is those who actually wear them.
What inspires you?
To me, inspiration is something that can be changed in every period of time. I can get inspired by a movie that I have watched before. It can flash back to my eyes. I can use its impact on me and my environment. Usually, I get inspired when I focus on my interests and when I collect moments from others that affect me.

What is the favorite piece of clothing you have created?
I think I forget my past designs easily. I always tend to remember the latest ones. For instance my last collection for FW 2016/17. There is a sweatshirt that has a cut on its hood to wear a cap underneath. I like the idea of something new which hasn't been done before.  
What are your favourite fabrics and materials?
I like the feel of stiff fabrics. I work with fabrics like nylon, wool and polyester but depending on my concept of the collection, I can make different varieties in my selection of fabrics.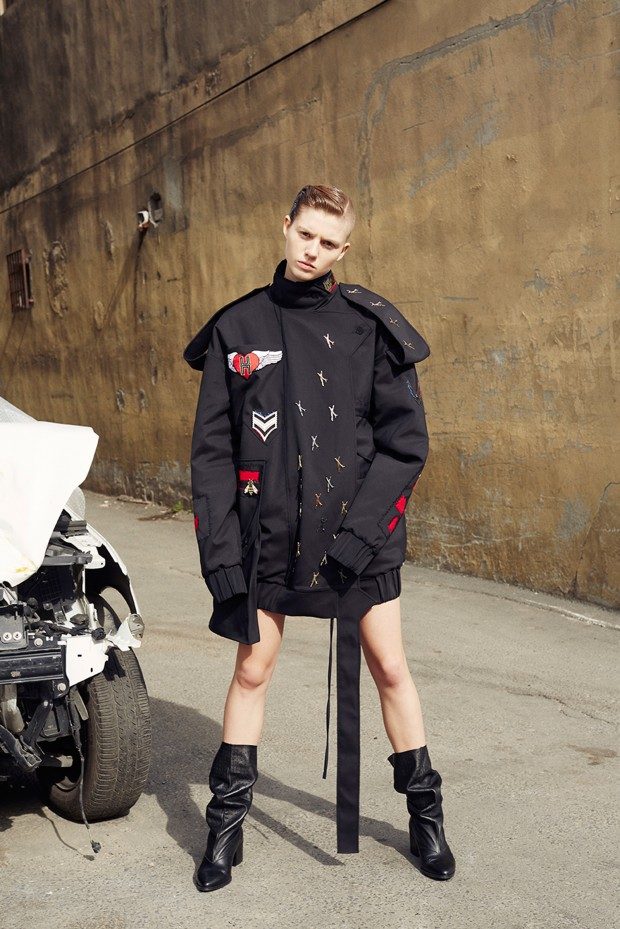 Why did you decide to replace the feminine look with bold military uniform influences for your latest collection?
My latest collection is actually very feminine. The looks are inspired by military uniforms, so it does reveal a masculine feel. If you look at the past collections of Hakaan, you can find a feminine woman with a masculine style.
What one thing in fashion would you like to see happen in the year in front of us?
If this question is about the fashion world, the fashion industry today is driven by the brands and their designers who create a buzz by using the power of social media and celebrities. I think this feeling of popularity should come to an end and the designers who are staying away from this situation should not be from their places.
If this question is about clothes, I would like everyone to wear sweatshirts.
You already had Jennifer Lopez, Skin and Lady Gaga wear your clothes. Who do you want to see next in your designs?
We are still in contact with Lady Gaga, she is still looking for new looks and we send it to her. I have worked with Rihanna before and I think my latest collection would be incredible on her.
Who is the Hakaan Yildirim woman?
HakaanYildirim woman is inspired by timeless pieces and is combined by todays fashion. She likes the newness, she is fresh and fearless.
Where do you see your label in the next 10 years?
I hope in 10 years, HakaanYildirim will be a prestigious maison who has stores abroad. I would like my brand to meet with customers from all over the world. In order to be able to accomplish this aim, my brand has to meet potential investors in 2 years.
Images form  Hakaan Yildirim Fall Winter 2016/17 Collection