Furniture design takes the spotlight in our August issue in our interview with the talented DIEGO GARZA, the designer sits down with us to talk the start of his career, his design process but also takes time to give us some furniture shopping tips. Find out how did it all start for Diego and more in our interview.
What is your background and how did design become your passion?
I am an Architect by training and performed as a CAD monkey/designer for small scale projects for three or four years before going to furniture design grad school. I think the first thing I remember designing was a maze or mazes in one of my math notebooks when I was in elementary school. I used to make them and then give them to my parents or friends to solve them. It was fun because it was challenging, in a way that still is what drives me today.
Read more after the jump:

What or who inspires you?
Usually man made objects that present elements to be discovered, encountered. Objects that keep to themselves a bit of mystery. I also have a soft spot for Stone / Bronze Age design, it is so practical and intuitive but at the same time because it was made millennia ago by our ancestors it has also a very strong emotional side. This marriage of objectivity and subjectivity is what make objects fascinating to me.

How would you describe your work? What is your design philosophy?
I think my work tends to be simple and complicated at the same time. At any point of my design process I constantly try to balance simplicity with rewarding elements. Something that give the user a sense of discovery and/or surprise (visual, tactile, intellectual, etc). Again, it is all about the difficult and fascinating balance between objective and subjective qualities.
What was your most recent design?
I'm developing a new lamp a bit inspired by Samurai swords and somewhat by Indiana Jones.
What is one lesson you have learnt since starting making furniture?
Prototyping with your own hands is essential to understand furniture making. Seems like an idiotic statement but you would be surprised how many people design furniture with no sense of production or the limits of the involved processes. This knowledge is fundamental to stretch the limits of what is possible.
When staring a new project how do you begin the process? Do you traditionally start with sketches?
Yeah I always start with sketches; there is always at least one notebook close to me all the time. Then I move to Rhino and model the object, and then a long iterative process begins. Several versions are modeled with different proportions, materials, or totally different concepts. They are put together one next to the other and then I look at them…
Next step is full scale card board mock up. Then more tweaks in Rhino and again to the mock ups. It's a cycle that can go on and on forever, but I usually get impatient and by the third or fourth round feel satisfied and then jump to do it with real/final materials.

What is your favorite part of the process?
The "It's alive!" moment. Finalizing the first working model, I always get this feeling of being a Creator, giving life to ideas from my head.
What do you do in your spare time?
I'm trying to read more and at the moment am reading some Capote and a book on architectural theory by Rafael Moneo. I am interested in going back to Architecture design and try to import my Furniture discoveries into it. I am also an avid bar explorer and enjoy going out with friends and talk about everything and nothing.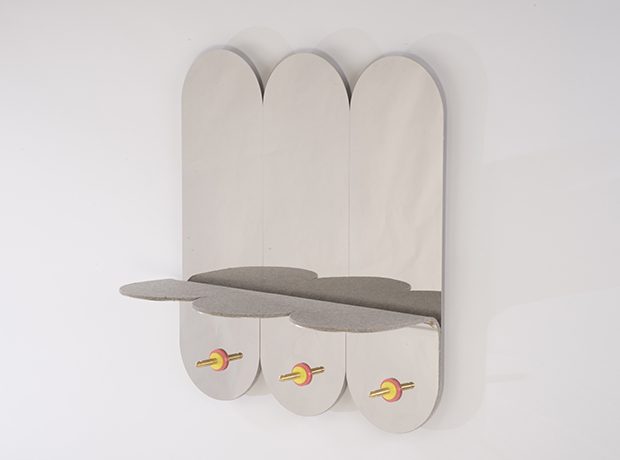 If we are going to invest in two major pieces for the home, what should those be?
I think a mirror is always a good idea. They are mostly far away from the abuse of our hands and can withstand the pass of the years in a really good manner, the same can be said about a chandelier of course. So either one or the other for the untouchable segment.
For an approachable object, I would say a sofa/seating set. You can do almost everything on one of those: sleep, have conversations, have some sexy time, eat, watch TV, entertain guests.
What is your dream project?
One day I want to be able to create my own technology for the production of my pieces. I feel enormous respect for the designers that have achieved that. I feel that there is not a more direct way to create something truly yours than with your own technology/processes.
Are you working on any special new designs or projects at the moment?
I am working collaboratively with a couple of friends, hopefully within the next few months we will have ready a new furniture collection.
To see more of Diego's work visit: www.diego–garza.com