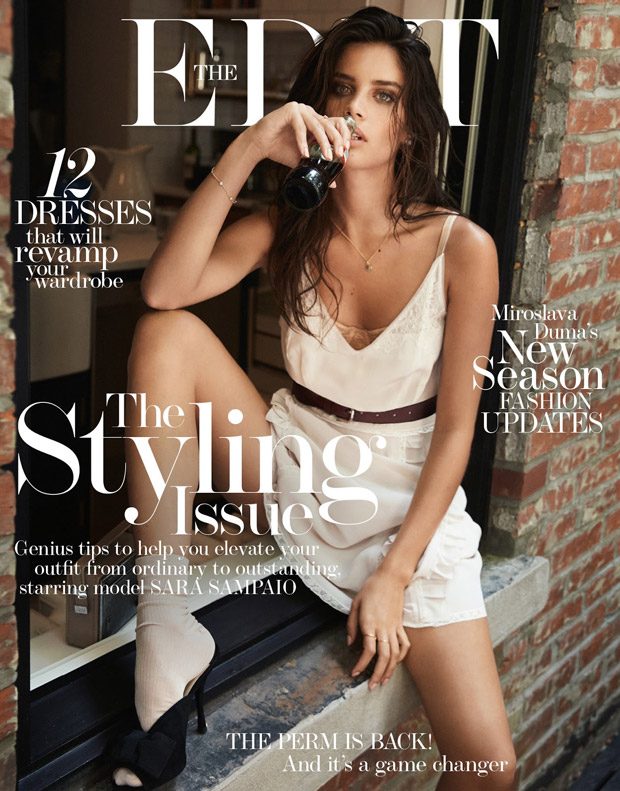 The Edit Magazine enlists Victoria's Secret Angel Sara Sampaio to pose for the cover story of their latest edition lensed by fashion photographer Yelena Yemchuk at 2b Management. In charge of styling was Katie Mossman, with art direction from Gemma Stark. Beauty is work of makeup artist Mariel Barrera and hair stylist David von Cannon. For Hot Right Now session Portuguese stunner is wearing selected looks and accessories from brands such as Anna Sui, Dolce & Gabbana, Prada, Acne Studios, Diane von Furstenberg, Gucci, Givenchy, and Bottega Veneta to name a few.
"I don't workout every day. I don't think anyone should because your body needs rest. I usually exercise 2-3 times a week. Sometimes I'll go to a class with the other Victoria's Secret models, but most of the time I like to hang out by myself. I try new things and switch it up all the time. Running really works for me, I've been doing Pilates and Slt [Strengthen, Lengthen, Tone], and I have a personal trainer.
People need to realize that models get [professional] hair and makeup, incredible lighting, and we know how to pose. I've been doing this job for almost 10 years so I know how my body looks good from different angles. But I don't look like that in real life. I'm like every other girl; there are things I wish I could change about my body, but I try not to think about them too much." –  Sara on working out and about modeling being an illusion.