For our latest edition D'SCENE Magazine's Fashion Director CHRISTOPHER MAUL is invited into the studio of the womenswear designer to talk prints, Brexit and the future of fashion education…
Holly Fulton is a London based womenswear designer. Since setting up the label in 2009 her collections, known for their quirky use of prints and colours, are a highlight of the London Fashion Week Schedule. But don't take our word for it, she won the ELLE Next Young Designer Award in 2010 and is also a British Fashion Council NEWGEN Award winner. She joins Christopher Maul to speak about her work.
You studied MA Fashion at the Royal College of Art (RCA) under the legendary Wendy Dagworthy. Care to share any stories from this time?
My days at the RCA were the most formative for me in terms of developing my own style and aesthetic. I was very lucky to be part of a stellar year including James Long amongst many others and we worked and played hard whilst reveling in the spirit of the place and the opportunities to work with many other disciplines and practitioners too. The people I met here really shaped my life and enriched it in so many ways, that's what I am most grateful for from my RCA experience.
It took me a while to get into my stride, bloody ages in fact and it was quite a rocky road in terms of appraisals of my work; one tutor refused to tutor me for a year as they said I would never work in the industry whilst another was too shocked to speak about my work during my final presentation. Retrospectively I love these experiences; they taught me to really believe in what I was doing and to have a true faith in my work.
Louise Wilson, course director of the MA Fashion course at Central Saint Martins, recently passed away and her death coincided with the retirement of Wendy Dagworthy from the RCA's comparative course. Since two matriarchs of British fashion eduction left the table simultaneously, what are your views on the future of fashion education in the UK? Can this void be filled?
Wendy and Louise were both bastions of the industry in their rights and institutions, the influence they had on many of today's designers and practitioners can never be disputed or underestimated. That said, I do not think one should ever seek to replace them but to embrace change and move on to the next phase in the evolution of fashion education in the UK. You could never really fill their shoes but someone now with their own vision for the future will step in.
Do you think Brexit will have an impact on the future of fashion in Britain?
I think it will have a profound effect on many things including the psyche of Britain and I should imagine the effect on European trade and ease of movement will be affected for those from the UK working in the EU which will have a profound effect on the industry.
Before setting up your own label in 2009 you worked for Lanvin in Paris. How would you compare the fashion scene in Paris to London?
Paris is more traditional in a sense with its approach; a lot of the labels there are long established and whilst they present the new each season, the creative risk that designers in London take is not there for me. It is a very competitive and cut throat scene in some instances, playing more into the cliched ideal of what fashion is which is both to be enjoyed and feared in equal measure!

What city do you think is more encouraging of emerging talent? New York, Paris, Milan or London?
London. I feel it is somewhat unique in the opportunities it presents to new and emerging designers in terms of funding and industry support. Initiatives such as Fashion East, Newgen and the Fashion Trust offer invaluable funding and knowledge to designers which in turn creates a synergy and freshness in terms of the offering each LFW.
Who wears Holly Fulton? Do you design for anyone in mind?
I selfishly often design with me in mind; I believe you should want to wear what you design and revel in it. If you don't want to wear it why should other people trust your creative vision? A brilliant facet of having a label has been seeing people of all ages and backgrounds embrace and enjoy what I do; that is the ultimate accolade, seeing someone you don't know wearing your work in the street, an amazing feeling!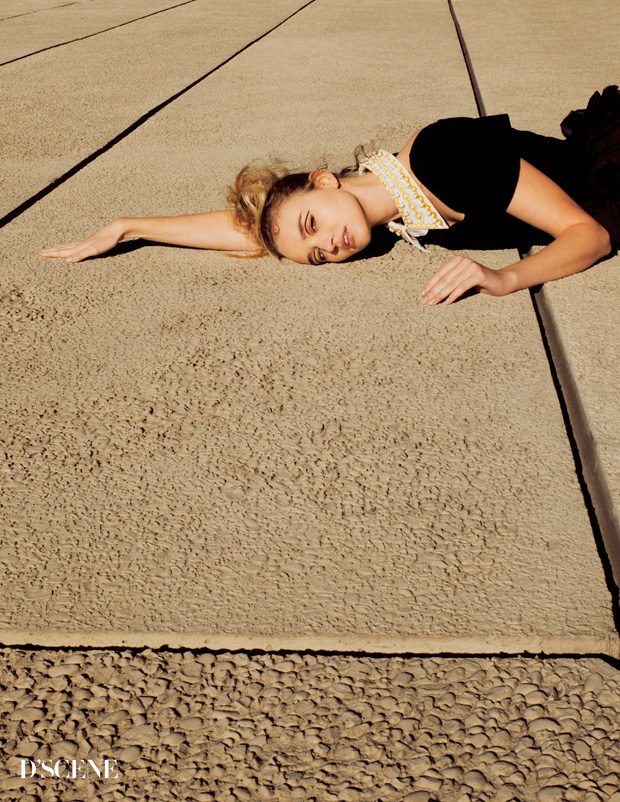 The previous British Prime Minister's wife Samantha Cameron is a fan of your work. Who else would you dream of dressing?
My ultimate woman to dress would be Angelica Houston. She has such a strong face and presence, I have always been captivated by her look. I adore strong women; inner confidence is the most amazing thing.
How important is celebrity culture to an emerging label?
As much as I would like to say it doesn't affect your work or recognition, it makes a huge difference. The use of social as a tool for promoting and selling a brand has changed everything and celebrity endorsement has a direct correlation with sales. For new labels it can change everything overnight and for me, anything that gives a more level playing field or lets the underdog have a chance is to be applauded and encouraged.
What would you say is your USP?
Bold use of colour, distinctive hand drawn prints and a strong graphic sensibility.
You've often been referred to as the 'Queen of Prints'. What steps do you take to design your prints each season?
I am an inveterate hoarder so each season new things rear their head that inspire or stimulate and these inevitably feed into the stories we tell with the collection each season. I work with my partner James ( a graphic designer and illustrator ) and together we formulate the creative concepts to pursue and evolve. I hand draw a lot of the elements and James then translates them digitally and we work collaboratively on this aspect of the collection. I love drawing, its my guilty pleasure and any excuse to let loose on paper is always welcomed. I draw very symmetrically and neatly; I am quite precious about precision and making sure everything is exact is one of my weaknesses!
What are your key inspirations?
Eduardo Paolozzi, pop art, Joan Collins, Jeanne Moreau, Art Deco, Jakob Bengel, Jean Despres, my mum, Jean Muir, cinema du look…the list is really endless as I find excitement and inspiration in many things and usually the most unexpected places but those are some of my favourites.
What's in the pipeline for you and your label?
My first Christmas off in 10 years, a new collaborative creative directorship and some very exciting projects and collaborations for 2017 and 2018. We are going to be busy!
Photographer TRISHA WARD – www.trishaward.co.uk
Fashion Director CHRISTOPHER MAUL – www.styleofmaul.com
Makeup Artist YIN LEE using Studio10 – yinlee.co.uk
Hair Stylist OSCAR ALEXANDER – oscaralexander.co.uk
Model PHILIPPA BYWATER at Established Models – establishedmodels.com
Fashion Assistant RHONEIL TIBURCIO
All clothing by HOLLY FULTON – www.hollyfulton.com