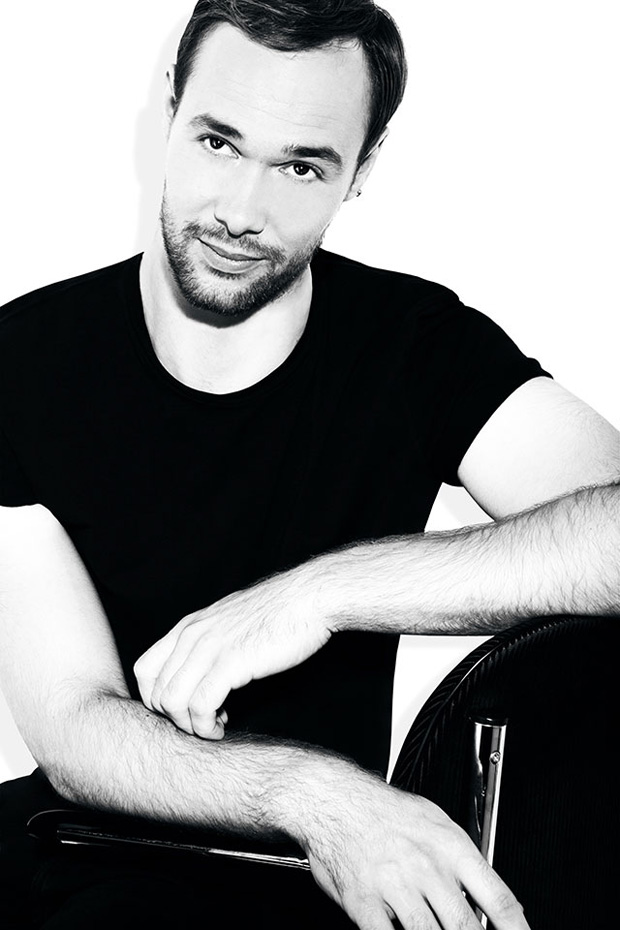 For the latest edition of Design SCENE Magazine breakthrough Fashion Designer PEET DULLAERT sits down for an exclusive interview with our Fashion Features Editor KATARINA DJORIC to talk awards, meeting Pierre Bergé, starting an eponymous line and future plans.
You graduated in 2012 from the prestigious ArtEZ Institute For The Arts in Arnhem and won the Triumph Inspiration Award the same year. Was that a sign for you that you are on the right track?
Personally I'm not a fan of award competitions at all, I prefer collaboration over the idea of competition and feel more for the independent approach by walking your own path. (The Triumph Award for the Netherlands was one granted in my second year in school followed by an international finale). The award I won that year after my graduation is the Frans Molenaar Couture Award, a great honour created and initiated by the late Dutch Couture master who greatly supported the new generation of Dutch designers. For me the most inspiring thing was to be able to listen to his experiences and take note. In the end I believe the definition of being on 'the right track' is a combination of gut feeling, the courage to stay true to yourself along that road and of course result.
Read more after the jump:

Then you met Pierre Bergé. What was the most important lesson you've learned from him?
That it's important to listen to advice and filter what applies to the things you're really doing or trying to achieve. I'm talking about the fashion system now. Don't look at what worked in the past but develop something that applies to the current and the future. In the end my conversation with him triggered me to re-think the ready-to-wear system. This resulted in the incorporation of a modern and responsible production system I've introduced in 2014.
You seem to know in which direction to go from the very beginning. Is that the reason why you have not worked for others but you immediately started an eponymous line?
I've never really given it very deep thought why I didn't try to work elsewhere, but I remember very well when I was still in school and was interning at Lanvin in 2011, when the teams were still small and Alber Elbaz was still there, that I loved the special creation process of the company and dreamt of being a part of the team but I've always been someone naturally discovering how things work. When I started with my eponymous label after graduation it felt very natural to me, and that feeling and process still feels the same. The way I work is very organically and intuitive to me it's very important to stay true to that feeling.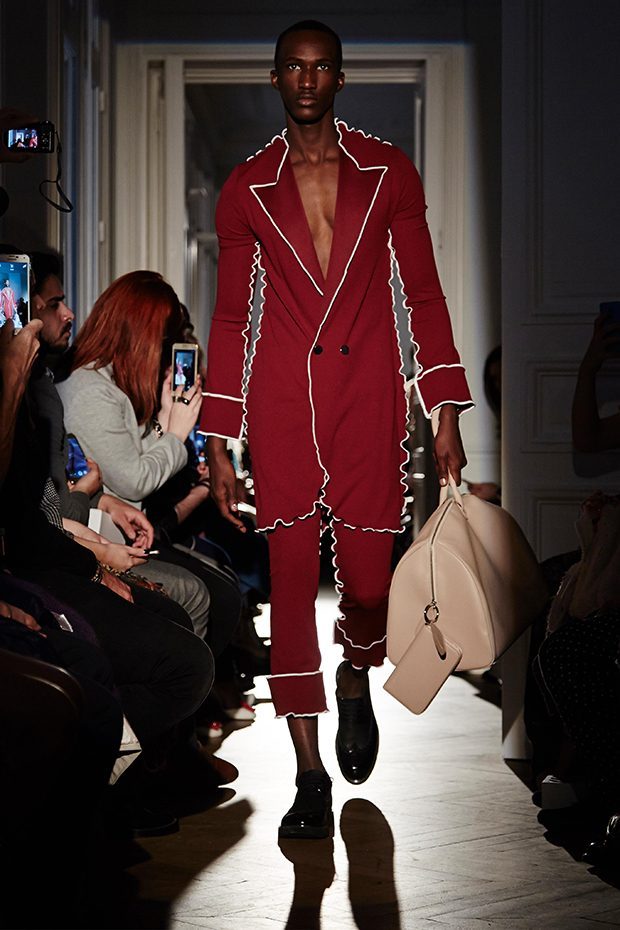 How has your work evolved since you began your own label 4 years ago?
It would have been very boring if it didn't develop hahaha. I remember well that I started with the debut collection, introducing tailored shapes that originated from draping the technique I love so much to form shapes with. The clothes clearly featured my signature stripe print inspired by the Zebra; a master of balance and a symbol of individuality. Key values I cherish. Over time these signature elements return reinvented each season and new features are introduced. Take for example the significant "Zen-Line" construction for example. This specific line has been an element in collection for several seasons; call it a lifeline if you will. This technique developed embodies the spirit of Zen with a forward view, being in a peaceful flow. Take the consistently developer 'Concorde' trousers, it's unique construction and shape inspired by the legendary aircraft that gave us supersonic transport. Its name embodies harmony and union. My brand really evolved around these signature elements as they carry an essential spirit of my work. Vital to me is that next to shape these signature pieces I've developed are created with the idea of a forward spirit, in motion, connecting us.
What are you fascinated by at the moment and how does it feed into your work?
It's not really fascination, but what influences me in the huge contrast between liberal and conservative views. An effect not new to the history of mankind but in the context of today, with all knowledge we have from the past, I find it very strange that ignorance and a certain fear appear to be so present in society. I intuitively respond to what I feel around me. The SS17 collection for example is inspired by cosmic exploration, and can be seen as a metaphor for the adventurous and inquisitive mind. It's a response to the times we live in and a reflection of what I believe is important to keep in mind. It's a symbol of the liberating perspectives I believe in.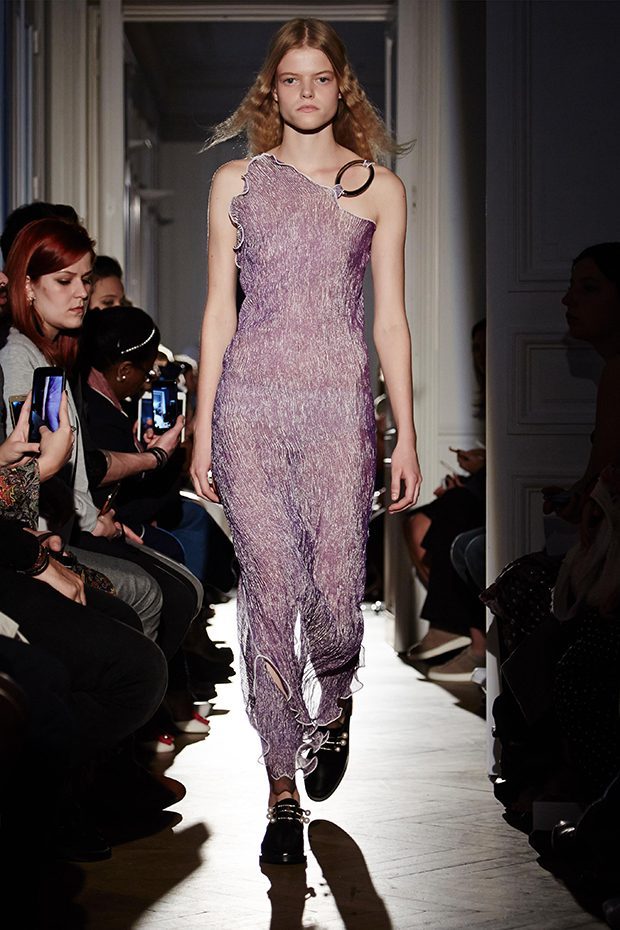 I was fascinated with how beautiful your clothes move in synergy with the body on PFW runway. Sophisticated, yet comfortable. How difficult is to find the right balance?
The process is an organic one, basically a form finds it way. I'm not a believer in a forced approach to creation or desire to feel the pressure to meet an amount of design within a certain period of time. For me it's essential shapes evolve through this process and then the editing can take place. This way it's genuine and possible to keep developing with an open mind.
Do you enjoy seeing a model's reaction to wearing your clothes?
Absolutely! Clothes have a life through people, it's "the pure connection between the wearer and the garment".
Tell us more about "muses with extraordinary lives" and "the visionary project"?
What both of them have in common is the beauty of collaboration. The projects evolved from a desire to connect generations and together reflect on the world. It's a extension of what I desire to do with my collections. "Muses with extraordinary lives" tells the personal stories and views of legendary authentic people, models, artists etc, who paved the way and helped to shape the fashion industry as we know it today, while "The Visionary Project" reflects with stories created by the current generation of artists paving their way, creatively free stories by various creative teams from across the globe.
What is the favorite piece of clothing you have created?
To me its not about pieces, but this would be the signature elements and the specific cuts used for my tailoring. I've developed them over time and reflect everything I believe in.
What one thing in fashion would you like to see happen in the year in front of us?
I hope there will be less creative director chair dancing and with that more stability for the companies changing staff all the time, let's not forgot that large creative teams are often the victim of this dance and enter unpleasant and unsure times.
And I really hope companies reconsider their ways of production and go for one with more responsibility for the environment.
Where do you see your label in the next 10 years?
I honestly wouldn't know. This sounds like a million years away. As the companies strategies is reviewed and develop constantly, the way we work could be very different, who knows what kind of technical inventions take place, while these things are most likely to happen the spirit remains the same.
Images from: Peet Dullaert's Spring Summer 2017 Collection
For more of Peet's work visit www.peetdullaert.com.