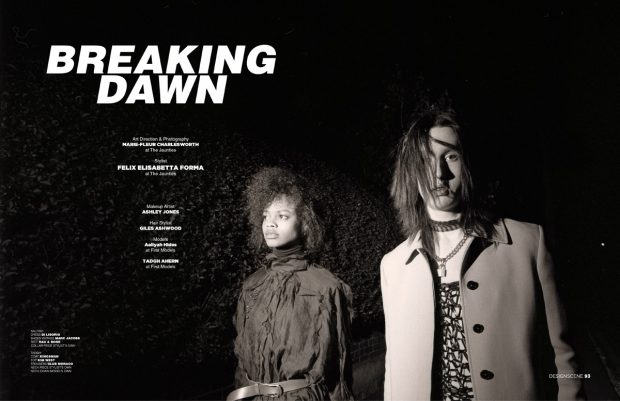 Breaking Dawn story captured by fashion photographer Marie-Fleur Charlesworth at The Jaunties for July 2017 edition of our Design SCENE Magazine features Aaliyah Hides and Tadgh Ahern at First Models. In charge of styling was Felix Elisabetta Forma at The Jaunties, with beauty from hair stylist Giles Ashwood and makeup artist Ashley Jones.
GET YOUR COPY NOW IN PRINT AND DIGITAL
For the story models are wearing selected pieces from Kenzo, Jayne Pierson, Miu Miu, Comme des garçons, Wooyoungumi, Thom Sweeney, Club Monaco, Di Liborio, Marc Jacobs, Rag & Bone, Kingsman, Kim West, Andrew Majtenyi, Needle & Thread, Jonathan Aston, Oliver Spencer, Calvin Klein, Officine Generale, Our Legacy, Issey Miyake, and Greyson. Art direction by Marie-Fleur Charlesworth.
Scroll down for more from the story, as well as exclusive online outtakes from the shoot.
Art direction and photography Marie-Fleur Charlesworth at The Jaunties
Stylist Felix Elisabetta Forma at The Jaunties
Makeup artist Ashley Jones
Hair stylist Giles Ashwood
Models Aaliyah Hides and Tadgh Ahern at First Models