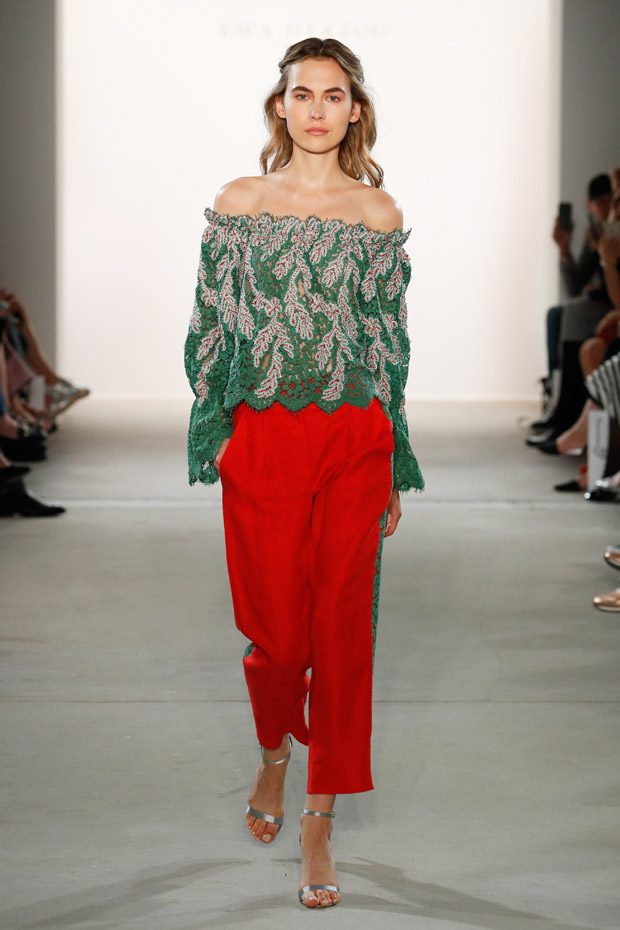 Berlin- based designer Ewa Herzog presented her Spring/ Summer 2018 collection on the 4th of July 2017, the first show day of Mercedes- Benz Fashion Week Berlin. As location, the main runway which was situated in Kaufhaus Jandorf in the heart of Berlin Mitte, was chosen. Being significant for this charming collection is its sophisticated, delicate and elfin character. Those precious, timeless , stylish pieces are the perfect choice for any modern pixie that is invited for a summery cocktail party or birthday invitation. They can be worn at any age and are made for women of a certain level. Ewa Herzog stays true to her significant style but adds sundry innovative ideas and styles in her collection. Sensual. seductive. smooth. The full collection feels like a jollification and celebration of femininity.
Length- wise, everything you can imagine becomes real: the range of floor- length, floating dresses is sheer endless, it is extended by some striking cocktail dresses in A-lines. But also mini dresses, three- quarter pants, jumpsuits and shorts can be noticed within this collection. Among all those breath- taking, divine creations it is hard to choose a faourite but a floor- length, floating dress in scarlet red immediately let our hearts beat some seconds faster. Followed by a striking scarlet cocktail dress made of lace, our second favourite piece of this collection. So graceful and sophisticated. But also the jumpsuits and carmen blouses definitely deserve devotion. Look at that scarlet three- quarter pants that is paired with a shamrock carmen blouse. So summery and blithe. Summertime, and the living is easy…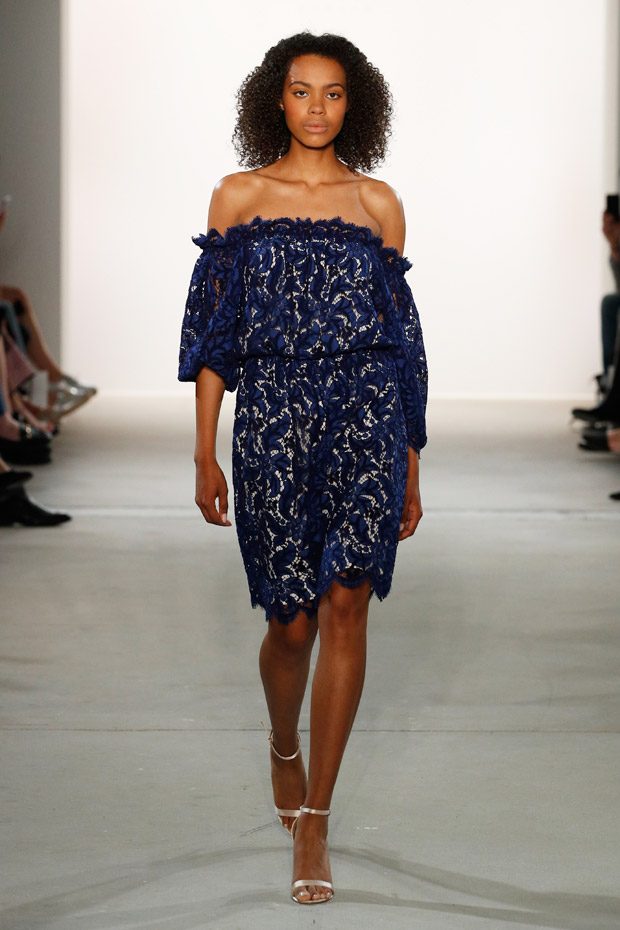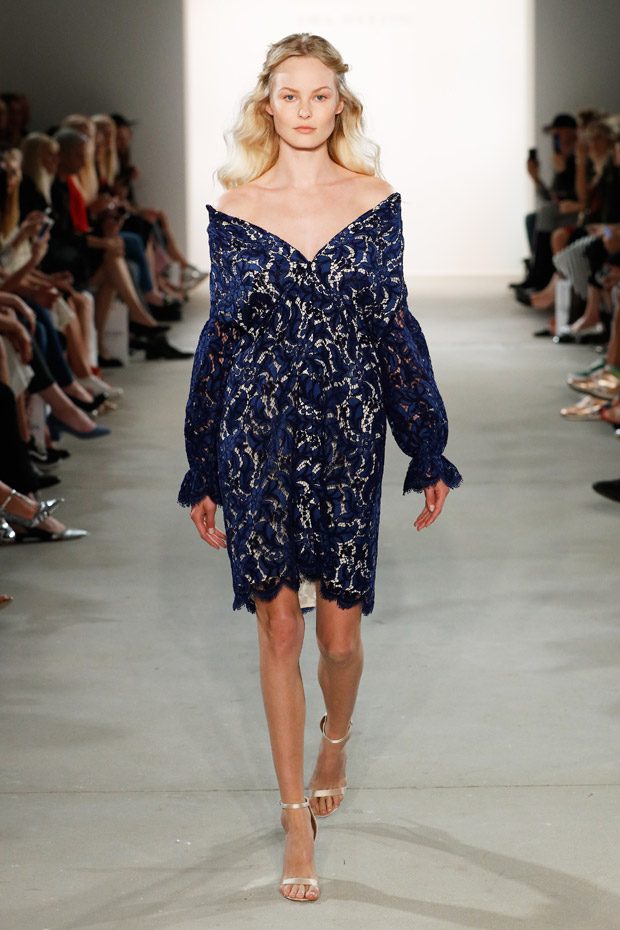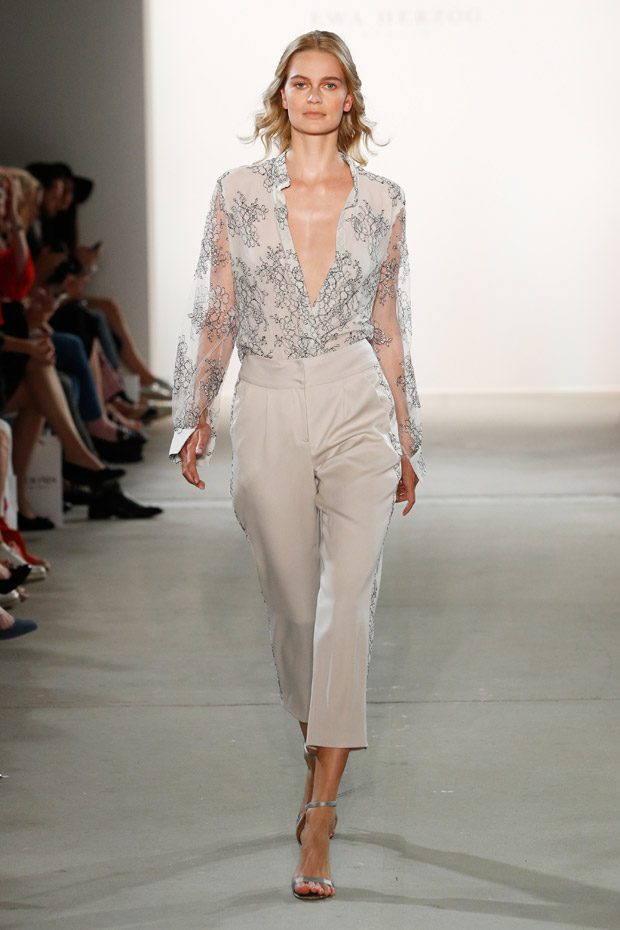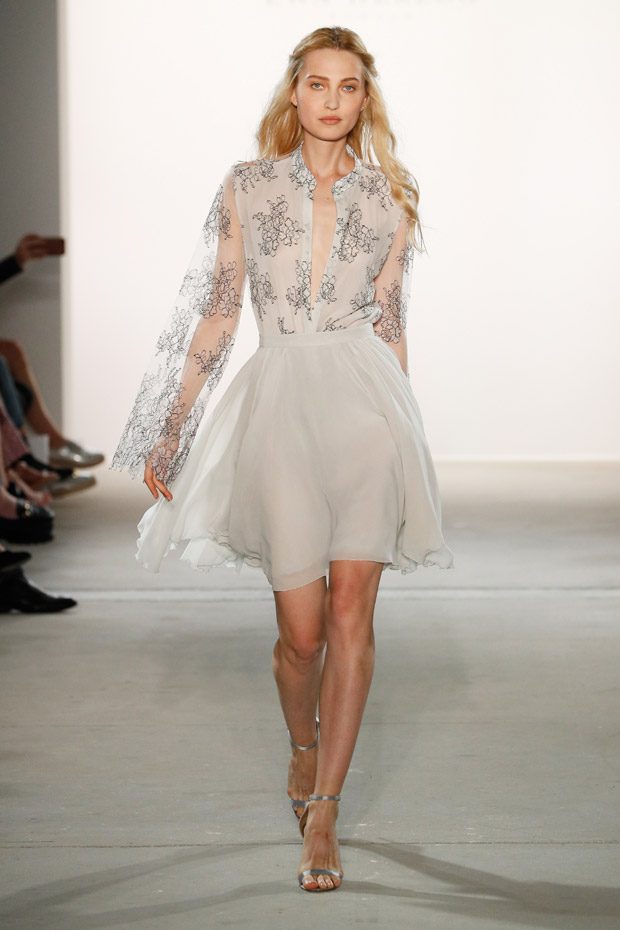 Worth of mentioning is also the very well- chosen material choice of this collection, which contains of lavish lace, chiffon and smooth silk. The colour palette contains of numerous timeless, elegant hues, for instance pewter, alabaster, ivory, night black and midnight– blue. Additionally to those classy hues, a couple of bright, eye- popping tones are added, e.g. scarlet, pineapple and shamrock. The designer shows many outfits tonal, sometimes two tones are paired in one look. Simply sensual!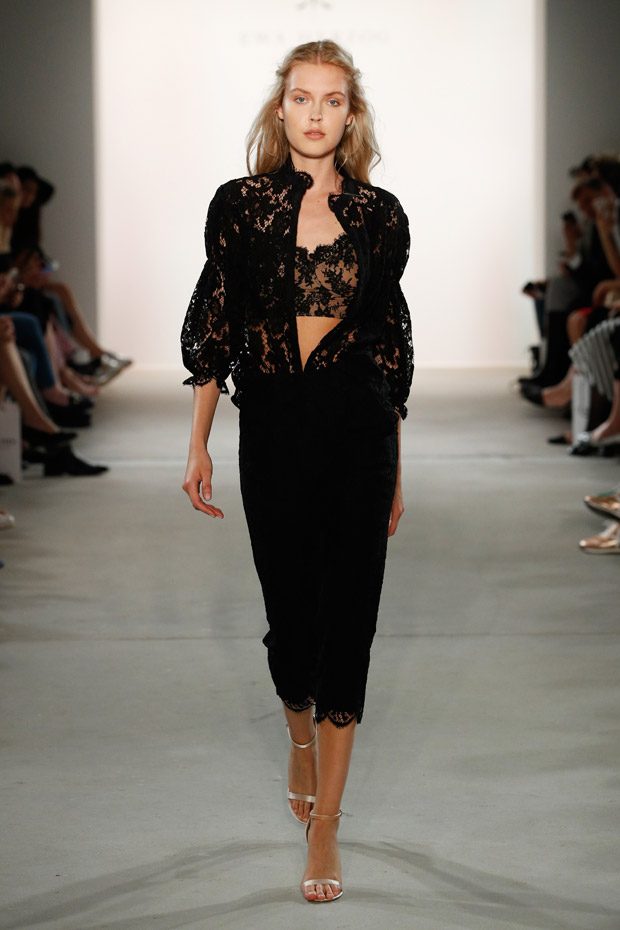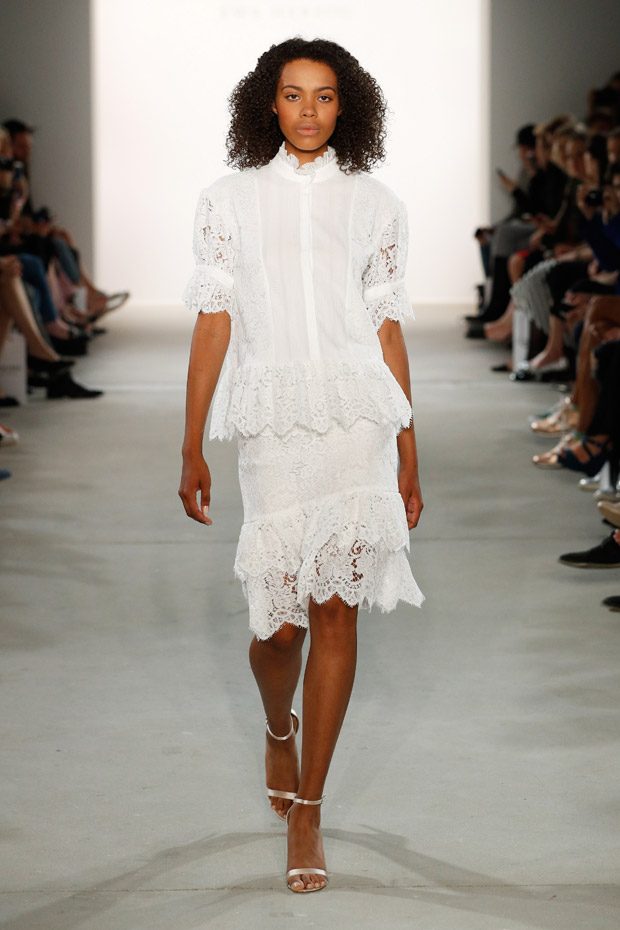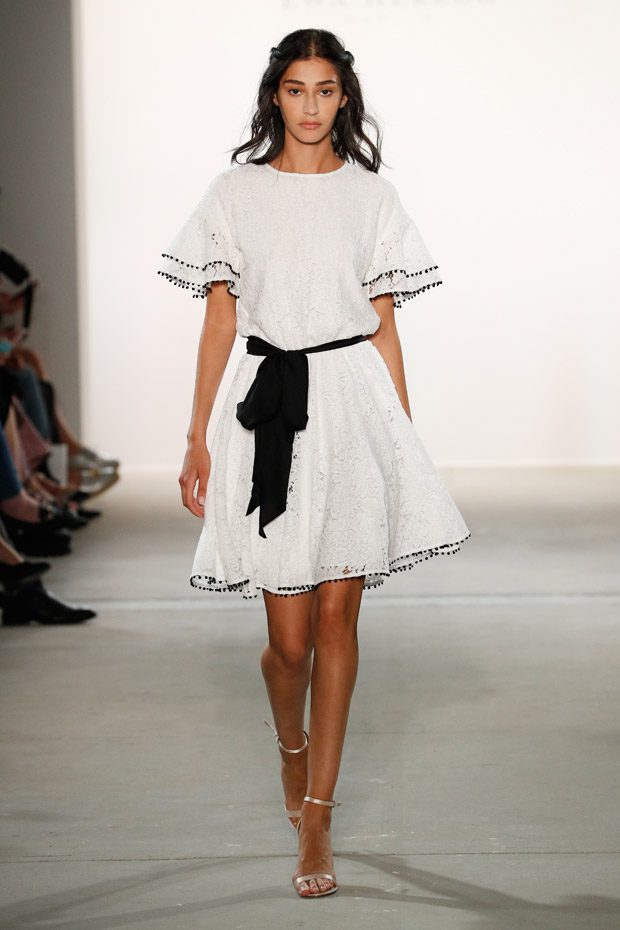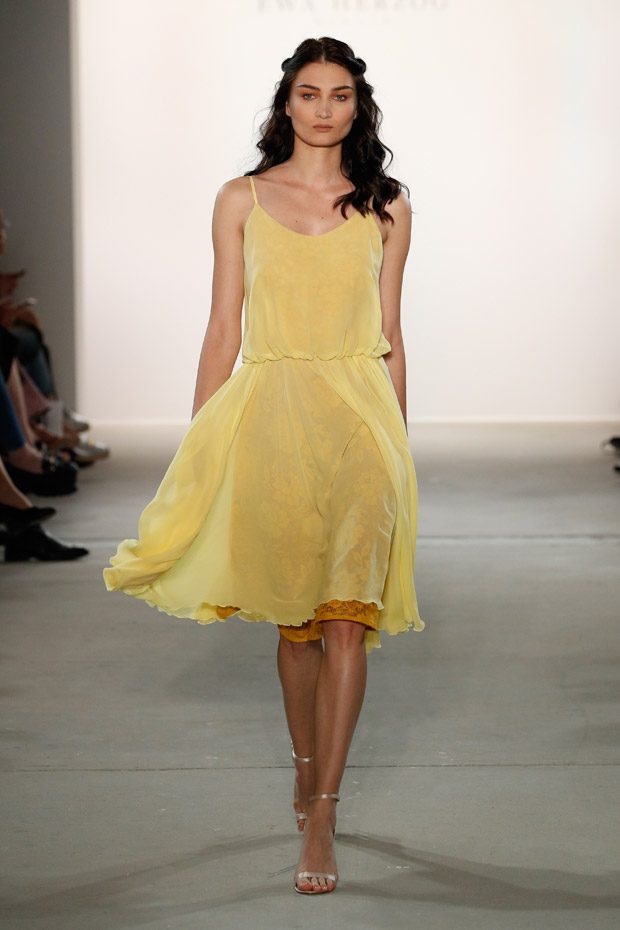 What stays in mind is the sensual sublety of this collection and the vivid play with various cuts: every outfit reveals a bit of skin, but never too much. That underlines the mysterious, elegant, glamorous approach of those looks. Thus, every woman can accentuate her favourite body part, may it be shoulders or legs.
The mainly long hair of the models is worn slightly wavy, with middle- parting and open. Some streaks of hair are back- combed which gives us some '70s vibes. The make- up is kept rather natural, with only a bit of eye- shadow, blush and lipgloss in natural tones. To complete the elegant overall image of the looks, open high heels in gold are added.
With her Spring/ Summer 2018 collection, Ewa Herzog made us dream of blithe moments during a summery cocktail party. We are very curious to see her next collections.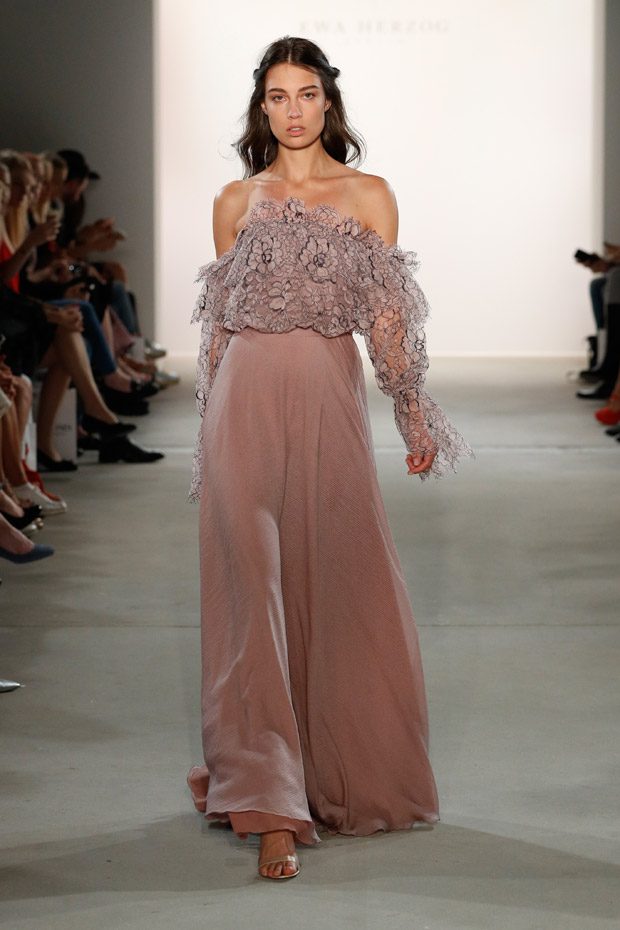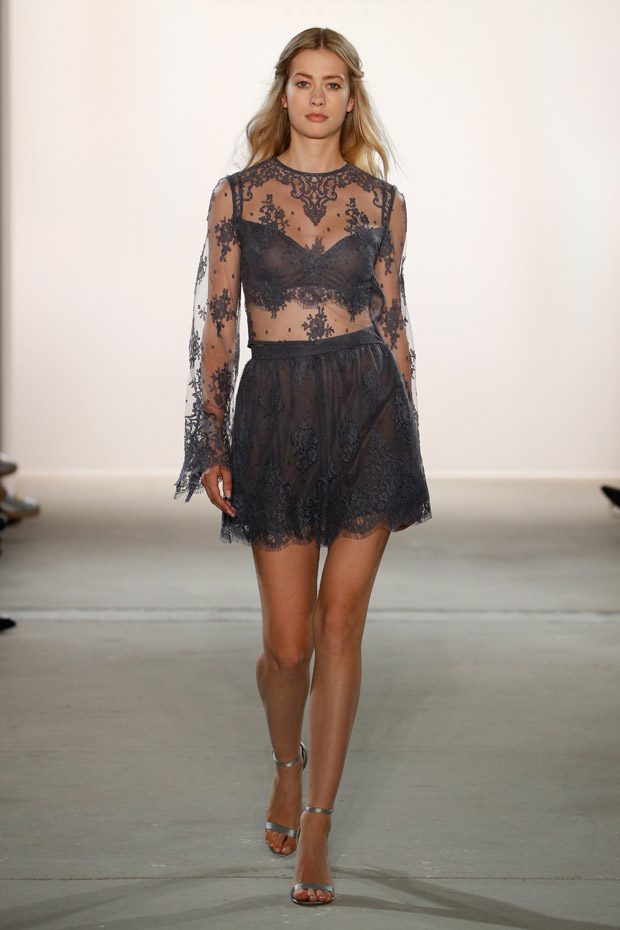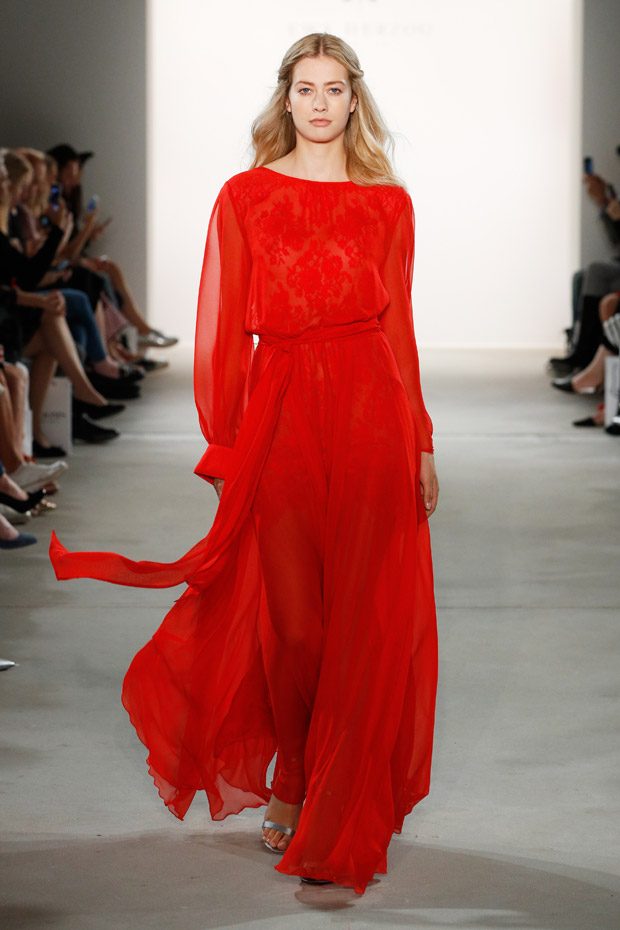 Picture Credit: Mercedes- Benz Fashion Week Berlin/ IMG Fashion
Review by Sussan Zeck for D'SCENE Magazine