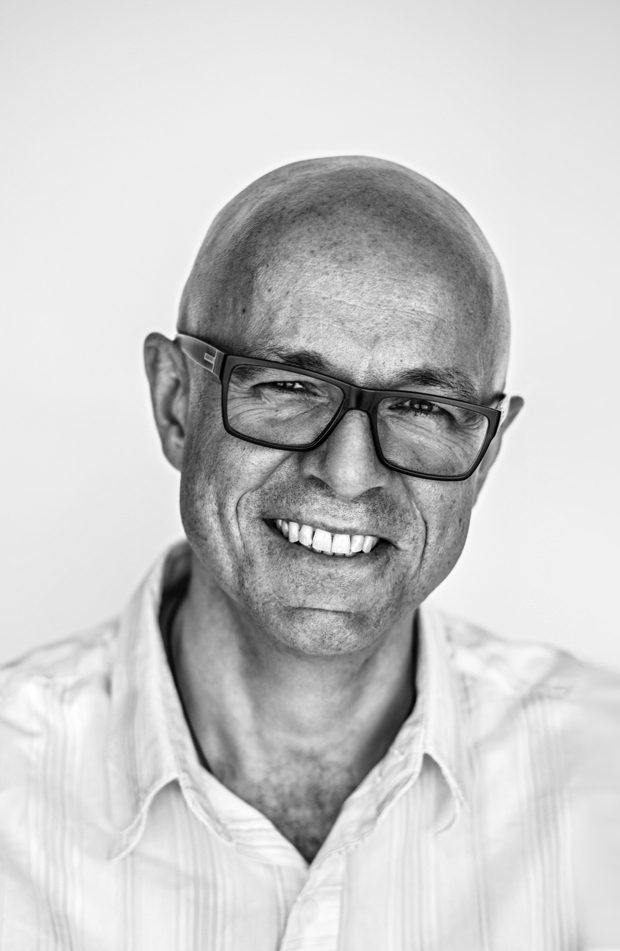 Artist ERWIN REDL has mastered the spirit of light like no one before, for the latest edition of DESIGN SCENE the prolific artist sits down for an exclusive interview with our editor KATARINA DJORIC to talk about his beginnings, latest exhibition at Madison Square Park and upcoming projects. |portrait by Rainer Hosch|
DESIGN SCENE ISSUE 019 – $19.90 PRINT & $3.90 DIGITAL 
When and how did you decide to become an artist?
I was always oscillating between fine art, music, architecture, and engineering. I see those genres holistically not as separated fields. For me they are all different manifestations of my abstract, structural thinking. My educational and family background is in furniture making and interior design. I went to a polytechnic high-school specializing in that field. At the same time, and from an early childhood on, I had a very traditional training in classical music. In college I studied composition and electronic music which lead to a deep involvement in computer programming. Later on I employed computer animations and sound simultaneously very often in larger installation pieces. From 1993-95 I studied computer art at School of Visual Arts in New York with the support of a Fulbright Grant. The short answer to your question is probably that I knew from my early teens on that the very broad and amorphous filed of art gives me the most freedom to express my various, non-genre specific interests.
Read more after the jump: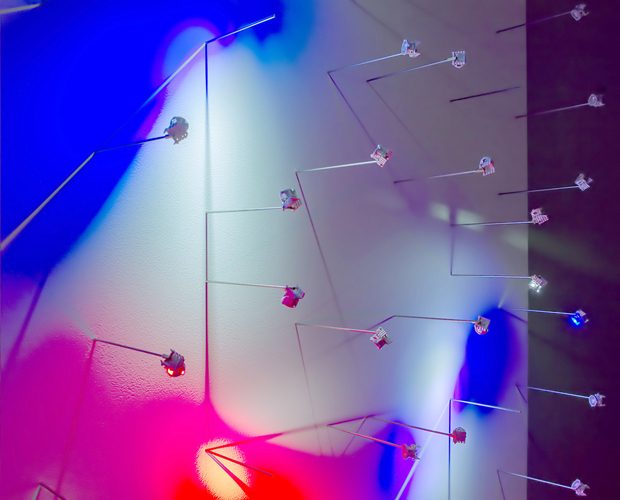 Dial / white-red, white-blue (2015), Light Painting
You work in various fields of art, such as installations, videos, graphics, computer art and music. How do you decide which medium to use?
Over the last two decades my focus is clearly on large-scale installations, most of them light based. The decision which medium to use is either purely inspirational, or site specific, or a combination of both. Since conceptual and structural thinking is the platform I operate from, the medium is chosen by its suitability to express this thinking in a specific spatial context.
What kind of impact do you want to make with your art? What is the message?
I am most interested in the gray zone between the abstract and the corporeal on a basic, phenomenological level. This investigation can come from a very scientific and analytic angle or a deeply sensual and process oriented approach. Very often of course both aspects work together in an almost parasitic symbioses. My work doesn't have a specific message other than a tuning of our senses navigating through space. Movement, both through space and over time is crucial to understand the work. This of course mostly happens in a collective environment and therefore makes us all social vectors within the context of the artwork.
Diamond Matrix (2014), Light Installation
How does the path from an idea to a final art piece look like for you?
Ideas start in very different forms, a simple sketch on paper or the computer, a purely verbal construct that then becomes visual, or number combinations or formulas that develop into visual patterns later on. In order to verify the initial idea, an often extensive research phase is required. This verification entails mostly technical and budgetary feasibility studies as well as prototypes. The next step is to put the idea into various presentation formats, from 3D visualizations, to engineering drawings, to budget spreadsheets depending on different audiences. Usually the process encompasses several review and revision stages, from a purely artistic point of view – I might simply change my idea – to engineering and budgetary constraints that require modifications. Shop drawings and detailed estimates from various manufacturers and suppliers are the next step. Now finally we are at the point where the idea becomes physical reality during the manufacturing and on-site installation. The last step for most of the installations involves programming of the lights which happens at the site and can take from only hours to several weeks depending on the complexity of the work.
Tell me about your exhibition in Madison Square Park.
I've worked on several, radically different proposals for Madison Square Park since early 2015. The kinetic light installation Whiteout with 900 suspended light spheres triggered by the movement of air is extremely tied into every detail of the site. From the topology of the location to the movement of people within and the traffic outside the park, everything is based on constant change, either naturally throughout the seasons or the man-made perpetual urban dynamism. The installation pushes this kinetic aspect to a perplexing extreme by presenting the main aesthetic component, the 900 suspended light spheres, in constant motion. Since the motion is caused by the movement of air through the park, this flow is very organic, similar to a school of fish or a flock of birds. It therefore simultaneously reaches a unique hypnotic stasis with a very calming effect. The light spheres will be programmed to let large-scale wave patterns emerge throughout the installation. The natural kinetic movement of the spheres merges with the virtual layer of the animated lights. The physicality of the undulating spheres in conjunction with the abstract animations of their embedded white lights allows the public to explore a new, hybrid reality in this urban setting.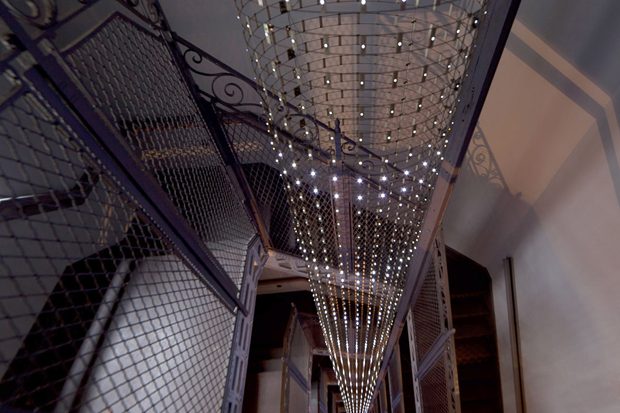 Flow 186 Fifth Ave (2010), Light Installation
What are you working on right now, is there a project you are currently obsessed with?
I usually work on several projects at once with project specific sketchbooks side-by-side. This often leads to interesting and unexpected crosspollinations between seemingly unrelated projects. The same is true with scale. Very small, wall-based works are manufactured in my studio at the same time as large-scale productions. When it comes to various media, the production of light-based installations happens simultaneously with more traditional media such as print, metal, glass, and now even wood. I try to find a balance between ideas that require an extensive technological support  to works with minimal or no electronics at all. Think "Erwin Redl un-plugged". My conceptual-structural language is not dependent on 20th century technology. It most certainly can be expressed with traditional means as well. At the same time the same thinking is very much driven by the radical changes in perception that late 20th century digital technology brought to life. Those fundamentally new stimuli trigger very archaic layers of perceptions and simultaneously shape completely new reactions. The interesting aspect is exactly this feedback loop between archaic and contemporary that especially large-scale installations can evoke. This ties directly into some new projects of mine that combine aspects of stained glass technique with cutting edge LED lighting technology. Another aspect, which I would consider the essential dialectic axis of the Madison Square Park installation, is the hybrid nature of the work. It uses the natural, kinetic movement of 900 suspended light spheres triggered by the movement of air in the park in combination with programmed, large-scale light patterns.
Did the international recognition of your work in any way change your everyday routine?
It makes life quite interesting and challenging considering the constant traveling and figuring out how to negotiate different time zones between the teams working on projects.
Do you view the disposable aspect of social media as positive or negative in regards to your artwork?
I keep social media at an absolute minimum both personally and professionally. I think a good professional web-site and printed PR material should suffice. This is a choice mostly driven by the extreme time constraints of my daily schedule. I don't see those media as positive or negative. They are simply a tool. I leave their use to the institutions I work with.
Matrix VI (2002), Light Installation
Who are your favorite contemporary artists?
I still draw mostly from the established canon of Minimal Art, Concept Art, Land Art, and Light & Space. At this point I am not even sure if proponents of those fields are considered contemporary anymore. But let me start with two artist on the opposite end of the artistic spectrum, John Cage, an artist with a sheer unlimited and unrestrained palette, and Fred Sandback, a sculptor of utmost restraint and rigor. The list of artists I admire of course is almost endless and their relevance to my work changes daily. There are pillars like Sol LeWitt, Michael Heizer, Agnes Martin, Agnes Denes, James Turrell, Robert Irwin, Jenny Holzer, and Dan Flavin that I am extremely indebted to. I also have to mention that architects influence me to an equal degree. The triad of Zaha Hadid, Renzo Piano, and Tadao Ando will always be a strong reference for me.
What is next for you?
Among the art works currently in production in my studio are permanent light installations for the Connective Corridor in Syracuse, NY (2017), Bloomberg Headquarters, NY (2018), a new mixed-use building in Pittsburgh (2018), the Royal Caribbean Cruise Line Terminal in Miami (2018) and the Union Street/Market Street subway station in San Francisco (2019). I am also working on a complex kinetic installation combining movement and light for the Tazlar Media Sculpture Park in Anatolia, Turkey (2019). Projects utilizing more traditional art materials include a large-scale stained glass installation for the entrance of the new Expo/Crenshaw subway station in Los Angeles scheduled for 2018.
Find more of Erwin's impressive work at www.paramedia.net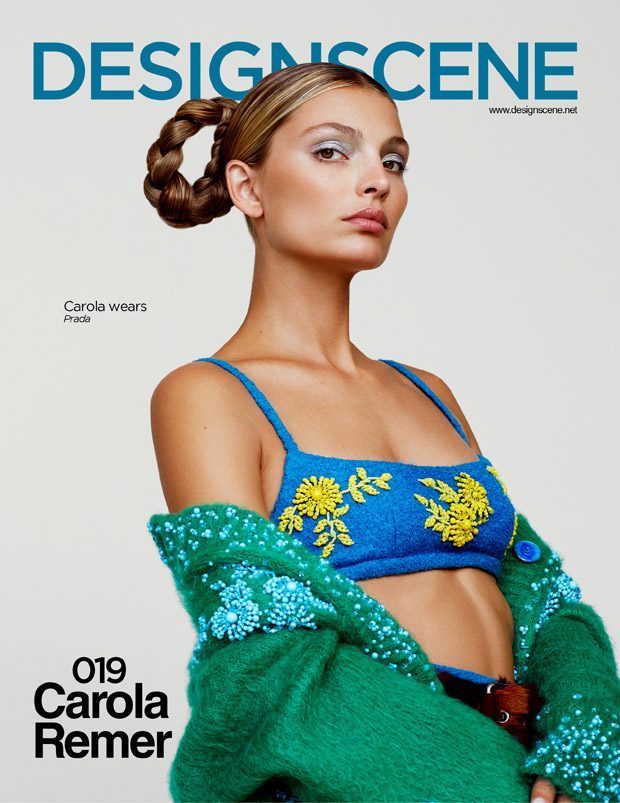 Originally published in DESIGN SCENE Issue 019 – available in print & digital