The big day is important for everyone involved. You want everyone to look beautiful, your guests to feel special and get some great photographs and create memories to last a lifetime. We know that the bride has to be center stage, but the bridesmaids have to look as equally beautiful too. (image: SYLVIA TOLEDANO Torque gold-plated necklace)
Here are some ideas for how to finish off the bridesmaid look with some stunning necklaces: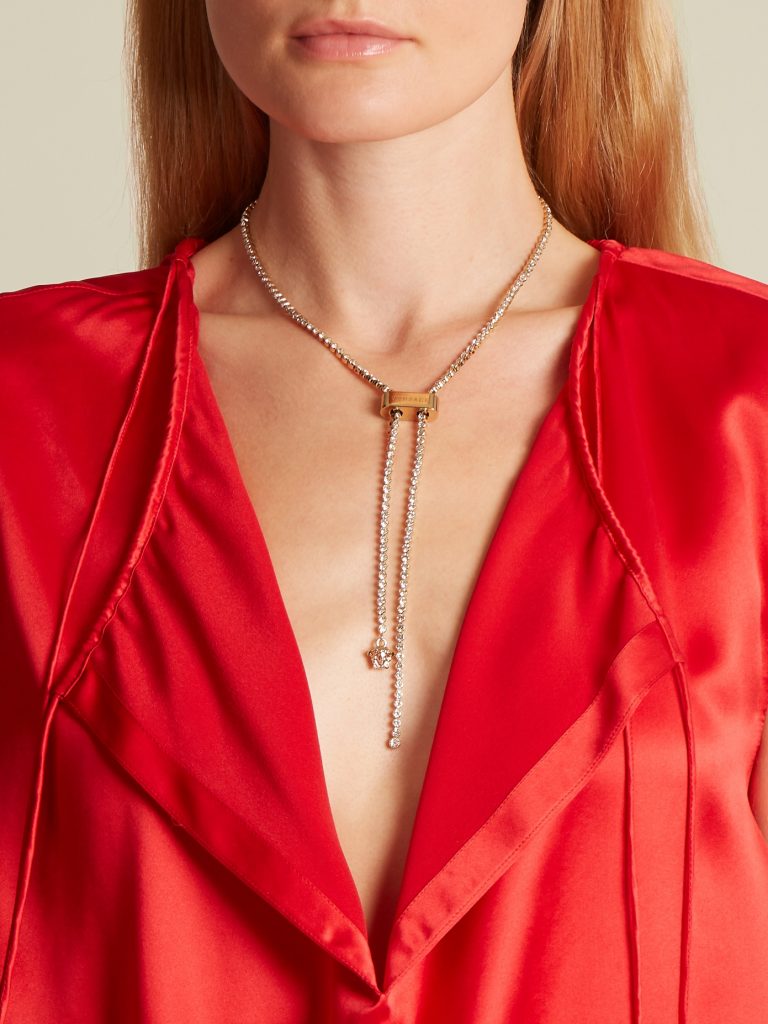 VERSACE Crystal-embellished choker
Small & Dainty
Small and dainty necklaces work well with your bridesmaids no matter what kind of outfit they are wearing, however, they work particularly well if the bridesmaid dresses are quite extravagant. If the dresses are colorful, have details (such as frills, gems or patterns) or are quite large and puffy, a great way to balance out the outfit is to add small jewelry details. Small and dainty necklaces are also a timeless classic, so a nice idea would be to buy your bridesmaids one each for them to cherish and wear forever!

Personalized
Personalizing every bridesmaid's necklace gives an extra special touch! The bridesmaids will look great and will feel happy knowing that they are meaningful as part of the bride and groom's big day. Ways to personalize are: getting the same necklace for each bridesmaid and having something personal to each one engraved on their necklace (such as their name or a word related to a memory they share with the bride), or buying a necklace representing a memory the bride and bridesmaid share for each bridesmaid. These are only a few ways to personalize and the fantastic thing about personalizing necklaces is that there is no limit. If it means something to the buyer or wearer, it's going to add happiness to the atmosphere of the day!
Hearts
With the love heart being the ultimate symbol of love, giving your bridesmaids a love heart chain seems perfectly fitting. Bridesmaids are chosen because they are needed to help celebrate the bride and groom's day. The bride chooses her bridesmaids for a reason: because she loves them! Whether your bridesmaid is an old time friend or a family member, a small love heart pendant on a plain contemporary silver jewelry design or gold necklace will look stunning and will represent a whole lot more. Splurging on the forever loved Tiffany & Co. heart pieces will have you as the best bride and friend in town!
Dates
Buy each bridesmaid a plain silver or gold pendant (like a small circle, triangle, square or heart) and have each one engraved with the date of your marriage. This will be a great keepsake for your bridesmaids. Every time they come across the necklaces in their jewelry boxes, they will look back at the special day they shared with you and smile. As well as creating happy memories, the simple necklaces will look gorgeous on every woman and will match any dress. When it comes to dates, a timeless pieces are undoubtedly starsign necklaces, which always offer a great variety when it comes to design.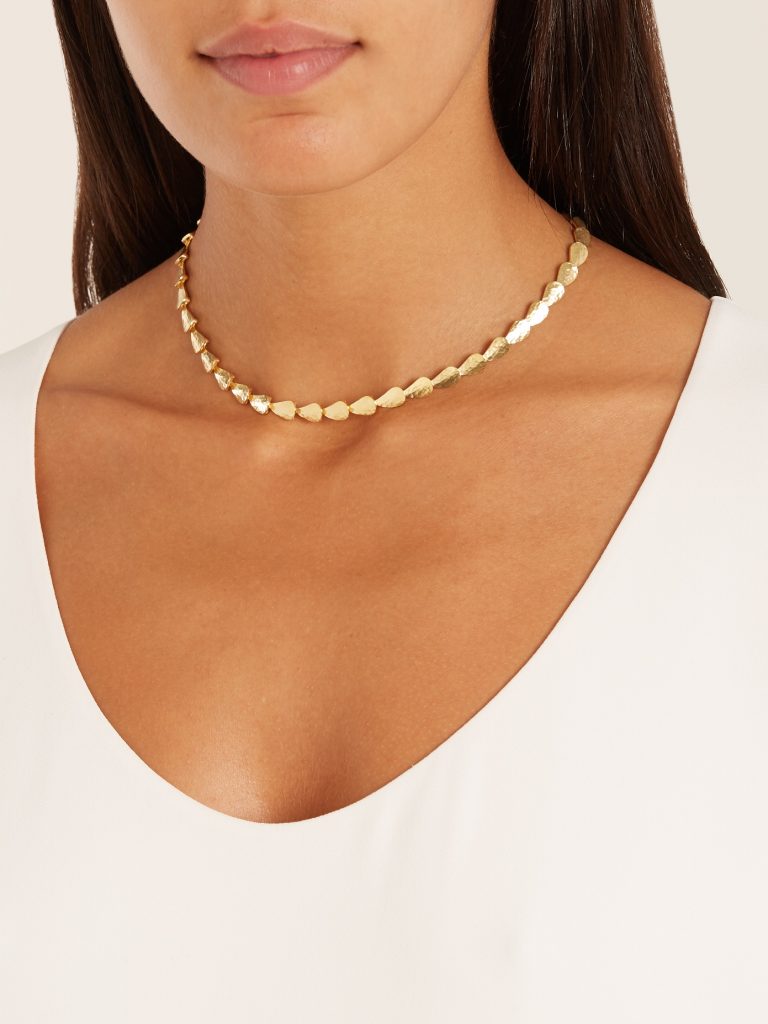 SOPHIA KOKOSALAKI Mytilus III gold-plated choker

Follow the Bride
A wonderful idea for bridesmaid necklaces is to match the bride. Don't match the bridesmaids exactly as the bride, because the main focus needs to be her. Instead, create a bridal theme where the bridesmaids compliment the bride by subtle matching. For example, if the bride is wearing a large blue pendant on a silver chain, all bridesmaids could wear a mini blue pendant on a silver chain. Another way to match the bride is to copy the colors of her flowers. If the bride has a bouquet of different colored flowers, alternate each bridesmaid's necklace with a color matching the bride's flowers.
Let the Bridesmaids' Personality Come Through
If you don't mind a little bit of mismatch, this option will work for you. Why not think about giving your bridesmaids a gift voucher for a shop like Elf925 or Etsy?This way, they are able to take the stress off the bride in choosing every last detail and every bridesmaid is going to be able to let her own personality come into the outfit through the necklace she chooses! Perfect!
Think About the Style of Bridesmaid Dress
It's all good and well saying, ''wear this necklace and don't wear that necklace!'' However, one of the most important things you need to do when thinking about which necklace to wear, is to think about the dress first. You could have the world's most beautiful necklace, but if the outfit doesn't work as a whole, the necklace could end up looking like the world's ugliest one. Real Simple shows how to rock every style of bridesmaid dress with necklaces and handmade jewelry designs.
However you choose to spend your special day, remember that every detail is important and your bridesmaids' necklaces although small, add a key detail to creating an overall beautiful and charming day. Keep in mind that there are no rules on what to wear and how to style your big day. If you like a particular style, that's the most important thing!