Moncler Chairman and CEO Remo Ruffini has announced a new strategy for the brand, starting February 2018. The label is changing its creative course and ending its partnerships with designers Thom Browne and Giambattista Valli, creative directors of its Gamme Bleu and Gamme Rouge collections.
I feel really excited about Moncler's future and the challenges that await us.  I am all too aware that innovation, focus and dedication are vital for improving every brand and every company, so I feel honored to have had the chance to work alongside two such highly talented and sensitive designers as Giambattista Valli and Thom Browne.  Their professionalism, talent and energy have been the defining elements of all the work we have done together over the years. I have always admired Giambattista's style, he managed to combine a timeless elegance, contemporary and modern approach when dressing today's woman, while Thom's talent for intuition and his inimitable sartorial touch, teamed with the sporting spirit of Moncler, have without a doubt yielded a distinctive, recognizable collection.  I cannot thank Giambattista and Thom enough for having contributed towards the Brand's growth with Moncler Gamme Rouge and Moncler Gamme Bleu. – Remo Ruffini, Chairman and CEO of Moncler
Read more after the jump: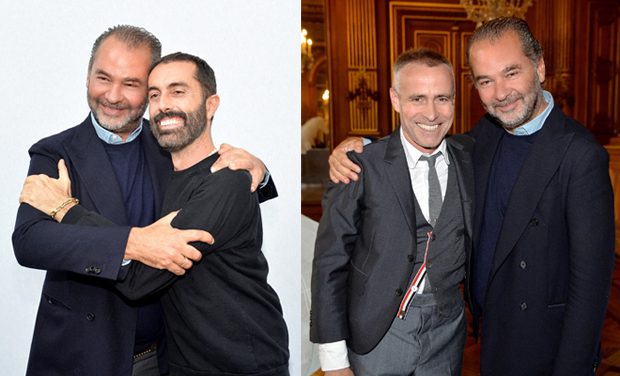 Known for its luxury puffer jackets, Italian Moncler was founded in the 1950s as a traditional ski wear brand. The Spring Summer 2018 runway collections, presented at Paris and Milan fashion week this year, will be the last of the Gamme lines. With younger customers expecting more than a 2 collections a year, Moncler stores will become venues for more frequent launches of new designs from now on.
I am extremely proud of what we have accomplished with Moncler Gamme Rouge and very honored of having been a part of the huge success of the brand.  Conceiving the wardrobe of the Moncler woman and infusing it with the Valli DNA was a real challenge.  It brought creations for every moment of her life, from a morning in Gstaad to an evening at the Met Gala in New York.  I want, therefore, to thank Remo for his foresight in choosing me for this exciting project and his support throughout these ten years where I was able to build a team and bring to life unique collections under the Moncler Gamme Rouge label. – Giambattista Valli.
It's been a great run and lots of fun for so many years.  But, as we defined a new growth strategy for the Thom Browne brand, I have realized that my focus should be on my own business.  The fact that this happened when Remo was starting to rethink Moncler's future made our decision mutual and effortless.  I wish to thank the teams who made things happen, together with Remo, who through the years has allowed me complete creative freedom. – Thom Browne.