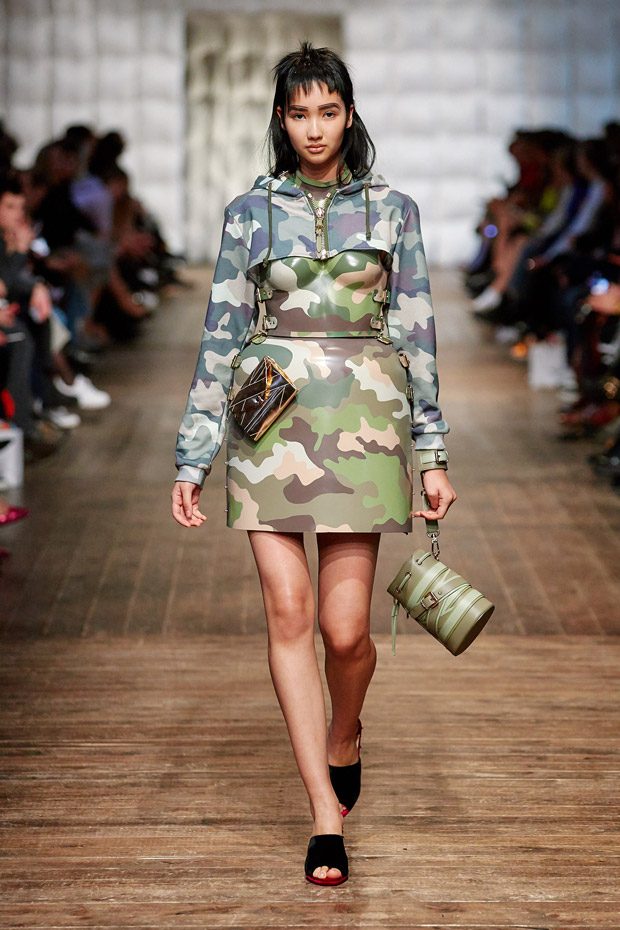 On the 18th of January 2018, #TeamMH was ready to rock the catwalk. As venue for showcasing her Autumn/ Winter 2018/19 collection, the Austrian designer Marina Hoermanseder chose a large, vintage- style inspired industry hall named "von Greifswald" in the area of "Prenzlauer Berg" in Berlin. Her guest list was anew a quite impressive and prominent one. As always, when the high- praised designer invites, all of the most important editors, influencers and VIPS come to celebrate with #TeamMH.
In her new collection, the creative spirit behind her own brand stayed true to her signature style consisting of large buckles, leather constructions, corsets and strong looks. The first outfit gave a little teaser of this collections' mood: strong, seductive, sophisticated. It consisted of a gold- pleated body paired with over- knees in the almost same nuance. Underlined by energetic music of the "Seven Nation Army", the show started…
Continue bellow to read full review by our Berlin Contributor SUSSAN ZECK: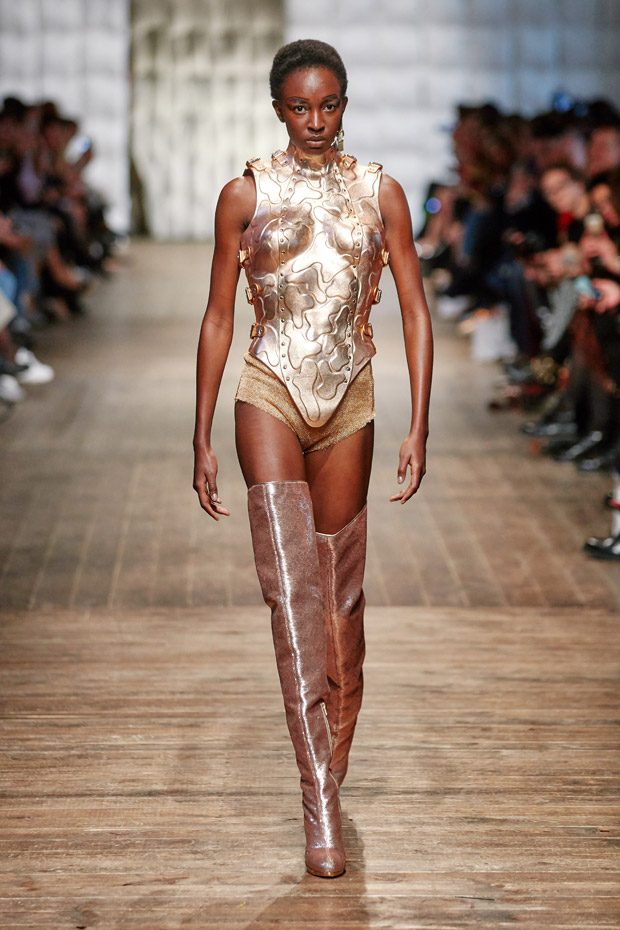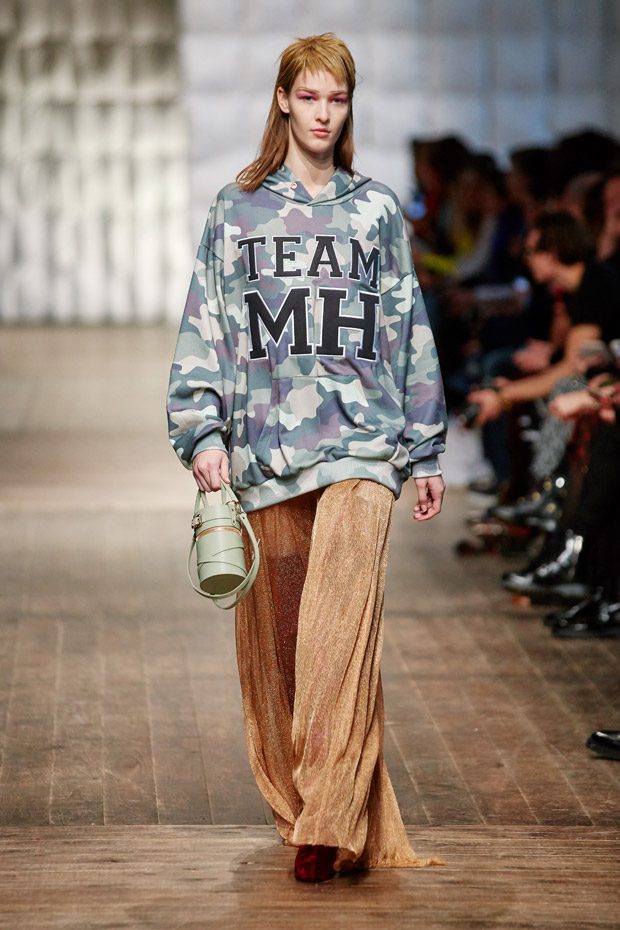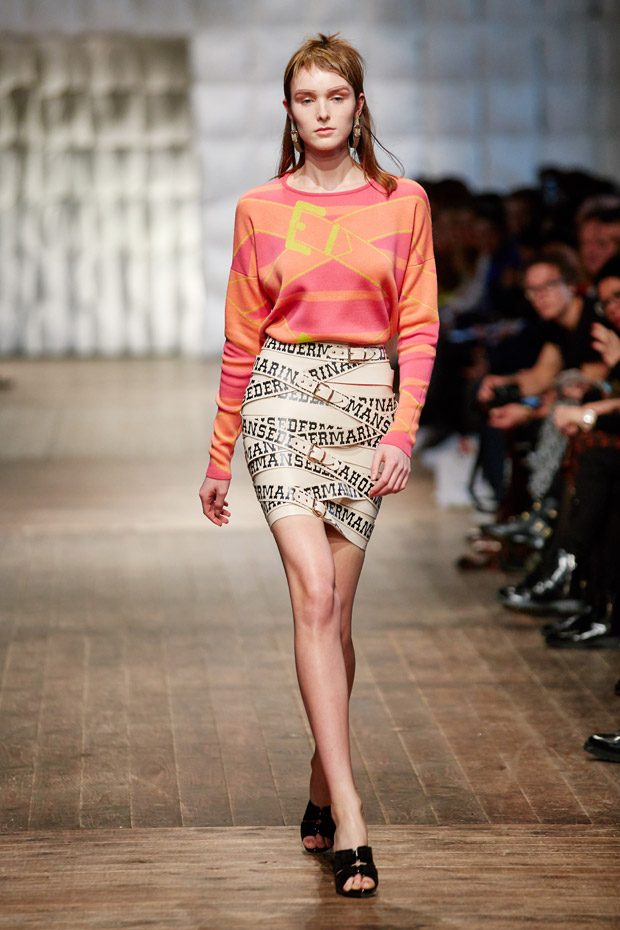 In this collection, influences of the golden 1920s, a roaring era in which the female emancipation started, clearly shone through: the joy of life and the preference for lavish celebrations of this time span were depicted by flamboyant, metallic, shining fabrics and tender chiffon. A midi- length dress in metallic lime green, which was provided with ruffles on the bottom and a tight bustier, embodied the glamour of this time. Other influences, which were very present in this collection, were uniforms plus camouflage pattern which were used repeatedly. What else stayed in mind? Underlined by Wolfgang Ambros' Austrian ski- hit "Schifoarn", ski- suits were presented. But also other looks were kept rather sporty, with over- sized, cool "MH" sweaters and sneakers. Contrary elements were often paired in one look and thus, sometimes those sporty influences met chic ones, such as an oversized, casual duffle coat that was paired with a rather figure- accentuating, seductive black dress that was provided with Marina Hoermanseders' typical buckets.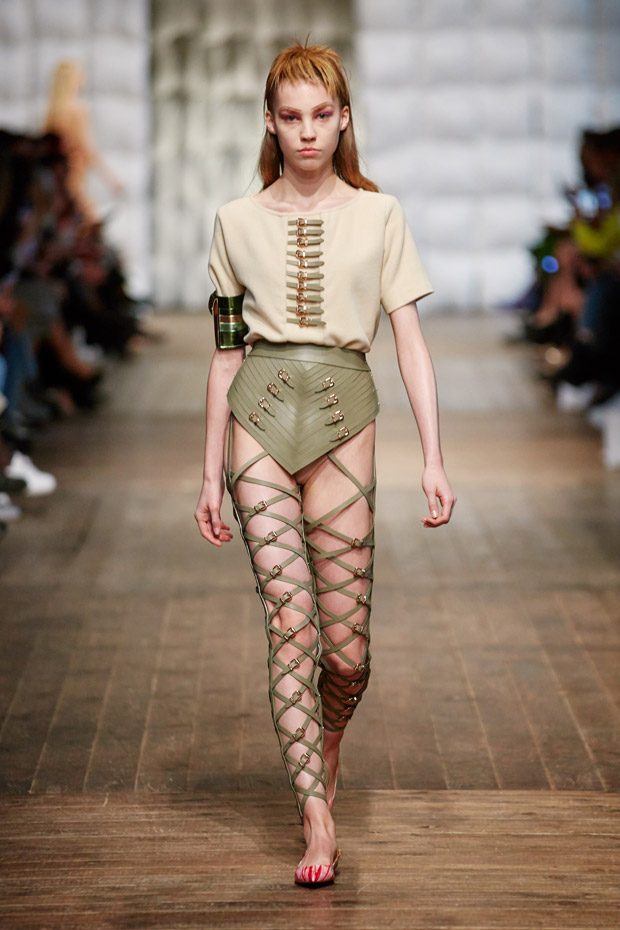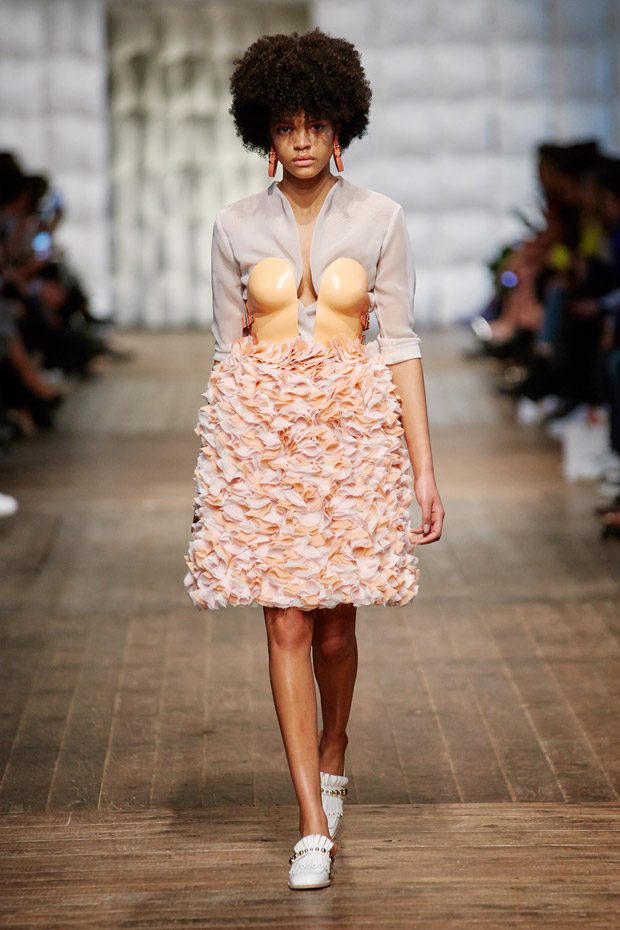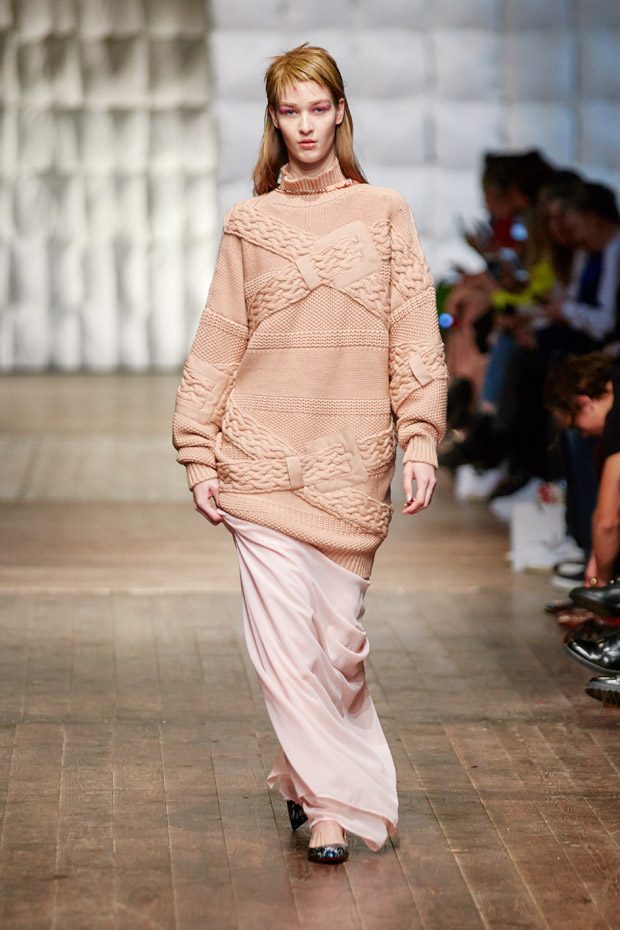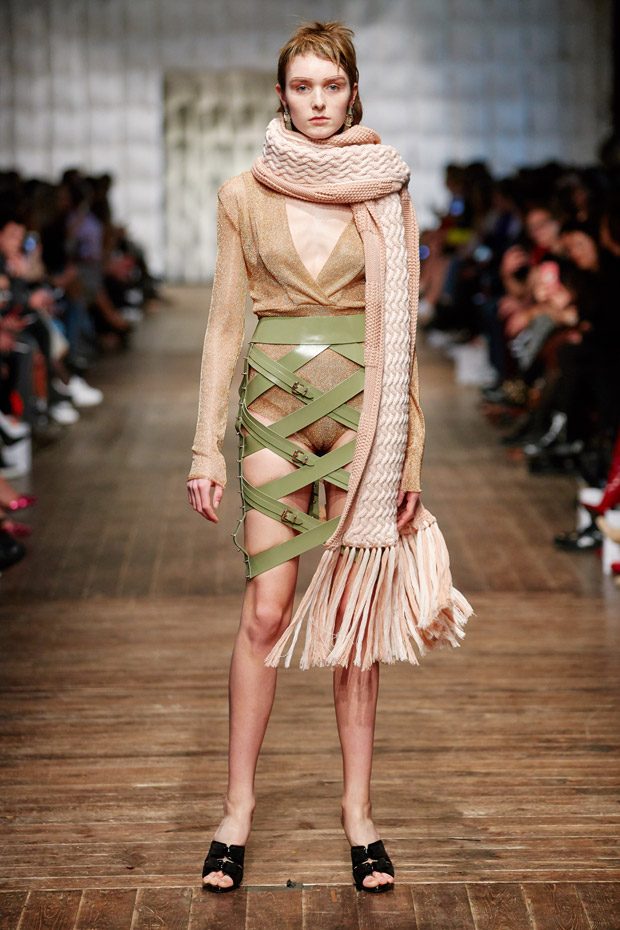 The range of colours was a rather multifarious one: it included some bright, vibrant, eye- popping nuances, such as fuchsia, orange and pink. Additionally, metallics were used several times, for example rich gold and lime green. Then a bunch of more restrained colours, as mud, military green, cognac, night black and navy could be spotted. But also some delicate pastels, for instance peach and soft rose could be noticed. The nuances of this strong collection were vividly mixed and matched. Even though a few outfits were kept tonal as well.
The hair of the models reminded us of the 1920s, with soft waves and a 20s' fringe. Additionally, the make- up was focused on strong eye- shadow and nude lips. As we know it from her previous collections, the heels were extra high and seductive anew. Albeit also comfortable sneakers and casual loafers could be spotted on the runway…
After only four years of owning her own label, Marina Hoermanseder made herself a name and we are sure her success story will go on. We will keep you updated with her latest collections and news.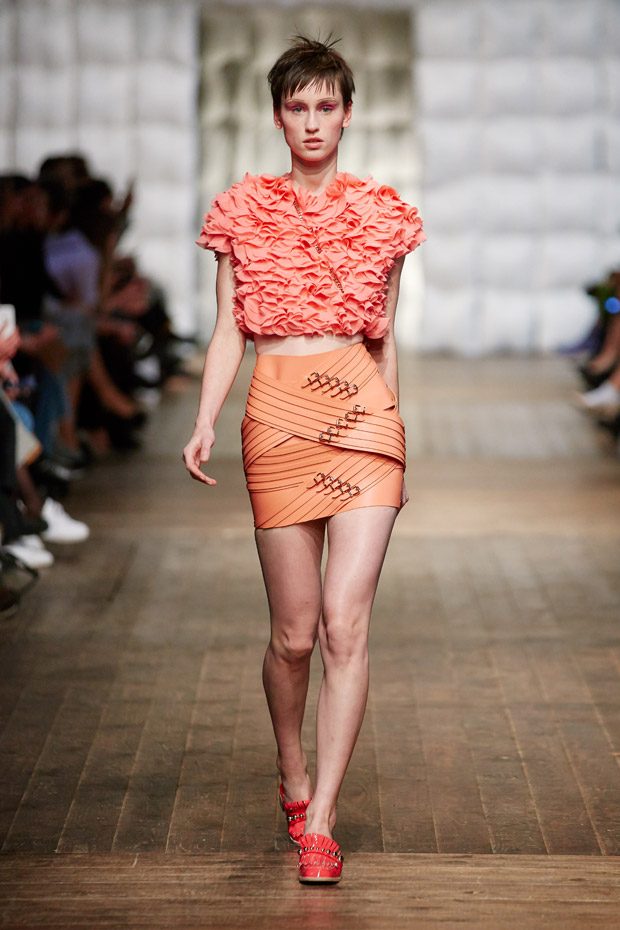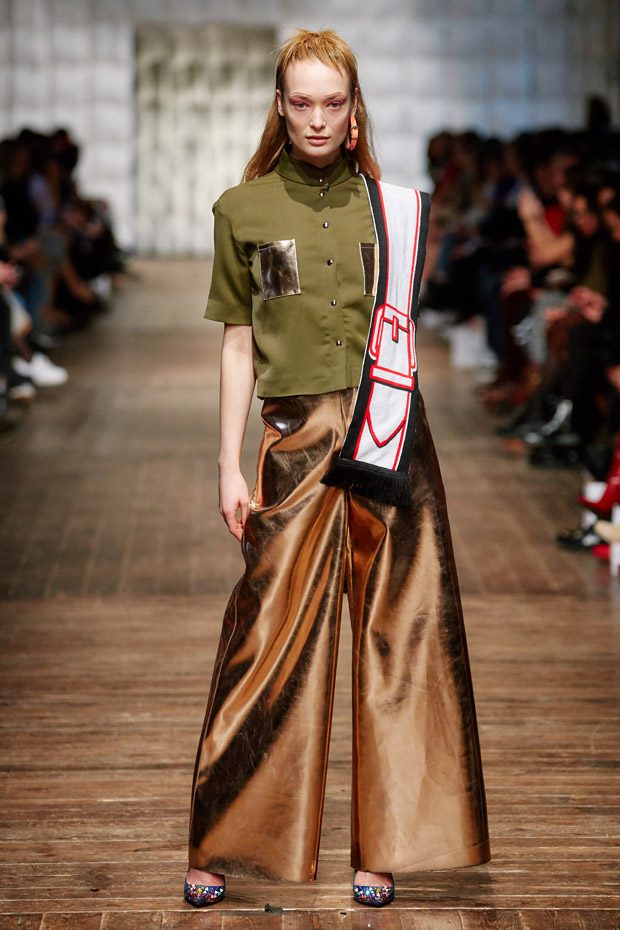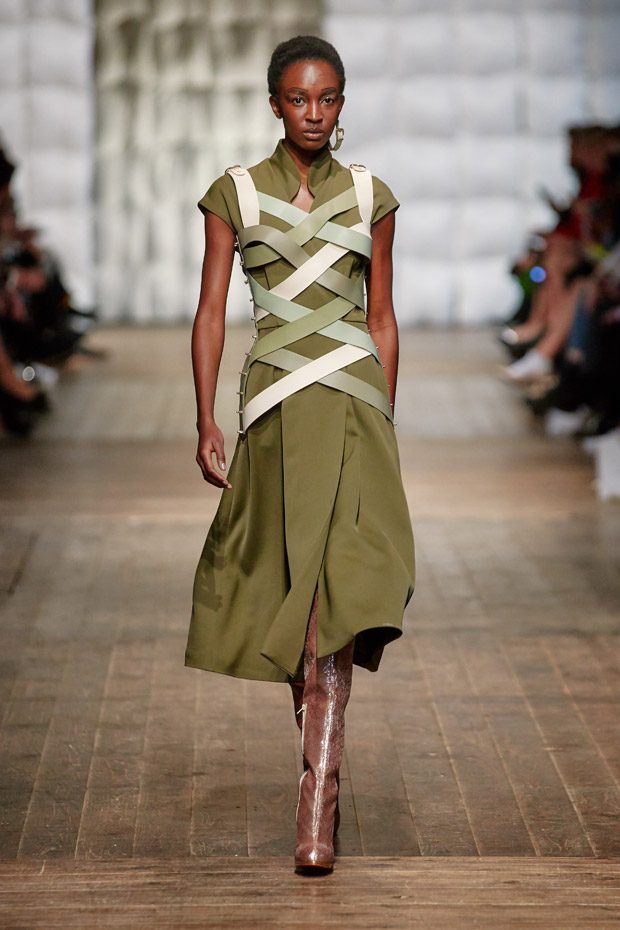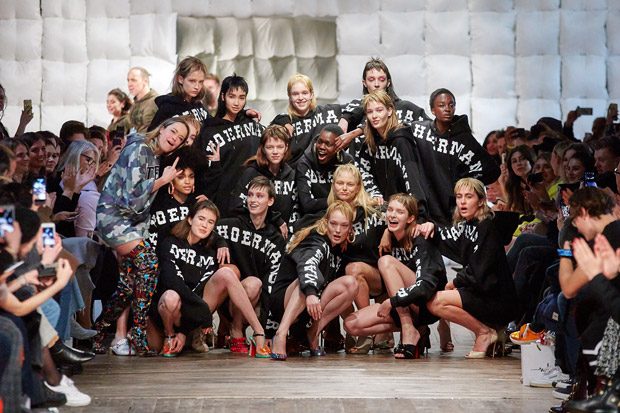 Photography by Stefan Kraul
Review by Sussan Zeck for D'SCENE Magazine