How you design your office is an important part of your office culture – it's the visual part, if you like. For instance, if you in the legal or finance sectors and want your company to be viewed as austere and official you're hardly going to have a big orange plastic Google-style slide in the middle of your office. You're more likely to be all about sleek black glass and light grey accents.
If, on the other hand, you're a fun, tech start-up where everyone in the office wears jeans and is under 35, then you'll want colourful and funky office decor to reflect your go-ahead and innovative company ideals and outlook. Another indicator of your company culture is your mission statement. This should make clear to everyone – employees and clients alike – what the company goals, values and ethics are.
Just about every company should be aiming for a culture where staff regard harmonious teamwork as a priority. The interior design of your office design can definitely help facilitate this – whether it's the physical layout of desks and communal meeting pods, or creating facilities such as an onsite coffee bar and chill out zone.
The following are some great British examples of how office redesigns go on to not just reflect, but also enhance, the company culture:
Expedia
The travel website was top of the Telegraph newspaper's 'Best Companies in Britain to Work for' list last year – for the second year in a row. As you can see Expedia's offices are pretty funky and contemporary.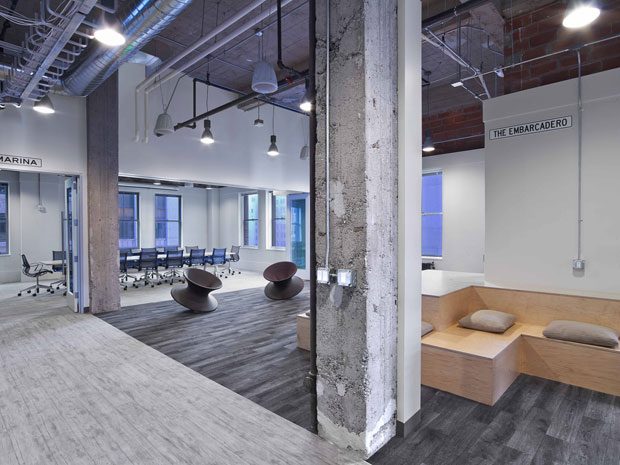 Expedia Office designed by Rapt Studio, photo ©Eric Laignel via ARCHDAILY
Bright colours – including a glossy green ceiling – mix with a wall full of hundreds of postcards of destinations around the world. The opposite walls are made from glass, giving the impression of transparency and emphasising the feeling of 'openness' in general.
That reflects the view that it's a young, modern, 'go-ahead' company which very much encompasses contemporary workforce thinking such as flexible hours (to help working parents or employees with elderly relatives to care for). The company was also applauded by staff for its 'accessible leaders' and keenness to listen to employees.
Salesforce
The US cloud computing company's London offices are also large, airy and full of glass and which, like Expedia, reflect Salesforce's open and inclusive culture for staff, as well as its intentions to make visiting clients feel included and part of the team. In fact, the company boasts that its customer relations management is the best in the world – no less.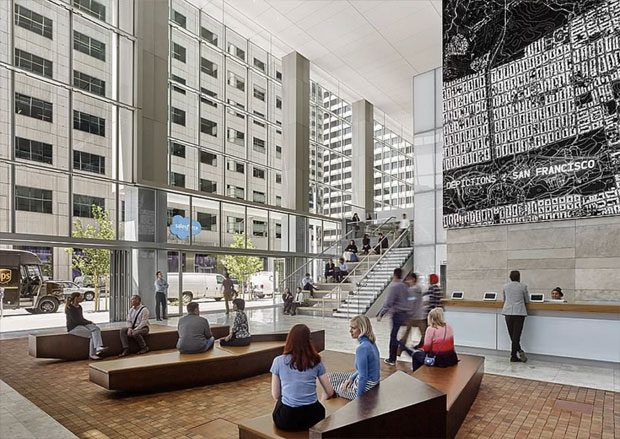 Images from Architecture Practice in charge of the design – © Skidmore, Owings & Merrill LLP (SOM)
Once again there are funky colours – this time purple, blue and yellow – and contemporary wooden flooring.
For staff it not only provides plenty of in-house seminars and other educational opportunities, but it actively encourages them to undertake volunteer work. It does this by giving them 56 hours off a year in which to choose a project of their own.
Unilever
At the global consumer goods company enthusiasm is the name of the game. Another workplace which offers flexible working and focuses on friendly, knowledgeable leadership, Unilever also has some of the most famous 'family friendly' brands in the world such as Ben & Jerry's and Dove.
Image via Aedas © Owen Raggett
The corridor of its main UK office is full of giant funky photographs of individuals around the world using its products and there's also some greenery on show to provide a touch of nature. Even without venturing into their offices though, you can tell the type of fun, vibrant and informal culture Unilever is looking to portray just by looking at its logo. The power and innovation behind the brand is shaping the sentiment also of the recently opened Unilever headquarter building in Jakarta. In charge of the design were the world renowned architects from AEADAS architecture practice.
To find out more about how an office redesign can help enhance your office culture by making your employees feel more integrated and part of a team, then contact Manchester-based fit-out and design company Opus-4 today. The company offer their staff free fruit, pedicures and a monthly take-away night. And that's just for starters…