Mixing the sentiment of their Georgian heritage and the flare for contemporary womenswear twin sisters TATA NAKA have created a fashion and lifestyle brand everybody's talking about. Our Deputy Editor ANA MARKOVIC sits down with the designers to talk about their beginnings, working with a twin, and their venture into homeware.
Read the interview after the jump: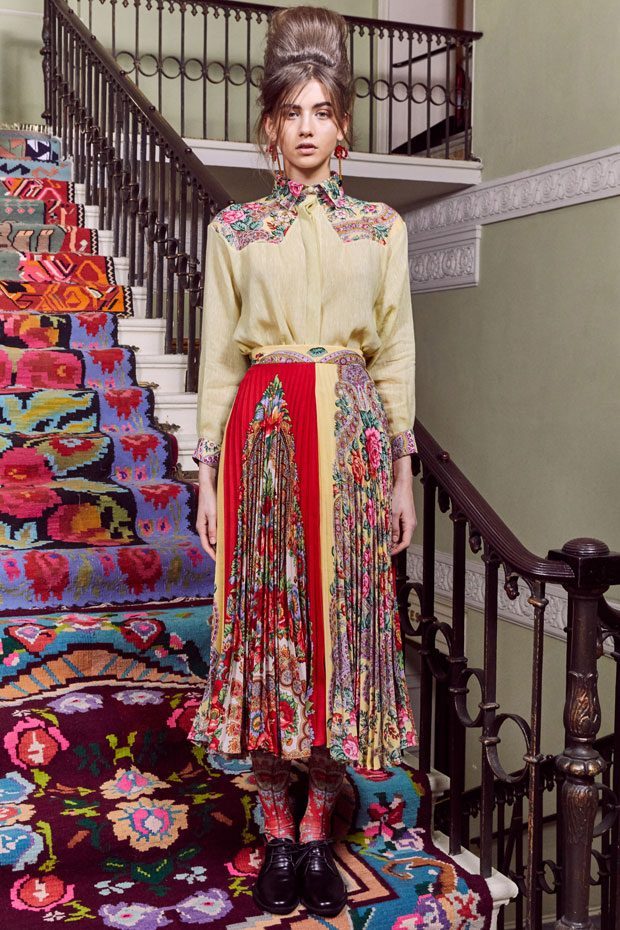 When did you realize you wanted to pursue career in fashion design?
Strangely we wanted to be fashion designers as long as we can remember. It is strange as fashion design was not really a profession in Soviet Union where we grew up. We used to draw designs since we were six years old.
We still have them and have used them as prints in one of our collections.
Working with a twin – pros and cons? Is it hard to balance your two creative visions?
Actually we love working together. Tata Naka the brand is the combination of the two of us. It is the mixture of our styles, our outlooks our personalities. In terms of running a business together we would not do it any other way.
Tell us about your creative process, are you both involved in every aspect of design or do you each do certain tasks?
We are both completely involved in design process. There are some elements we each enjoy more than the other for example I love exploring the shapes and cuts of the garments, Tata loves the decorative parts and prints.
And where do you find inspiration?
Inspiration can come from anywhere, from something quite basic to something completely unexpected. The best part is the exploration of the theme, research and storytelling that leads to the final product.
Your latest collection explores the folk elements of Eastern Europe, tell us how that became inspiration for the collection?
We saw an image we loved of Szek costume, we researched it explored it, found links to other things we liked. We also came across beautiful vintage Georgian kilims on out trip to Georgia, which we loved the look and story of it and merged it with the theme.
Do you have a favorite piece from the FW18 collection?
Padded printed jacket and pleat skirt combo.
Can you share with our readers something about your next collection?
We don't like to talk about our collections in advance all I can say it will have a completely different aesthetic.
Obviously growing up in Soviet Georgia influenced your work. What do you find the most inspiring about Georgia's style?
The nativity and childlike charm of Georgian arts and crafts.
How did you start designing interiors and homeware?
We started by working on our home. We absolutely loved it. Going to Milan Design Week opened our eyes to so much potential and possibilities. It is an extremely interesting medium, there is so much you can do and create. We always saw Tata Naka as a lifestyle brand, we always wanted to create a world of Tata Naka and so now it is our chance.
How similar are processes of designing homeware and creating womenswear?
We think the style and story lends itself easily to the interiors and home wear.
How has your work evolved since you began your label 18 years ago?
We are constantly learning so we try to evolve with each collection. One thing is constant sense of fun and a story behind it.
How does your brand reflect your personal style?
Tata Naka brand is our personal style!
What is the one piece you think every woman should have in her wardrobe?
A beautiful printed dress.
Your collections always have the sense of fun / positivity and uniqueness, is that reflection of your own outlook on life?
Yes it is although it is not always possible, so it's important you get that from every source available. We think fashion especially should be fun and should not be taken too seriously.
How do you balance your career with your personal life?
We never had that problem, we think you need a balance otherwise you won't enjoy either.
Describe Tata Naka woman in three words
Fun, adventures and original.
What piece of advice would you offer our readers who are considering a career in fashion industry?
Do it only if you are passionate about it, so you can see the obstacles as challenges not as problems. Be true to yourself otherwise its not worth it.
Keep up with Tata Naka on their Instagram page @tatanaka
Images – Tata Naka AW18 Collection
Originally published in Design SCENE Magazine Issue 024