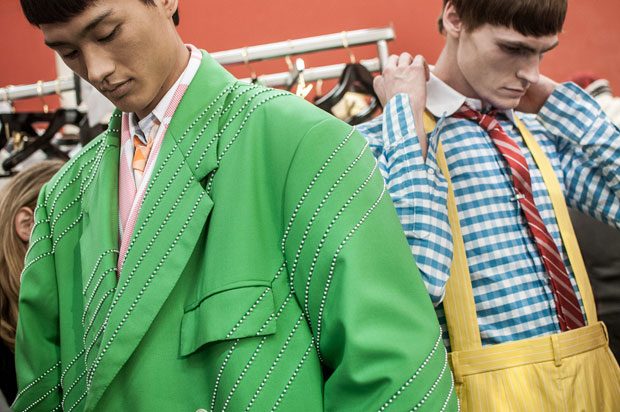 In an unexpected twist designer THOM BROWNE has sold 85% of shares out of his fully owned eponymous fashion house. Browne has teamed up with The Ermenegildo Zegna Group, Italian fashion giant known for it's sartorial Ermenegildo Zegna line, as well as Z Zegna and Agnona. The group is now in control of the 85% of shares, however Zegna intends to have Mr Thom Browne, who remains the sole other share holder, stay on the position of the Chief Creative Officer. [Image backstage moment at Thom Browne Spring Summer 2019 photo ©Benoit Auguste for MMSCENE]
Scroll down for the official statements and more about one of the biggest fashion acquisitions of the year.  
Zegna seeing the capacity of the brand is investing half a billion dollars into the independent fashion house. The company is to remain independently run with no major changes developing on it's helm, with Mr Rodrigo Bazan retaining the Chief Executive Officerposition.
Getting ready for the Spring Summer 2019 show in Paris, captured exclusively for MMSCENE by D'SCENE – Photo ©Benoit Auguste
Speaking of the acquisition, Ermenegildo Zegna, Chief Executive Officer of the Zegna Group shared: "As global leaders in luxury menswear, we have always been open to opportunities for external growth. And, since we started looking at partnerships, I always knew that Thom Browne would be the perfect fit. In addition to the immediate benefits with regards to fabrics and manufacturing support we can leverage our global reach to further expand Thom Browne's retail network. Most importantly, we share the same passion for excellence and impeccable, modern tailoring. Thom's visionary approach and his unique point of view have enabled him to build and nurture the most loyal clientele. On this strong footing, and thanks to a thriving women's business and strong appeal with millennials, we believe that we can build long-term value for all of our stakeholders. Finally, I am very proud to oversee a rare major investment by an Italian luxury player in an American company. I have always been a strong admirer of the United States, and look forward to our strengthened presence here."
Supermodel AJAK DENG wearing THOM BROWNE for D'SCENE Magazine Issue 09, styled by D'SCENE Fashion Director Christopher Maul. Photo ©Hao Zeng 
RELATED: WHAT YOU NEED TO KNOW ABOUT THOM BROWNE
Browne is no stranger to the European as well as Italian market, while moving it's fashion shows to Paris Fashion Week the designer has also signed a major contract with an Spanish Football club Barcelona. In it's first statement Browne said: "… I am very proud and excited for my new partnership with Zegna … I feel that their passion for only the best quality and craftsmanship is very much aligned with how I have always approached my collections … my conceptual approach to design and the long-term vision of growing a true luxury design-led collection for men and women is something we both feel strongly about as the future strength of Thom Browne …"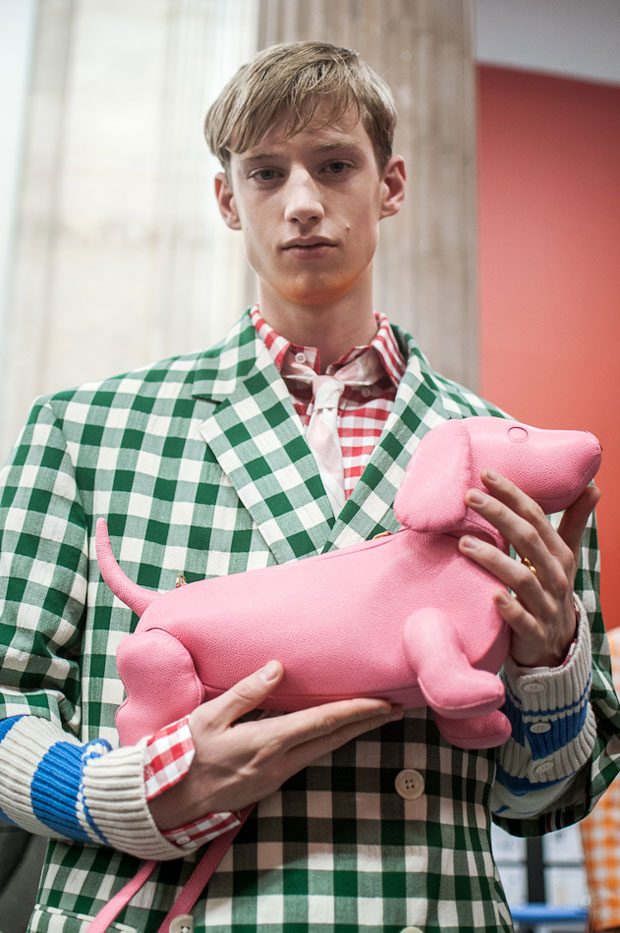 Backstage moment in Paris, photo ©Benoit Auguste
Browne adds: "with Zegna, Thom Browne will have a partner who not only understands the fundamentals of this business, but truly embodies them and brings the knowledge and skills of a global leader. As I welcome Gildo to the Thom Browne world, I want to personally thank Sandbridge Capital, and Ken Suslow in particular, for being such a good partner, but more importantly, being such a good friend … I have always valued our friendship over the years of our partnership because he has always proven to be a true gentleman … We would have not achieved the outstanding growth of Thom Browne without his support." 
Discover Thom Browne Fall Winter 2018 collection.