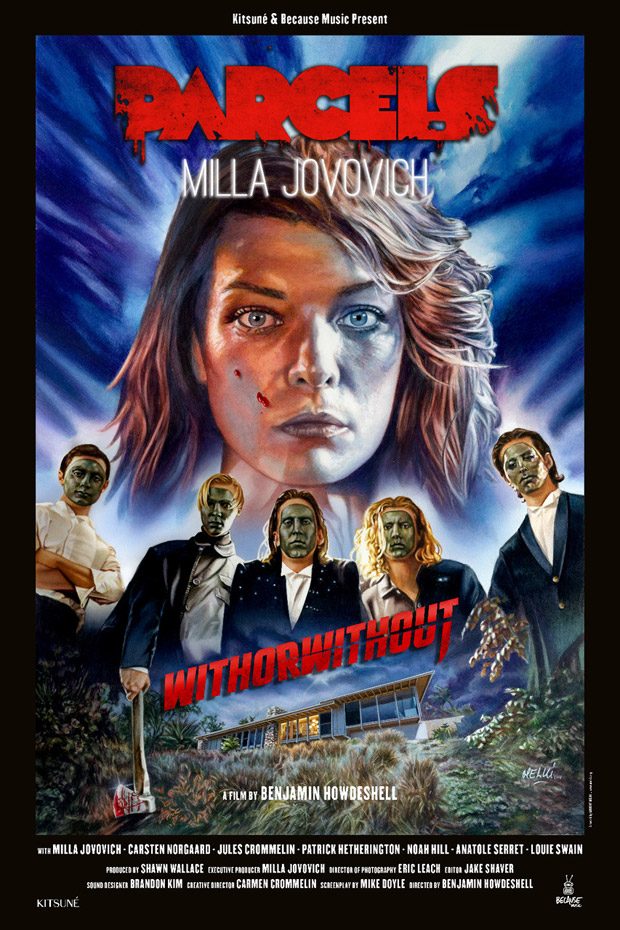 Berlin-based band Parcels released music video / short horror film for their "Withorwithout" track directed by Benjamin Howdeshell and starring actress Milla Jovovich. Screenplay is work of Mike Doyle, with production from Shawn Wallace, and creative direction by Carmen Crommelin. For the video Milla was joined by Carsten Norgaard, Jules Crommelin, Patrick Hetherington, Noah Hill, Anatole Serret, and Louie Swain. Poster artwork by illustrator Laurent Melki.
"The video stars Milla, a fan of Parcels in real-life and in the film, drifting aimlessly through an evening in a mid-century LA home that matches the retro feel of the band. Her husband (played by Carsten Norgaard) is similarly disconnected until the reality of the couples' glitter-masked intruders sets in."
"When Milla called me to describe what she and Parcels had in mind for a horror music video/short film hybrid, I was immediately all in. We envisioned and experimented until we felt like we'd hit all the right notes for integrating this incredible song into a visually beautiful, yet horrific story." – Howdeshell
"We developed the idea of Milla being this darkly obsessive Parcels fan in a strained marriage and seeing where this could go in a slasher movie. This video is our celebration of the American slasher film, a genre which is fascinating in its traditionalism and strict maintenance of its classic tropes with each new rendition. The masks, the kitchen knife, the home invasion and of course the final girl – which in our case got to be Milla, the iconic queen of horror herself." – Louie Swain, Parcels keyboardist.
Director: Benjamin Howdeshell
Screenplay by: Mike Doyle
Produced by: Shawn Wallace
Executive Producer: Milla Jovovich
Director of Photography: Eric Leach
Editor: Jake Shaver
Sound Design: Brandon Kim
Creative Director: Carmen Crommelin
Starring: Milla Jovovich, Carsten Norgaard, Jules Crommelin, Patrick Hetherington, Noah Hill, Anatole Serret, Louie Swain
Lyrics and Music by: Jules Crommelin, Patrick Hetherington, Noah Hill, Anatole Serret, Louie Swain
Performed by: Parcels
Label:  Kitsuné / Because Music
First Assistant Director: Jeffrey Fuller
911 Operator: Heather Foster
Line Producer: Bret Rea
Production Coordinator: Nathan Zasada
Action Designer: Anthony Nanakornpanom
B-Camera Operator: Adam Leene
1st AC A Camera: Ken Tanaka
1st AC B Camera: Daniel Cooper
2nd AC / Data Manager: Brendan Devaine
Art Director: Eric Palmer
Set Dresser: Grant Hyde
Department Head Makeup: Christina Smith
Makeup: Marina Procter and Shelby Smith
Wardrobe Stylist: Candice Brittain
Wardrobe Assistants: Meredith Ambruso and Marcella Deluna
Department Head Hair: Candice Birns
Hair: Erica Beatty
Gaffer: Gordon Hale
Best Boy Electric: Kate Eleneke
Key Grip: Micah Minor
Sound Mixer: Fletcher Allison and Josh Haycraft
Production Assistants: Eric Gilbert, Kenneth Prieto, and Derek Siegel
Colorist: Omar Inguanzo
Assistant Editor: Shannon Albrink
Color Assistant: Faby Zumaran
Audio Assistant: Dillon Cahill
BERLIN UNIT
Director of Photography: Frederick Gomoll
Assistant: Yannik Sommer
Visual Effects: Green Light
VFX Supervisors: Dmitry Tokoyakov and Lyudmila Ivanova
Producer: Valentina Zhukova
Artists: Yuliya Pavlova, Danila Godya, Alexandra Drozd, Irina Spirina, Alexander Bocharov
Media Coordinator:  Andrey Fenochka
Coordinator: Nelli Mukhametshina
Art Director: Evgenia Strukova
Administrative Support: Alexandra Ershova
Visual Effects:  Therapy Studios
Flame Artists: Wren Waters and Geoff Stephenson
Flame Assistant: Phil Apostle
Production Company: Howdeshell Films, Inc.
Post Production Facility: Therapy Studios
Camera: Panavision
Special Thanks To: Paul W.S. Anderson, Renee Howdeshell, Doobie White, Chloe Corbelin, Birger Luedemann, John Ramsay, Columbia Theater Berlin, Alexander Francois Oppenheimer