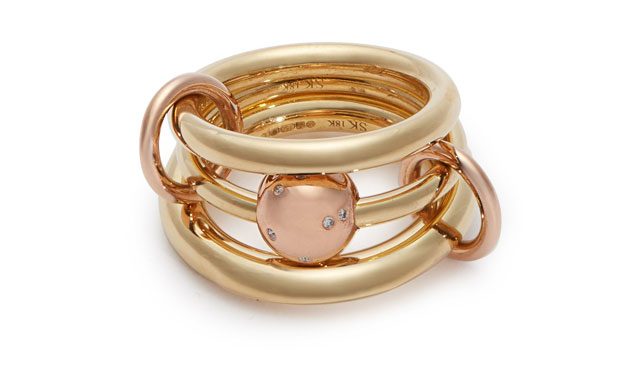 There are so many choices when it comes to picking the perfect engagement ring for your partner. With different sizes, styles and endless designs, it doesn't take long to set your head spinning. Start by asking your partner about their preferences or talk to family and friends about what to look for. Try to focus on not only the 'wow' factor of a ring but also getting the best value. It's easy to get blinded by the beauty and forget about the quality.
Having an idea of what your partner might want can come in handy when narrowing down your choices. If you aren't sure what to get, you can't go wrong with sticking to the classics. Traditionally, an engagement ring consists of only one solitary diamond which can be elegant and stunning. You should budget a minimum of two months' salary when you start looking for a ring. It may seem like a steep price, but there are plenty of financing options available for anyone on a budget.
Classic engagement rings never go out of style and are sure to please for years to come. DESIGN SCENE Magazine team shares a few details about some of the most popular timeless engagement designs easing you into your bridal mode:
Single Solitaire
The traditional stone for an engagement ring is the diamond, but you aren't limited to this choice. If your partner would like a bit more flair you could choose a colored diamond like pink or yellow. A solitaire ring is simple and timeless and looks lovely on any shape of hand.
This stunning stone comes from famed Los Angeles based fine jewelry designer Jacquie Aiche, the solitary stone ring features baguette cut tourmaline face. The stone comes with bold watermelon pink on the 14kt gold signet ring base. Price 3,441 USD depending on the retailer.
With a solitary stone, the focus will be on quality rather than quantity. You will want to have a brilliant stone will limited flaws and excellent clarity. You can choose to cut your stone in a round, square, pear, or princess design. The option is really more of a personal preference. If you are not sure which cut to get, stay with the classic round cut.
Halo Design
This heavenly circle of smaller diamonds around the feature stone is the basic Halo solitaire design. This elegant take on the solitary stone can add sparkle and glamour to any ring. This classic look is best with round cut stones. Be wary of a Halo design that is too large as it can drown out the brilliance of the center stone.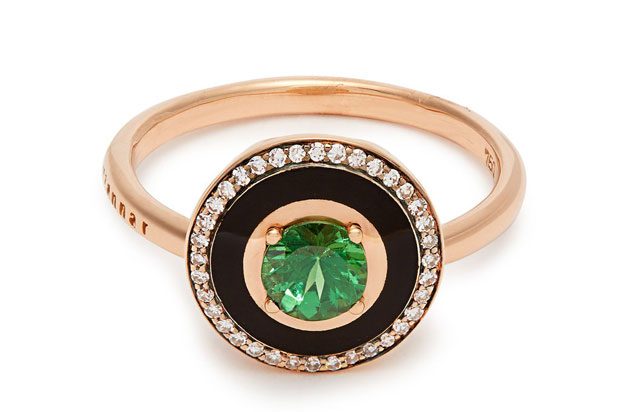 When it comes to Halo Design we singled out this stunning piece from designer Selim Mouzannar's, the 18kt gold Mina ring is inspired by the art deco period. A band of white diamonds is surrounding a black circle top emphasizing a round cut tsavorite of 0.47 cts.
Pavé Design
This slightly more modern design of the Pavé Solitaire is focused on highlighting the central stone. Pavé designs can consist of anywhere from two accent stones to a full band of accents. This delicate-looking design can hold accent diamonds in either bevelled, ridged or plain settings to accent the style of the ring. Pavé bands vary from the slender and delicate to the thick and modern rings that are both popular.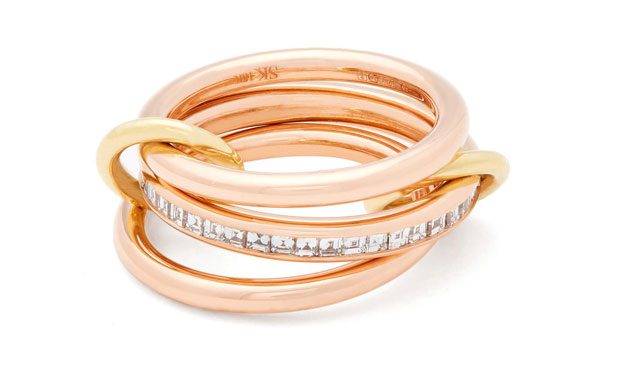 When it comes to pave design we went for a slightly unconventional option, designer Spinelli Kilcollin has designed a multi ring option (created out of three rings put together) inspired by the masterpieces of ancient Rome artisans. The 18kth rose gold bands are incrusted with channel carre set of diamonds which are totaling 1.1 cts. It is currently priced at 6,752 USD
You can choose from a varied assortment of classic styles, or try your hand at designing your own one-of-a-kind ring. One thing's for sure, when you are buying your stones, be sure to insist that they are "non-conflict diamonds" to help keep the profits going to smugglers and criminals.
We selected the rings on MATCHES FASHION.