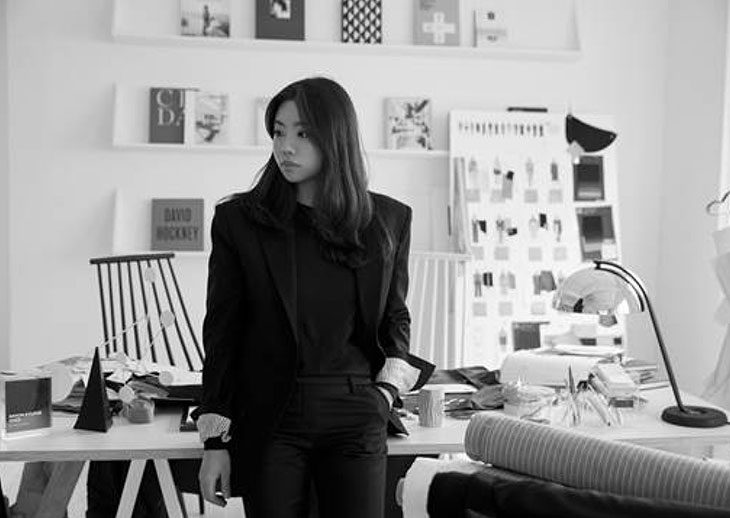 Our Editor KATARINA DJORIC sits down with breakthrough designer MOON CHOI to talk about her education as a fashion designer, pieces she enjoys designing the most and lessons learned from failures.
Read more after the jump:


Have you always wanted to be a fashion designer? – Yes, being a fashion designer was my first dream, and I am currently dreaming to become an influential designer. Until the day comes when I have another dream or goal, I want to live humbly while loving my work, the people around me, and my life.
How did you come to start your own label? – As I graduated Parsons, I was nominated for the Winner of Portfolio and I was given the opportunity to do various collaborations. During that time, I was nominated for the CFDA + 2016 Design Graduate finalist and through various programs and panel discussions, I received information and support for launching a brand, and in May 2016, I was able to launch Moon Choi. In addition, with the CFDA support, I had a successful debut at NYFW For the Fall/Winter 2018 season.

Which designer inspired you to pursue this career? Who would you consider to be the most inspiring person in the fashion industry today? – I would have to start with Jil Sander and Phoebe Philo. For their clean silhouettes and garments influenced by the design of neutral shapes crossing gender. Also Martin Margiela, for inspiring designers to create deconstructed suits.
Followed by my personally favourite Daniel Lee, who as the new creative director at Bottega Veneta, I admire how he is keeping the brand image while presenting a new direction as well.
You worked at 3.1 Phillip Lim in the past. What are the most important things you learned working there that you convey in your work today? – The best thing I learned from working at Phillip Lim is teamwork. Each designer's professionalism and ability to lead the team really impacted me on how I build great teamwork and unity in my studio.
What are your sources of inspiration? – My everyday life! The sunshine through my blinds in the morning, the song I listen to when I go to work, the flowers that bloom alongside the road and the buds that bloom on a rainy day. I receive inspiration from all of this. I do not outwardly seek inspiration. I love to listen to what is happening around me every day, and I record and create new stories based on these experiences.
Could you describe your design process to our readers? – To be honest, there's a lot of back and forth in my creative process. I get my inspiration by researching and writing scenarios regarding the design concept, mostly focusing on the silhouette and form. Then, I sketch draping shapes with fabrics in mind – referencing my research – go back to editing, draping, pattern making, fitting, and etc. This whole process is repeated until I feel the garment is exactly what I had imagined. It's a long journey to get to the end result, but to me – it's entirely enjoyable as there's so much to learn on the way.
Do you have particular pieces you enjoy designing and making more than others? – Blazers or outerwear in general. That's really related to the way of my parent's education. Tailoring is the central pillar to my designs. While growing up, I would notice what my father wore to the office – the typical men's suiting. Every time he got ready for work, he would leave in a clean, tailored look. From there, I started to observe how his clothes formed his identity and attitude. This has Influenced my collection to create gender neutral clothing consisting of wool blazers with dramatically padded shoulders and elegant tailored suit coats.
If you could describe your design aesthetic in three words, what would they be? – Beautiful, non-traditional, open-minded.
What is the most important lesson you have learned so far about fashion? – There is no answer for fashion. However, through fashion, the most important skill is to bring out the sympathy of people and to share with them the life and the beauty I pursue through my work. Through three seasons of presentations, I have learned that true designers are those who are able to communicate with people through their designs. Having a strong sense of communication and teamwork is the most important part in driving these processes and creating results.
I'm sure you have come across moments of struggle, maybe lack of inspiration. How do you overcome these times; especially if you have a deadline? – For emerging designers, few brands are able to succeed at first. I believe that learning and growing through failure and frustration is common throughout the industry. As a brand, Moon Choi has also overcome challenges and failure, and achieved success as a result of this. Currently our biggest struggle is breaking into the US market, but I'm positive that as we show our brand DNA each season, we will overcome this challenge as well.
One area of struggle was dealing with the different parties from pattern making to production. When working with the factories and different vendors, it was hard at first for me to effectively communicate my vision and in the price point I needed to achieve. After being able to sort out the partners and building relationships with them – this became easier.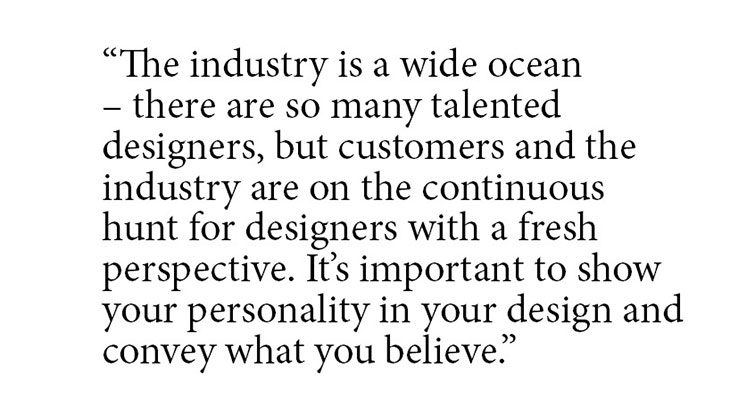 What advice would you give to young designers wanting to start their own label? – Find your own voice and believe what you believe. The industry is a wide ocean – there are so many talented designers, but customers and the industry are on the continuous hunt for designers with a fresh perspective. It's important to show your personality in your design and convey what you believe.
What are your plans for the future? – We show our collection twice during NYFW. Besides that, we are doing our best to juggle and balance conveying consistent brand messaging, delivering high-quality product and utilising the best partners to ensure that. We're still in the early stages, but once we have good grounding, I'd love to launch accessories such as handbags, shoes and jewelry to build out the outfit.
For more of Moon Choi visit moonchoistudio.com
Originally published in Design SCENE Magazine's Issue #031