Your bedroom should be your sanctuary. A place to relax after a long day at work and somewhere that you comfortably review your day without any stress or distractions. The style choices that you make in your bedroom can have an impact on your mood and your ability to relax. These five tips will help you make the most of your bedroom and will ensure you get a great night's sleep.
Read more after the jump: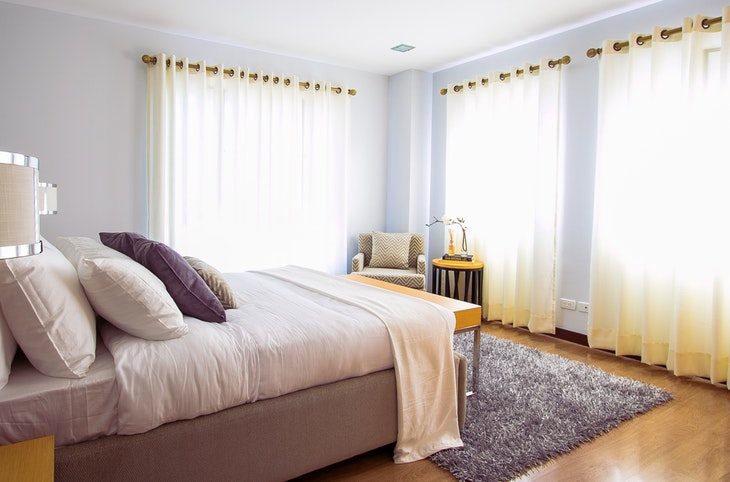 Linen and Mattress
As mentioned before, your choice of bed linen can have a big impact on how you feel in your room. You should try to go for plain linen, but this doesn't mean to say you can't have different colours on top as well. A mixture of pastel colored pillows, duvet and throw are an easy way to introduce three colors without it being overwhelming. Your mattress is also another very important bedroom element. Choosing an Organic Memory Foam Mattress might be just the perfect addition you are looking for if you are eco-conscious and have used other natural fabrics in the room.
Picking the Right Colors
The colors that you choose in your bedroom for both the walls, the carpet, and the linen is really important. Pastel and muted colors are best for the walls and carpet. Any bright or neon style colors can be very distracting and are not the best choice for a room where you want a relaxed feel. Similarly, complex and colorful patterns don't work so well as they can be distracting for your eyes and brain whereas simple patterns and neutral colors on bed linen can help you feel relaxed.
Choosing the Right furniture
Having a bedroom that is free from clutter will again help to create a sense of peace and tranquillity. There are loads of different options that you can try to free up some more space in your bedroom or reduce the amount you are storing in wardrobes and chests of drawers if you have limited space. One idea is to separate your winter and summer wardrobes. You can then store whichever you are not using in vacuum seal bags that shrink down to very small sizes. These can be stored under the bed or on top of wardrobes to give you more space for your current clothing collection.

Lighting
Choosing the right lighting can be difficult as there are simply so many different styles to choose from. You may want to go for a bedside table lamp. Alternatively, you could have a freestanding lamp which are especially good when they come with a remote control that you can keep by your bed. Having a few different lighting options is a really good idea because it allows you to instantly change the feel and ambience of room.
Shutters and Blinds
Finally, shutters and blinds play more of a role than you think in influencing the style of a bedroom. Venetian shutters are a great way to introduce some natural materials into your bedroom and create a sense of Italian hideaway. If you are opting for blinds, you may want to consider electric blinds that can be controlled with a remote control or put on a timer.