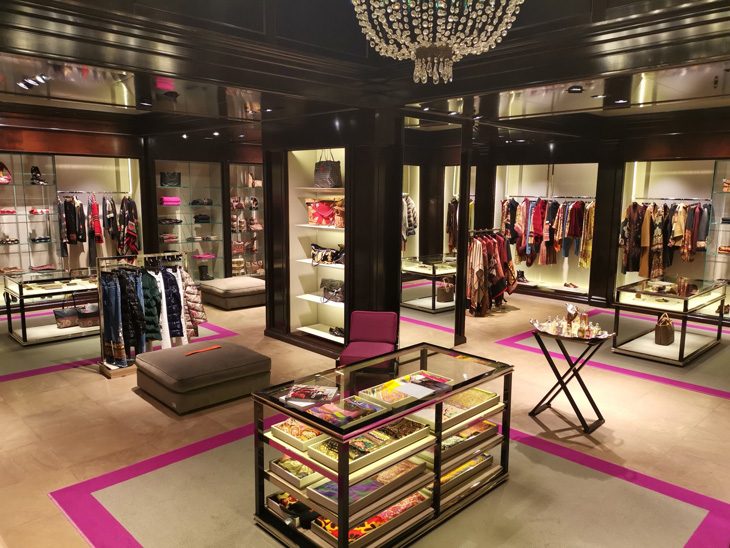 Renowned Italian label ETRO presented the latest trends and highlights last week in Munich. The hosts of the evening, Uman Sezer (Store Manager Munich, ETRO) and Genis Ganassi (Retail Director, ETRO), perfectly organized this evening and explained their guests the compelling creations. Additionally, stellar support came from parts of the Italian team: They were supported in a truly wonderful way by Margherita Montelli (PR Specialist, ETRO). Both Genis Ganassi and Margherita Montelli arrived from Milan to celebrate this special occasion.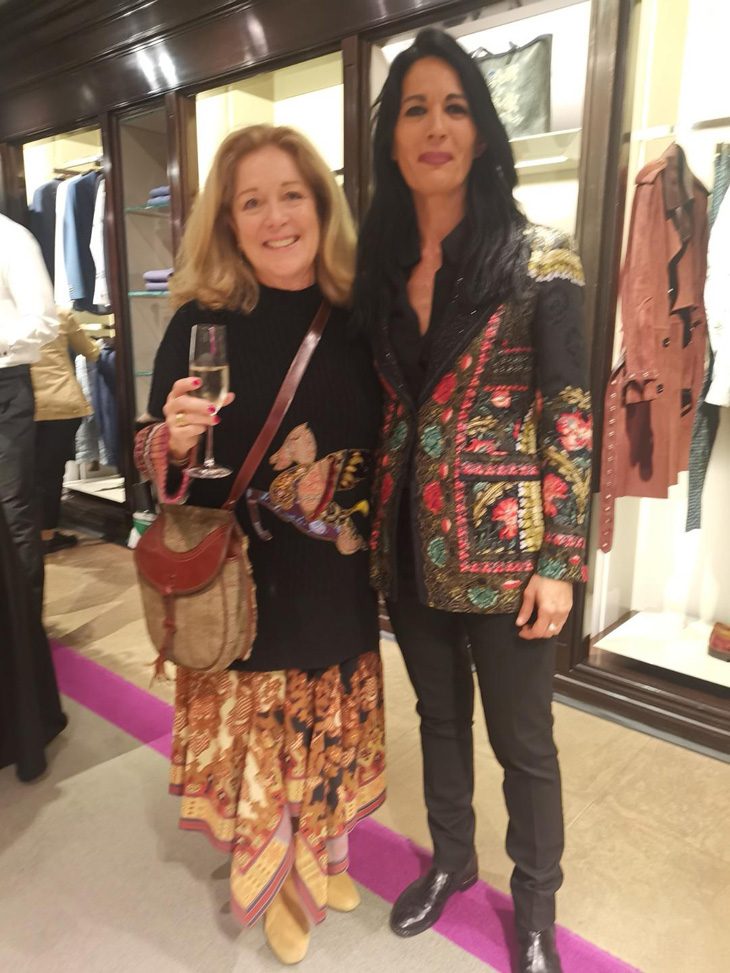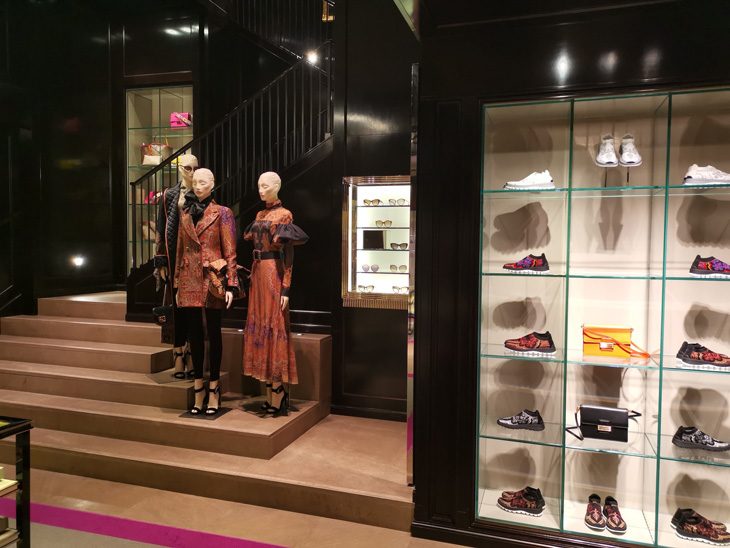 Most of you will wonder now how this collection can be described, which pieces stand out and which trends, inspirations and highlights characterize the overall image. We can reveal you these news: This line certainly stays true to its traditional DNA. Although, a bunch of incredibly innovative ideas and inspirations have been added. It is exactly this refreshing mix and match that makes these looks so desirable. They are the perfect addition for any contemporary travellers wardrobe. The chic yet comfortable creations underline the free- spirited and bohemian preference of the wearer. The closeness to nature is often expressed by the use of oversized- silhouettes, capes and ethnic patterns.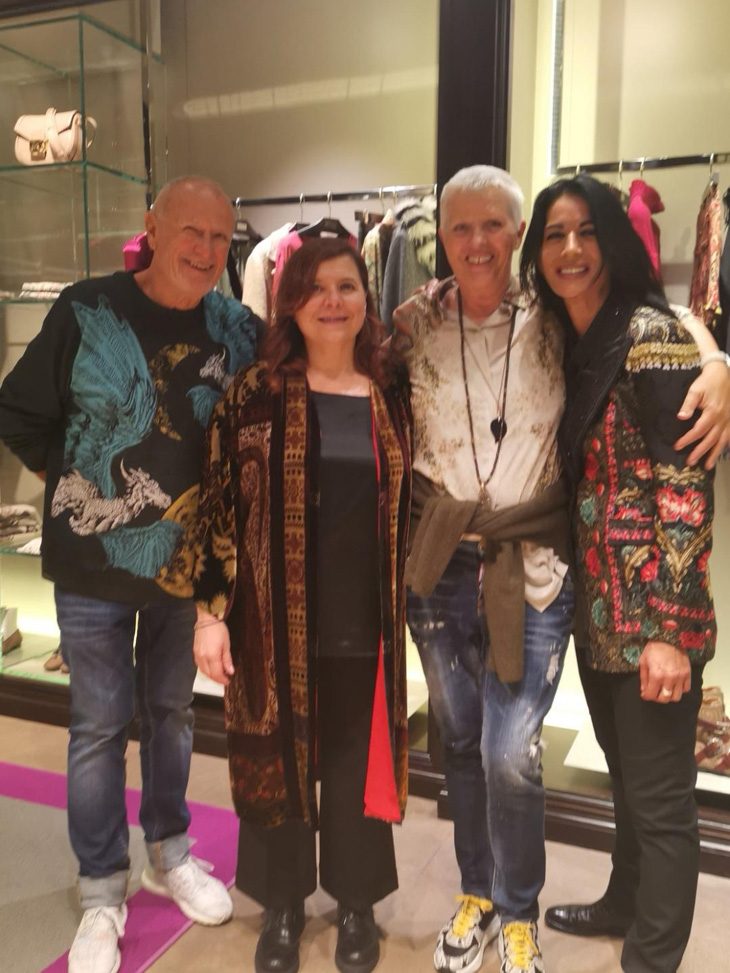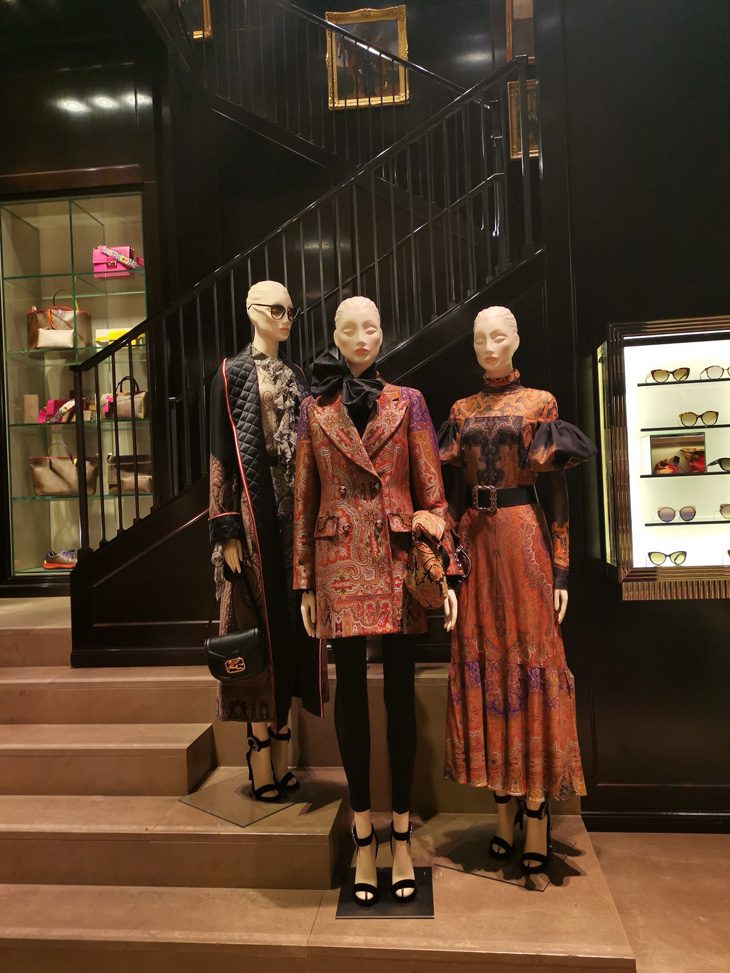 The print choice takes its inspiration from Middle Eastern carpets, tiger- and leopard pattern can be recognized as well. What must of course not be missing is what ETRO is famous for: its beloved paisley pattern. Embroideries appear in a highly sophisticated way: they are enriched with gold, filigree beads and eye- catching sequins. Flowers, graphic paisley and geometric patterns play a central role and are used in sundry pieces of this collection. What also stays in mind: the traditional "olivella" motif is used on bold backgrounds. Moreover a very noble print is the tapestry print which is part of Mr. Etro's private collection. The Italian word "Arazzo" (English: tapestry) refers to Arras, a french town, where, during the middle age, the tapestries of highest quality were produced. As this fabric can be transported very well, kings and nobles could easily take it with them on their journeys.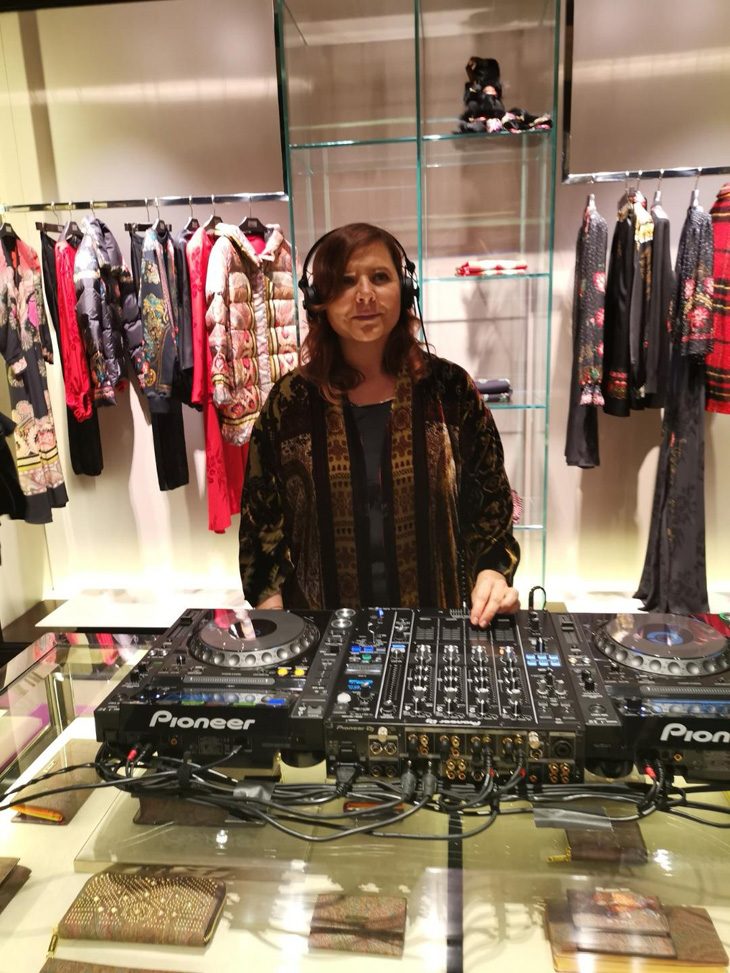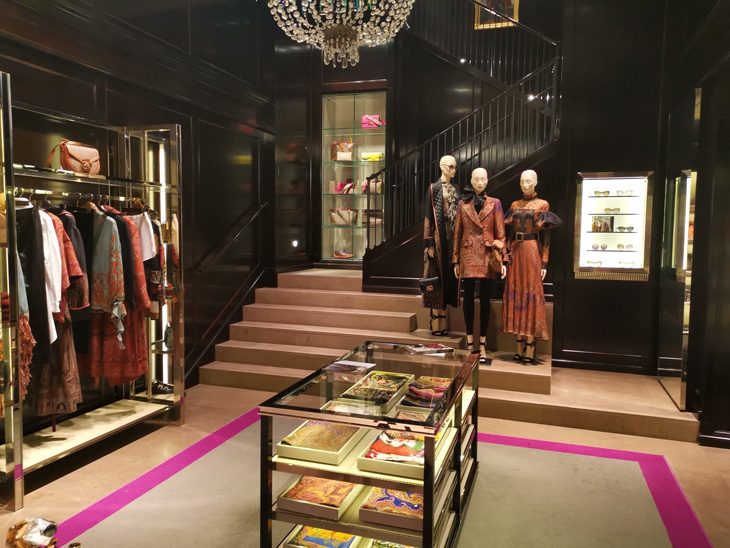 The variety of fabrics is a rather wide and highly creative one: it is ranging from bouclé that contains multifarious yarns, fishbone tweed to gobeline. Additionally, jacquard is applied in different versions: for instance gold amour lurex jacquard appears in 3D optics, other fabrics appear in velvet looks or as stretch jacquard. Incredibly interesting!
Colour-wise, everything you can imagine becomes real. What must not be missing are, of course, hues that underline the closeness to nature of the wearer, such as brick, chestnut, taupe and olive. However, also pastel tones are often applied, such as rose, sky blue or graceful yellow. A bunch of vibrant hues, for example pink, tangerine and yellow can be noticed as well.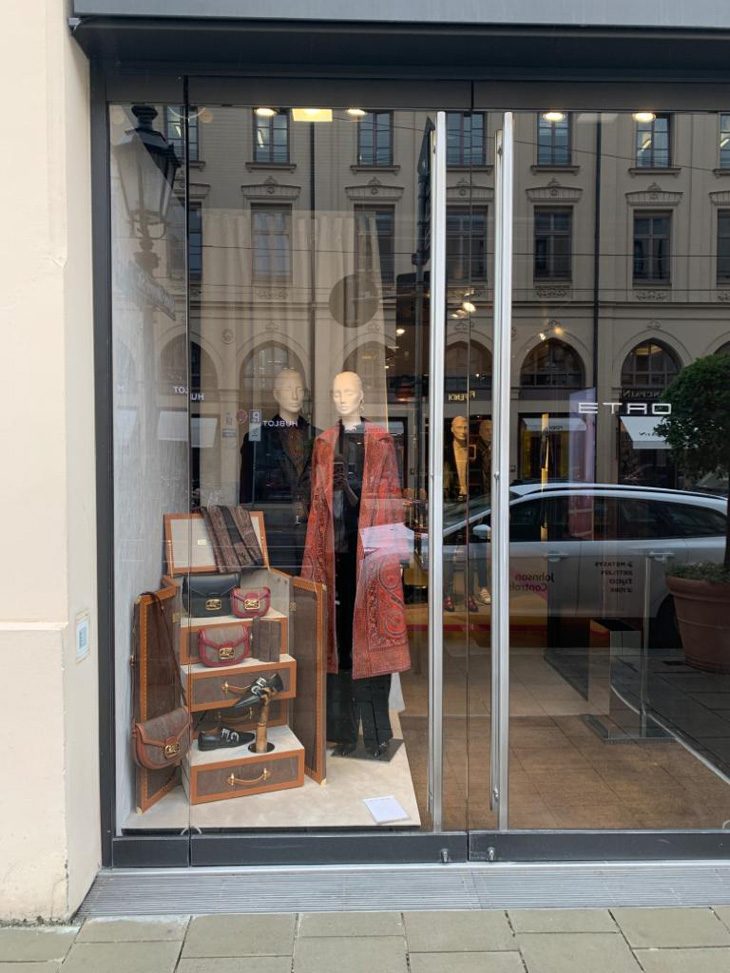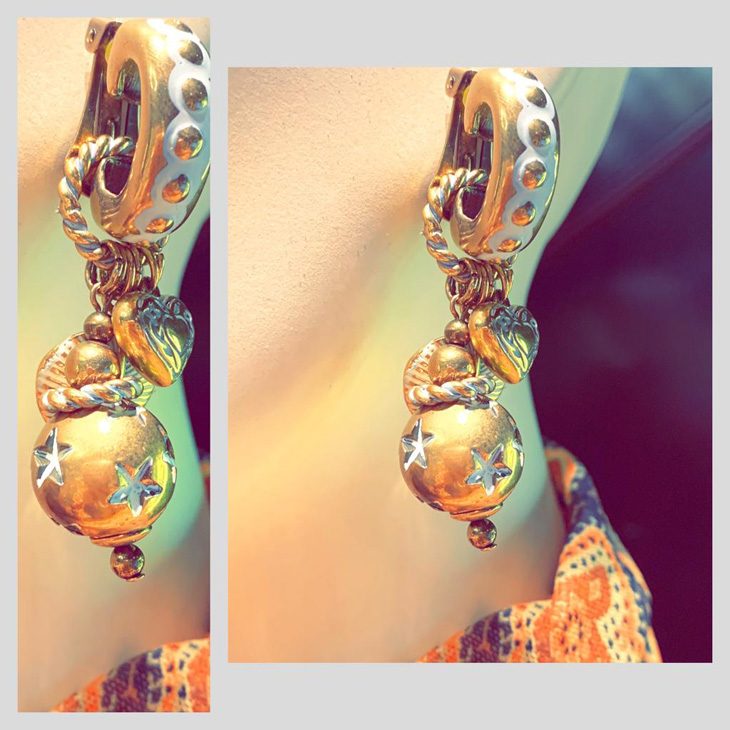 Another interesting fact: the looks you see on the mannequins in the store are runway looks. Due to their very unique print-, and fabric choice and their very special detail awareness, they definitely deserve devotion. Individual accessories perfectly round off these lavish looks. One of our favourite accessories is a pair of ear clips that contains tiny heart-, and star- symbols.
The latest line of ETRO stays true to what the brand is well-known for, but adds sundry innovative inspirations and ideas. It is the perfect collection for any contemporary, free-spirited traveler who prefers to dress in a bohemian-chic way.
Picture Credit: ETRO
Review by Sussan Zeck for D'SCENE Magazine