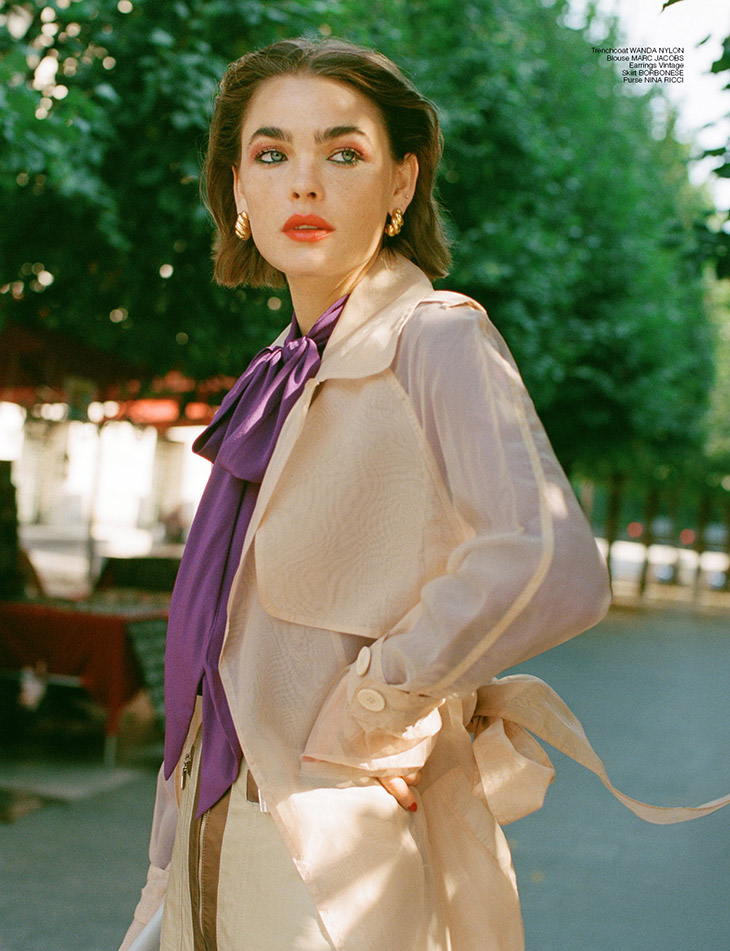 One of the defining faces of this decade's top model squad, Bambi Northwood-Blyth has taken innumerable pages of fashion glossies, her signature brows unmistakable on any number of newsstands. Ever since the Australian model walked her first runway for Balenciaga she's caught the eye of photographers such as Steven Meisel, Sølve Sundsbø, and the late Karl Lagerfeld in addition to other top photographers making the most frequented references.
Bambi now spending most of her time in the United States, is also an activist for Type 1 Diabetes support groups as well as the ambassador of Beyond Type 1. The organization is raising awareness and working on helping people around the globe and in the United States with T1D get reliable access to affordable insulin.
Bambi Northwood-Blyth sits down with Editor Ana Markovic to talk about her first venture into modeling, her beauty routines and staying in shape but also working and living with T1D as well as raising awareness for it.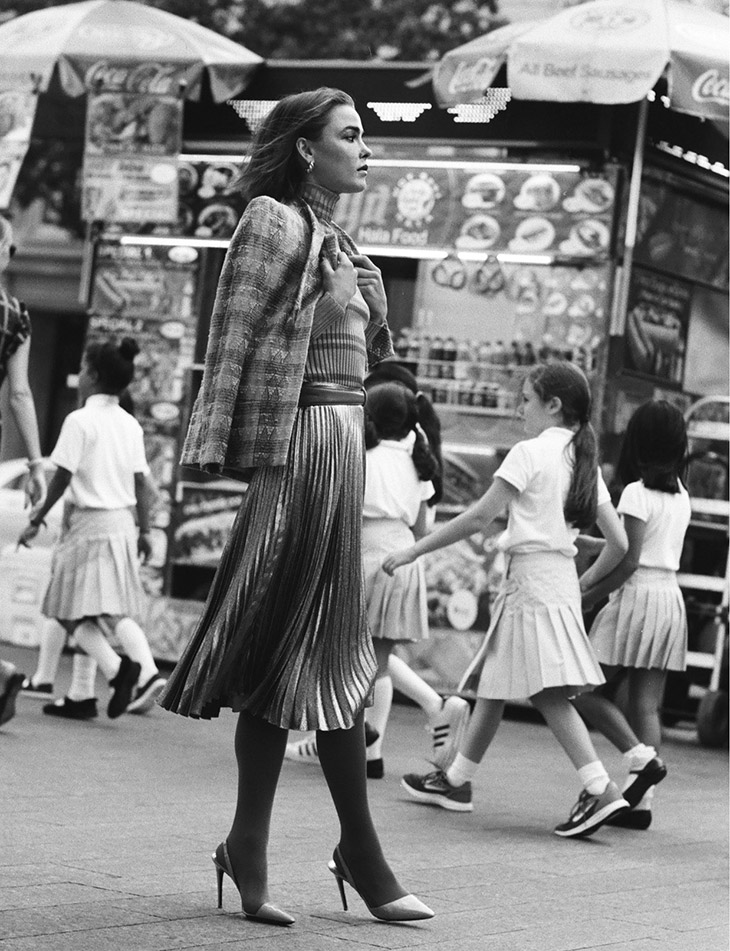 When did you first start modeling?
I started when I was quite young, but things really took off when I finished high school. In one week I shot a Harper's Bazaar cover, a Russh magazine cover, Oyster and was on hold for a Balenciaga runway exclusive.
What got you interested in fashion?
Creativity, and freedom. And curiosity.
You have an amazing career, what is your favourite memory in modeling so far?
It's hard to pinpoint one thing. I feel so grateful to be in the position I am, to work with great clients, and have an amazing team around me. I think my favourite is probably what was at the time a disaster but we can laugh at in retrospect.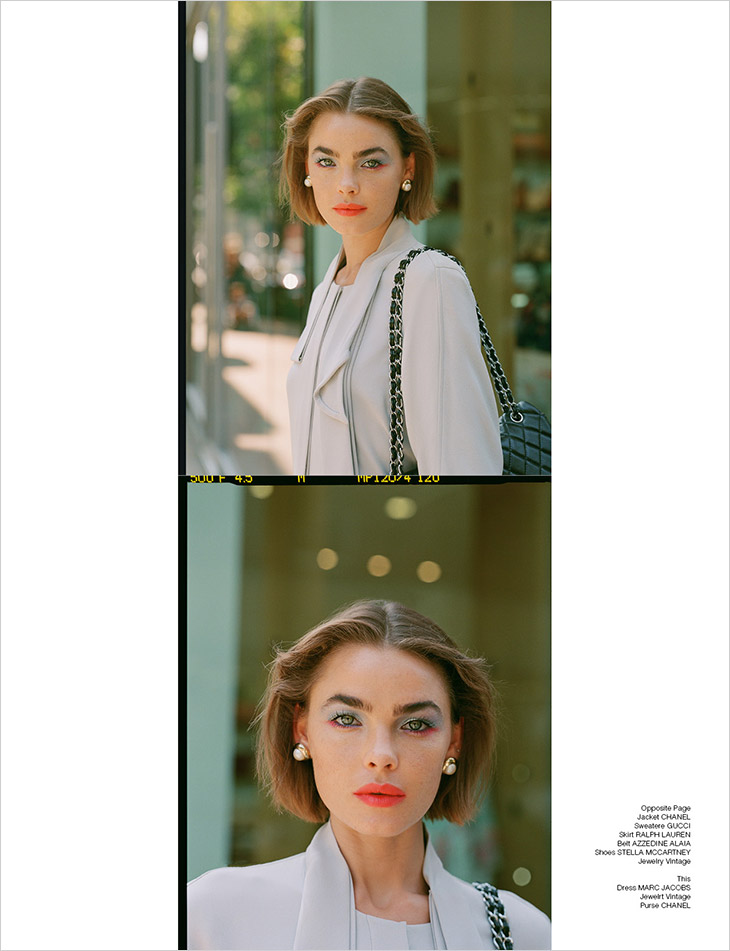 What is your greatest strength as a model?
Brows?
A signature indeed! And what have you learned from modeling that you couldn't learn in school?
How to talk to all different people, of all different ages, any time. And navigate my way around the world, at any hour, any day, no matter how much sleep I get or not. And then turn up to work smiling.
You've been top model for quite some time now, worked with amazing teams, do you have some names, being photographers or designers, that you haven't worked with but would like to?
I would love to shoot with Ryan McGinley! And work wise, working with a beauty company.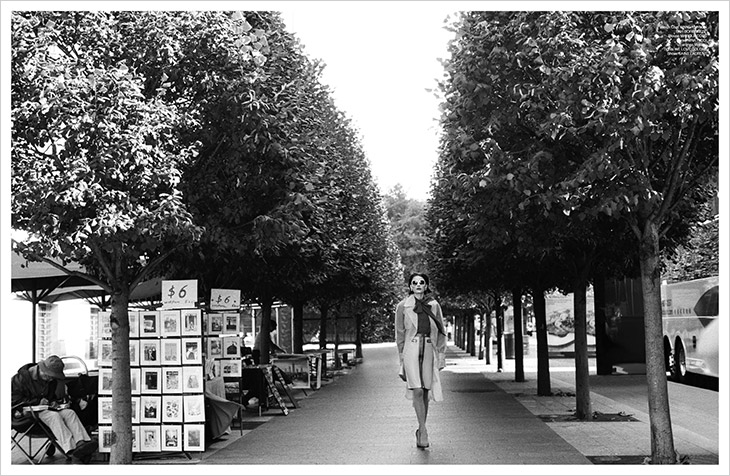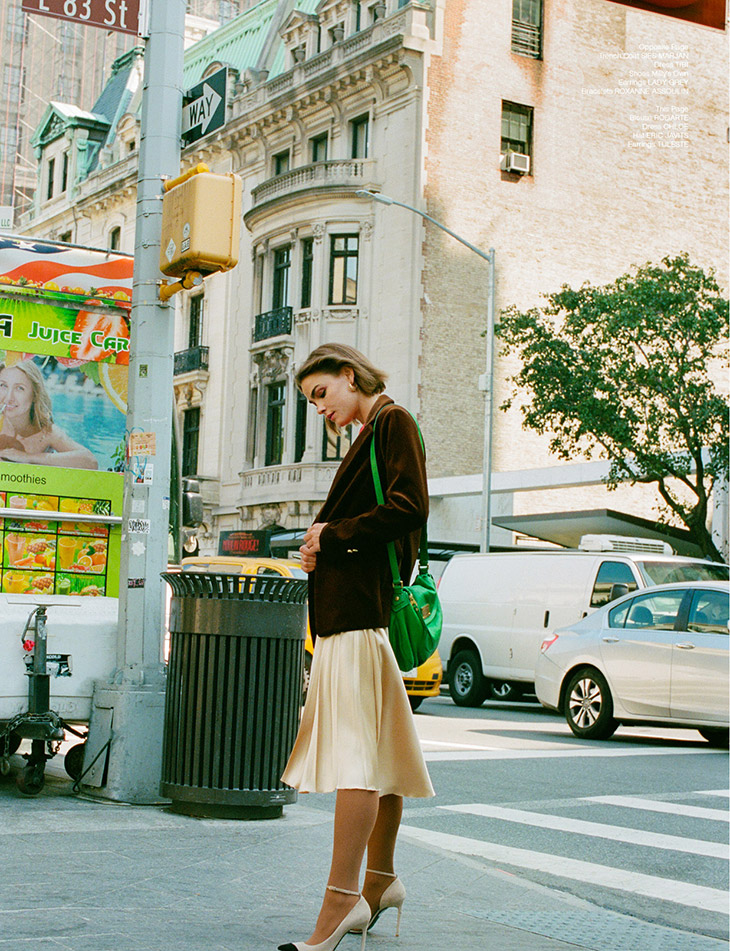 As a child you were diagnosed with Type 1 Diabetes. How much did that change your life? Do you think your condition affected your career in any way?
Every second of every day, it affects my life. But it hasn't impacted my career. Just driven me to be more organised and never forget a thing!
What are some of the things you wish people were more aware of when it comes to living with Type 1 Diabetes?
That it is not Type 2, it is not caused by eating too much and such malnutrition issues. It is an autoimmune condition and simply your body stops producing insulin. Therefore insulin must be taken via injections or through a pump therapy.
How do you manage your condition now?
For now I am on 4-6 injections a day, and wear a continuous glucose monitor under my skin which sends real time blood sugar levels to my phone. This has been the best technology I have come across so far, pre a cure!
How involved are you with raising awareness on Type 1 Diabetes?
I work with Type One Diabetes organisations and their support networks on raising awareness. I am a Global Ambassador for Beyond Type 1. This is the largest non profit platform which educates people and raises awareness and money to finding a cure. I am working with Dexcom as well in this space.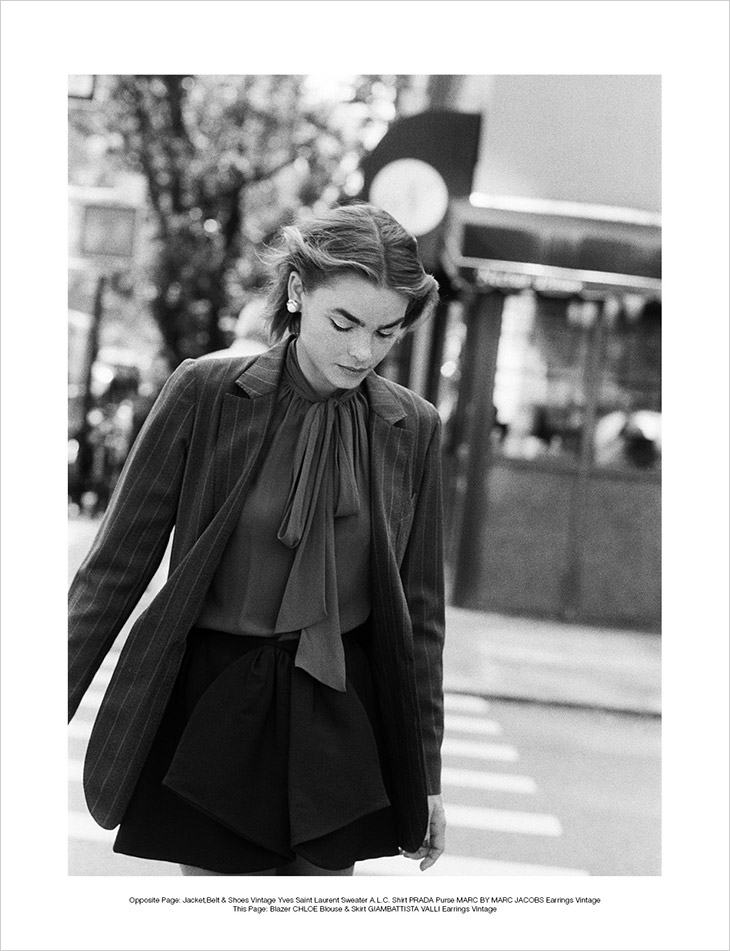 On a lighter note, what is your favourite trend at the moment?
Dad sneakers and sweat pants, because it is just so comfortable. But then I also love a suit. Oversized, high waist!
If you could only wear one brand for the rest of your life, what would it be?
Aaaah kind of hard, I'd have to say a mix of Re/Done because I live in jeans, Farm Rio they are the coolest sustainable label but also RUE L – for all things fashion.
If a movie was made about your life, what genre would it be, and who would play you?
It It would be a comedy, played by Steve Carell.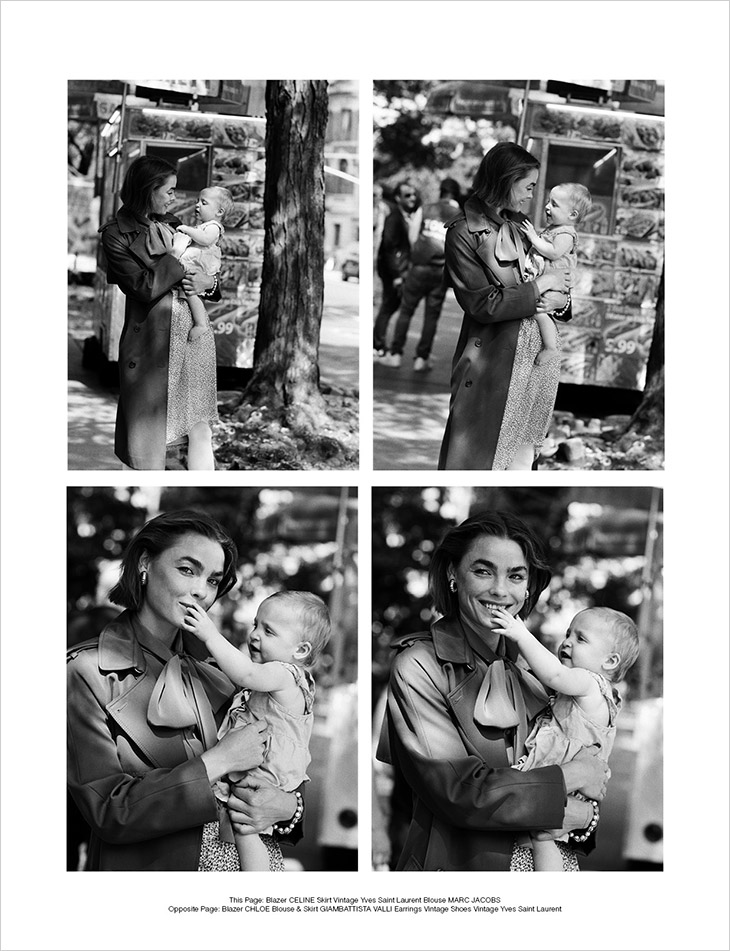 You have flawless skin, what is your beauty routine?
I love Environ skin care, their sebu line as well as ACE oil and LightStim, LED lights. You can easily travel with them, they are amazing. Skyn Iceland make the best sheet masks and eye gels. Beauty is skin, hydrate, ice, and I love Laura Merceir, NARS Cosmetics and Charlotte Tilbury.
And how do you stay in shape?
To stay in shape I do hot yoga, Pilates, long walks, and I love Romee Strijd's ab routine.
Your tip for taking the best photo?
Find the best light. It is all about finding the light!
All you want for Christmas is?
Joseph!
Keep up with Bambi on Instagram @bambilegit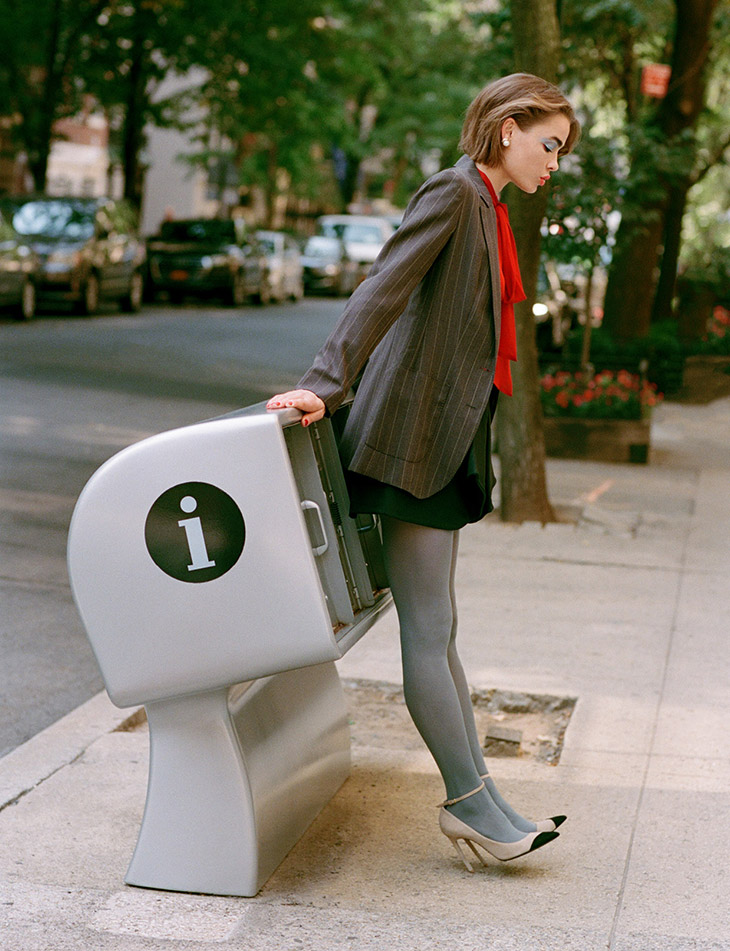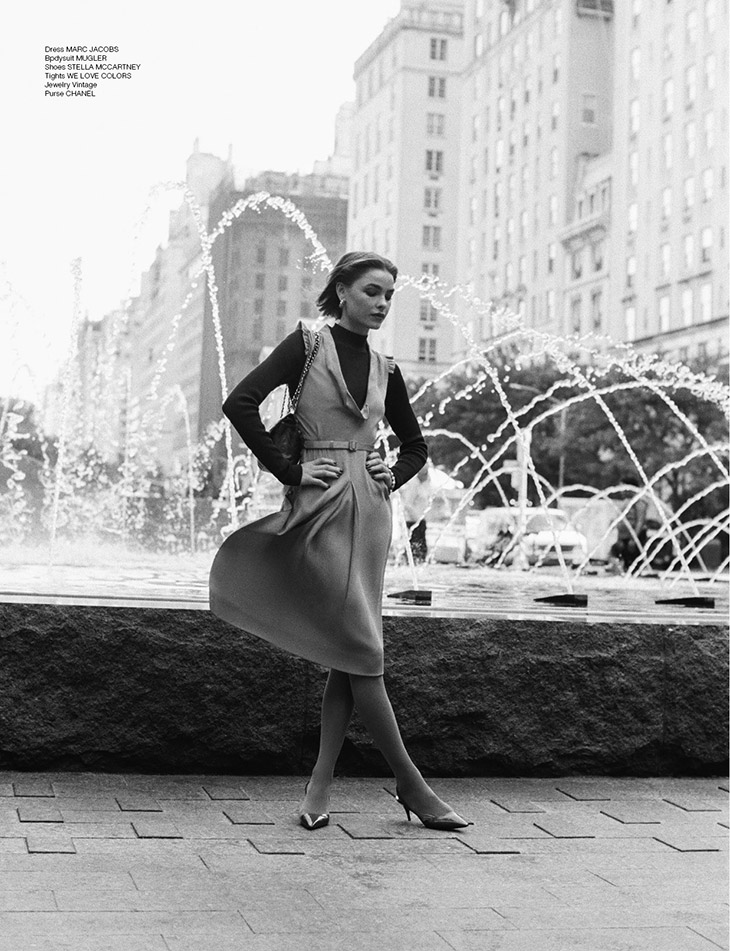 Photographer EMILY SOTO – www.emilysoto.com
Stylist RACHEL GILMAN – rachelgilman.com
Makeup Artist LINDA GRADIN
Hair Stylist SIRSA
Model BAMBI NORTHWOOD BLYTH at IMG Models