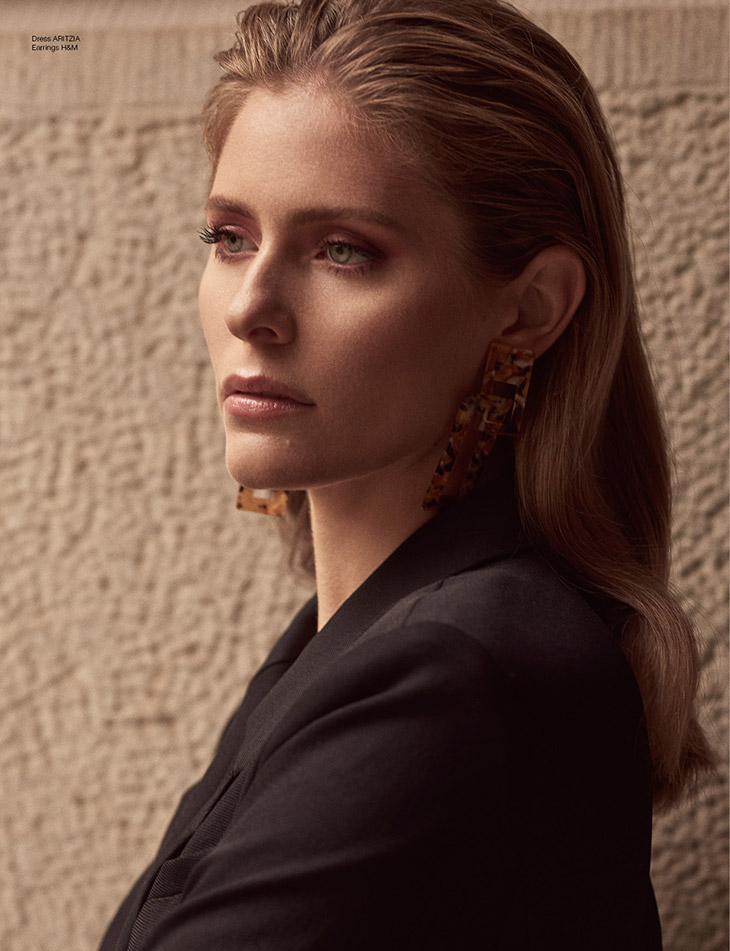 Actress Jordan Claire Robbins sits down with our editor Ana Markovic to talk about her career shaping role in The Umbrella Academy, building a character and society's obsession with fame.
Fashion photographer Kyle Kirkwood captured Jordan Claire Robbins for the pages of our DESIGN SCENE Magazine's Winter 2019-20 edition, with styling from Julia Debartolo, and beauty by Neil Silverman.
For more of the story plus exclusive interview with Jordan continue below: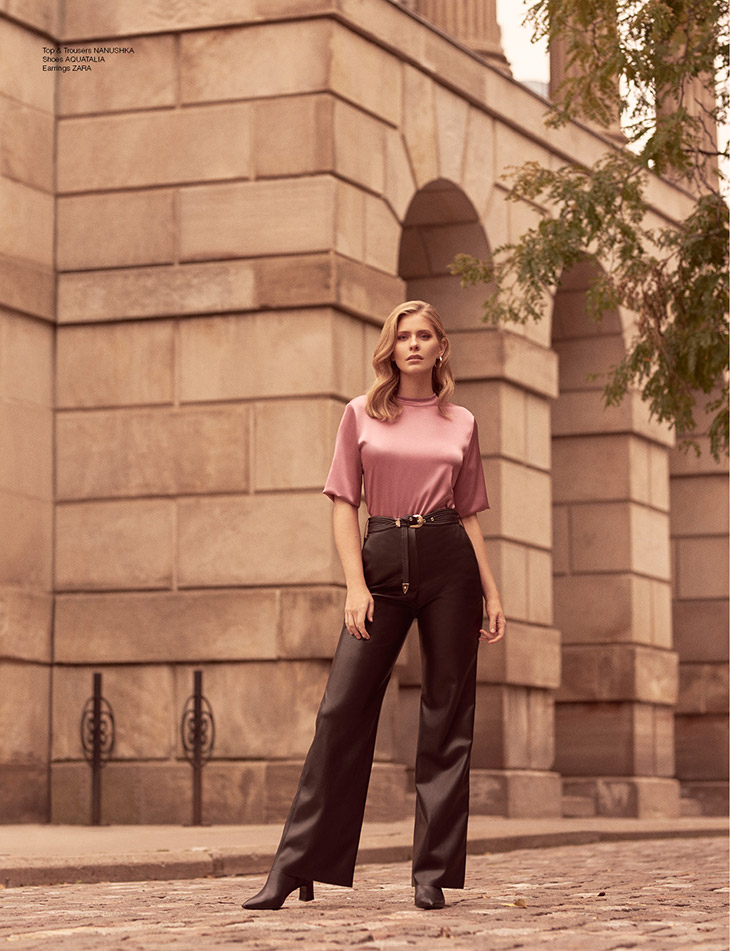 What inspired you to pursue acting?
I've loved performing since I was little. I used to sit my family down to watch me perform songs or plays I had written and then when I got a little older I was desperate to be in any play my school put on. My school did a lot of musicals, and in 10th grade I was the lead for one – I remember seeing a couple audience members cry and the feeling that I had helped create a story and character that affected people emotionally was really powerful. Then I realized film opened up so many possibilities to take that storytelling even further, to capture each subtle moment in realty cool and impactful ways, and I became fascinated by that and decided I wanted to pursue it.
What was it like the first time you were in front of a camera?
Before I did any on camera acting, when I moved to Toronto and was doing my theatre degree, I did some modelling on the side so that was really my first experience in front of a camera. In a lot of ways, it helped me explore characters on a much smaller scale, and practice getting into different ways of expressing myself. It was empowering, feeling like I could transform and take on a different persona. Then I did some on camera classes, which was terrifying because as a beginner you feel like you have no idea what you're doing and basically just mortified all the time. Eventually when I felt confident in front of the camera I started auditioning and working, and it's the best feeling when you're able to just invite the camera in and really let yourself be seen, to just throw yourself into the moment as that character.
How do you prepare for a role? What are the first things that you do when you get a script?
I try to read a script for the first time without focusing on my character, to just really get the big picture of the story and how everything fits together. Then when I read it again it almost feels like detective work, picking up little clues about why the character is the way they are, how other people see them, how they live their lives and think and feel and what motivates and matters to them. Then gradually little things and ideas come in naturally, like behaviours or little quirks the character might have and the way they move or speak and think. I am a pretty big nerd and love doing research about any aspect of the character and the world they live in. The more layers I can add to the character the more confident I feel that I'm able to just let go in the moment when I'm on camera.
You played Grace on The Umbrella Academy. Was it challenging?
Playing Grace has been challenging in the best way. When I got the audition I felt instinctively like I understood the character, and what place I needed to go. When I booked it, I felt incredibly excited but also terrified because it was such an amazing role and I wanted to do it justice.
What was it like for you embodying the role of Grace?
It's funny how the planning and preparation is important in building a character, but there also has to be this element of letting go and not overthinking. Sometimes onset I would repeat a line from the audition scenes or hum to myself the song I hummed in the audition, to get myself back to that instinctual place and out of my head.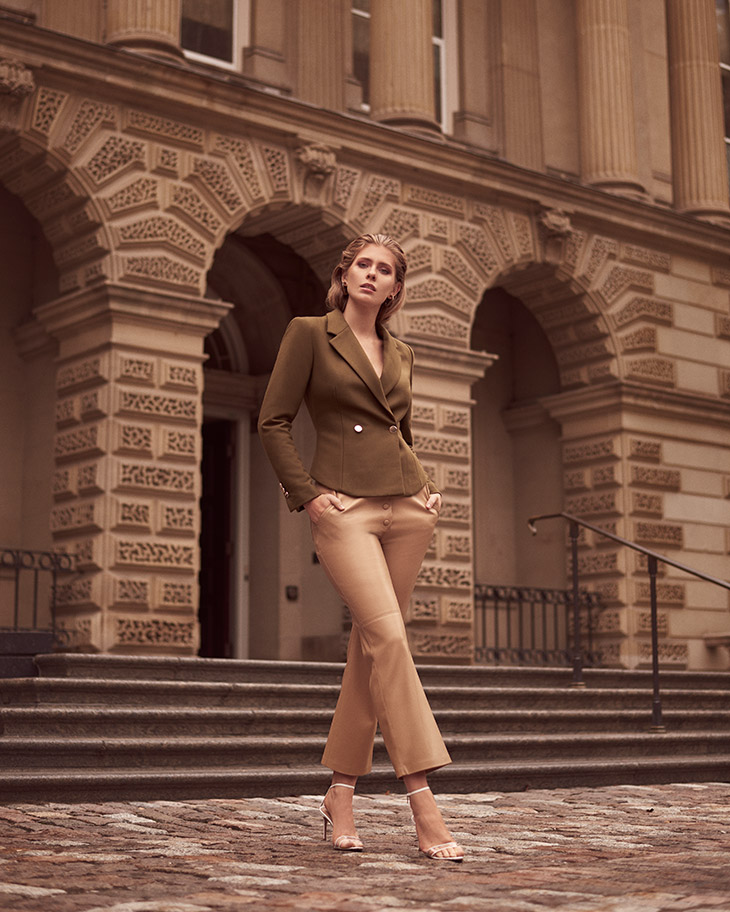 How did you go about deciding on the best way to portray AI programmed as a 1950's housewife?
Back to that research I love so much! I watched a lot of movies and shows set in that era to really immerse myself in it, things like Mad Men and Stepford Wives, that really depicted how women were expected to behave and speak and live their lives. I also read a lot about the "rules" that were placed on their heads. In many ways it seems like they were these caged birds, and that was exactly what Grace's existence had been like for all those years, her life not in her own control. There was also the movement and vocal aspect to it too, getting that Midwestern accent right with the melodic way that women spoke, and the gracefulness they all moved with. It was all designed to be so feminine and put together and I felt it was super important to get that part right – the incredible costumes, designed by the amazing Chris Hargadon, and the hair and makeup helped so much with that too. And the AI aspect meant having very controlled, smooth movements, and coming up with physicality for things like when she was glitching or when she was processing information. I did a lot of research into AI too, so my choices were well informed. I saw her as transforming, evolving, and I put a lot of thought into her programming and mental states at different points in the story, so the way she moved and spoke could feel similar but also different depending on what she had been through at that point.
What did you learn from Grace
Well for one, that women were incredibly strong for sacrificing so much, often their own happiness, to service their families and do what was expected of them. Women still do that, but I'm grateful that I am in a time when women are starting to feel more empowered and heard. I also got to have a taste of what it's like to be a mother, to get to tap into that feeling as Grace of complete and unconditional love for your children – I'm looking forward to having that feeling in my own life one day.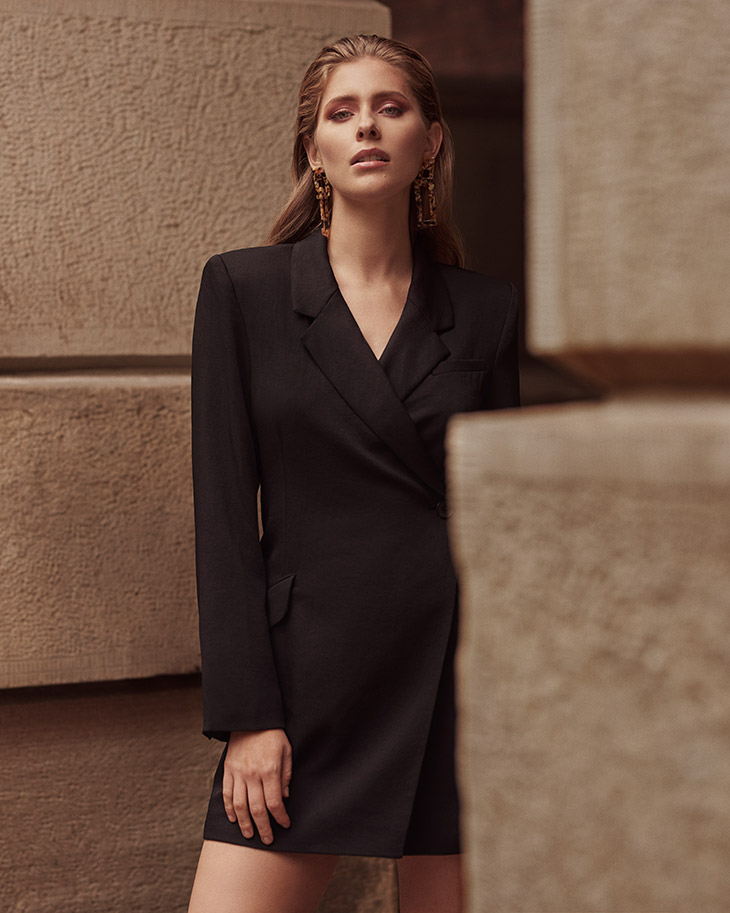 If you could have a superpower, what would it be?
I've given this a lot of thought and I've narrowed it down to two – flying, because who wouldn't want the freedom and weightlessness of soaring in the sky, and being able to attract dogs so wherever I go I get to have dogs come say hi. Meeting dogs is often a highlight of my day!
If you could time travel, where/when would you go and why?
I would go to New York City in the early 50s, so I could meet my Grandma when she was my age and get to experience the magic of the city back then. She was a performer on Broadway and I admire her so much. I would love to have been able to see what she was like back then and get to watch her sing live.
What kind of roles are interesting to you?
I love a challenge, and finding a way into a character that at first terrified me. I love when I get roles that are so outside of myself that it takes really throwing myself into learning new skills and understanding different ways of thinking and exploring totally different life experiences to be able to execute them. I love pushing myself and am really into kickboxing, so the thought of having to transform myself physically for a role excites me. The more different from me, the more the role excites me because it almost gives me permission to just totally adapt this new person and not overthink it, while also pulling in elements of myself.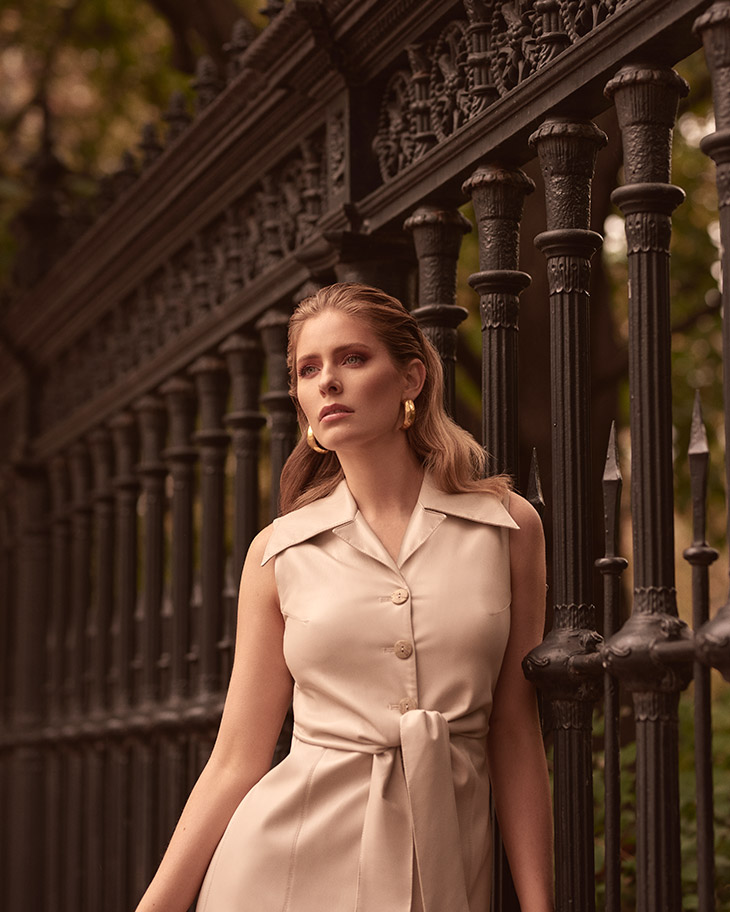 I've read somewhere that you do your own stunts, and that you love music and singing aswell. If you had to choose, would you rather be an action hero or star in musical?
Oooh that's a hard one. Honestly, I don't think I could choose. Both of those options really excite me. I love singing and music was a first love so I can't wait til I get the opportunity to bring that into a role, but I'm also really excited to keep pushing myself physically and seeing what I can do.
What's the last TV show you binge watched? And what is your favourite show currently on TV?
There are so many incredible shows these days!! I binge watched both Fleabag and Killing Eve recently – I am obsessed with the genius that is Pheobe Waller-Bridge, and Jodie Comer and Sandra Oh are just so amazing. Currently I am also madly in love with The Marvelous Mrs. Maisel, and am working my way through Season 1 and 2 again with my partner so we can watch Season 3 together. It is such incredible acting and writing, and is Rachel Brosnahan unbelievably talented. So many women I want to work with!!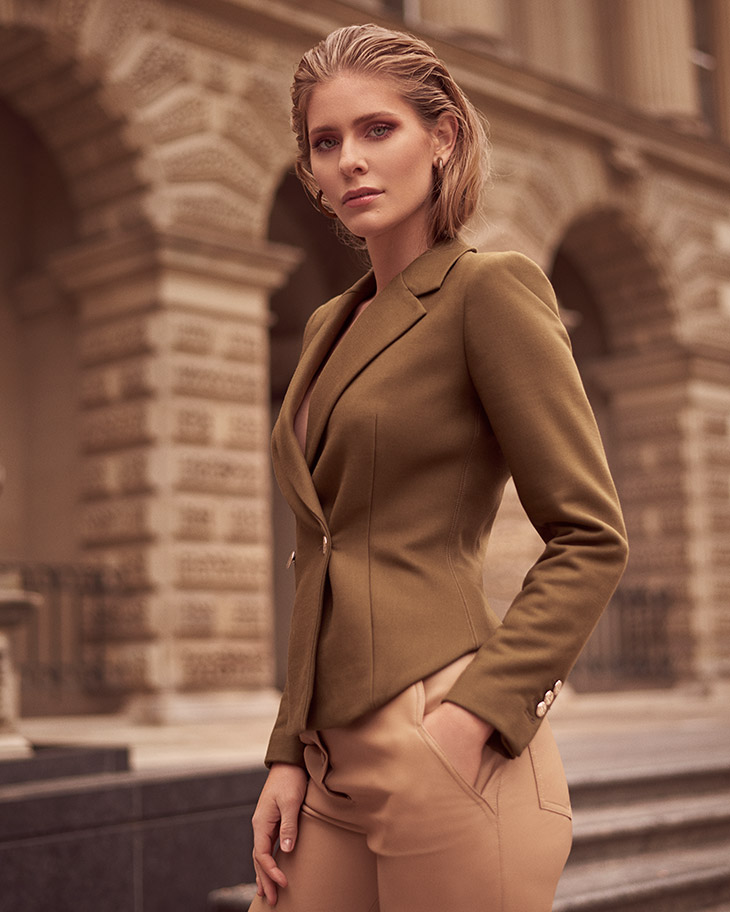 Is life in showbiz what you expected it to be?
Well I definitely still feel like I'm learning how to navigate it all the time. For the most part, it's much less glamorous than I used to envision it when I was a kid. It's a lot of very talented, very hard-working and committed people sacrificing so much to each do their role in creating a project. I don't really see myself differently, so it means the world when fans of the show reach out because it's the most gratifying feeling to know that my character resonates with people. It's definitely a challenging career, with a ton of obstacles and this can be disheartening, but I love the work and I have so many wonderful people in my life so it is a constant reminder that I'm really very blessed to live out my passion.
If you could change one thing about the entertainment industry, what would it be?
I already feel like so much is changing for the better. The roles I am seeing for women are so strong and complex and layered, and that really excites me. I am looking forward to seeing more female directors too, and for the industry in general to just feel like a safer and more accepting place for everyone working in it.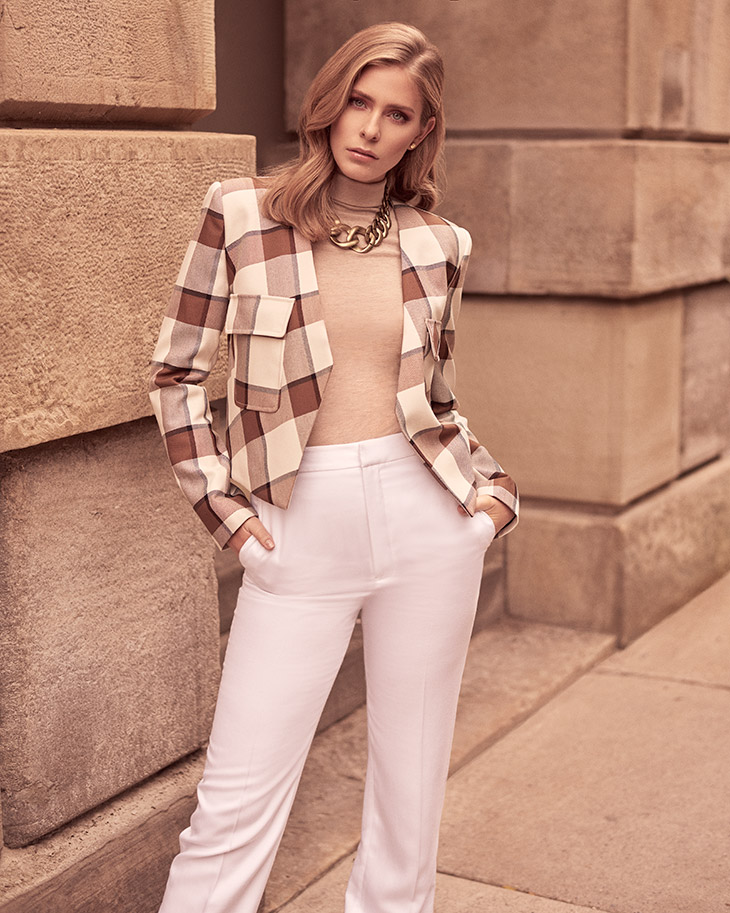 What do you think about the ever-growing obsession with fame?
I think social media has had such a massive impact on the way people see themselves, and the pressure they feel. It's hard to love yourself when you're comparing constantly, and it's easy to get sucked into doing that at every turn. At the end of the day the fame thing is all smoke and mirrors, and in order to really know and accept ourselves I think it's important to have that understanding and not get caught up in it. I hope that kids growing up now realize that their individuality is what makes them really interesting and cool, I wasted so much of my early life worrying about not being enough.
All you want for Christmas is?
To play with my dogs, get out on the paddle board, and spend time reading and hanging out with my family! I will be back in Bermuda for Christmas, which is where I was born and grew up, and I could not be more excited for some down time in the sun.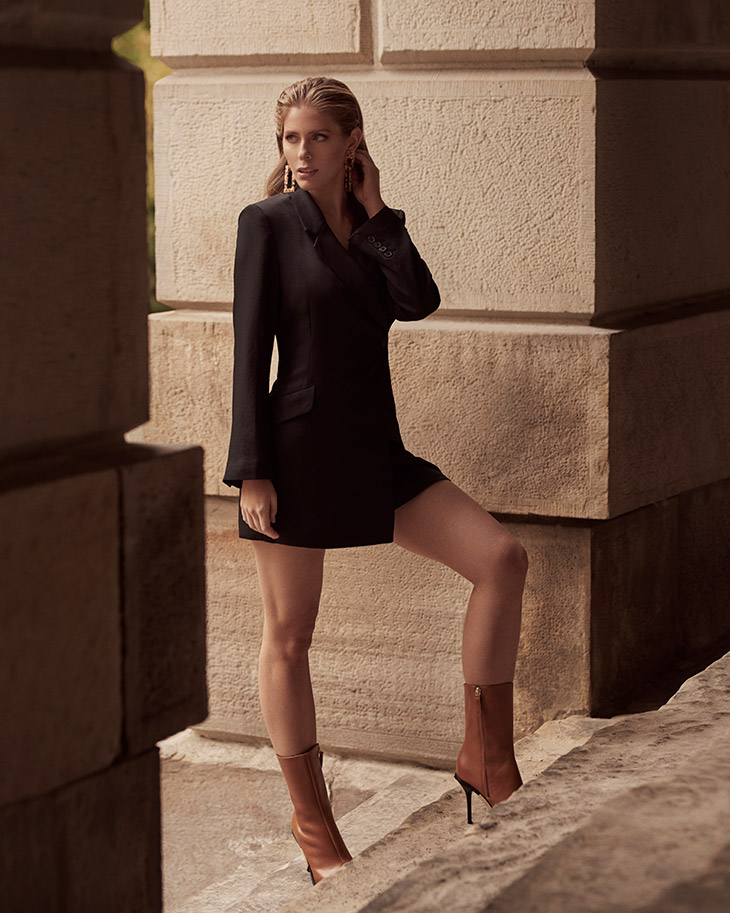 What is next for Jordan Claire Robbins? Any future projects you'd like to share with our readers?
Well I did get to shoot some exciting things this year but nothing I'm allowed to share at this point! You can stay tuned for those in 2020. I will also be at some comic conventions meeting fans of the show next year, namely Hearten Tales in Paris in April, and I'm working on a couple writing projects which should come to fruition in the not too distant – it feels good to flex those muscles and I'm looking forward to exploring the directing side down the road one day too!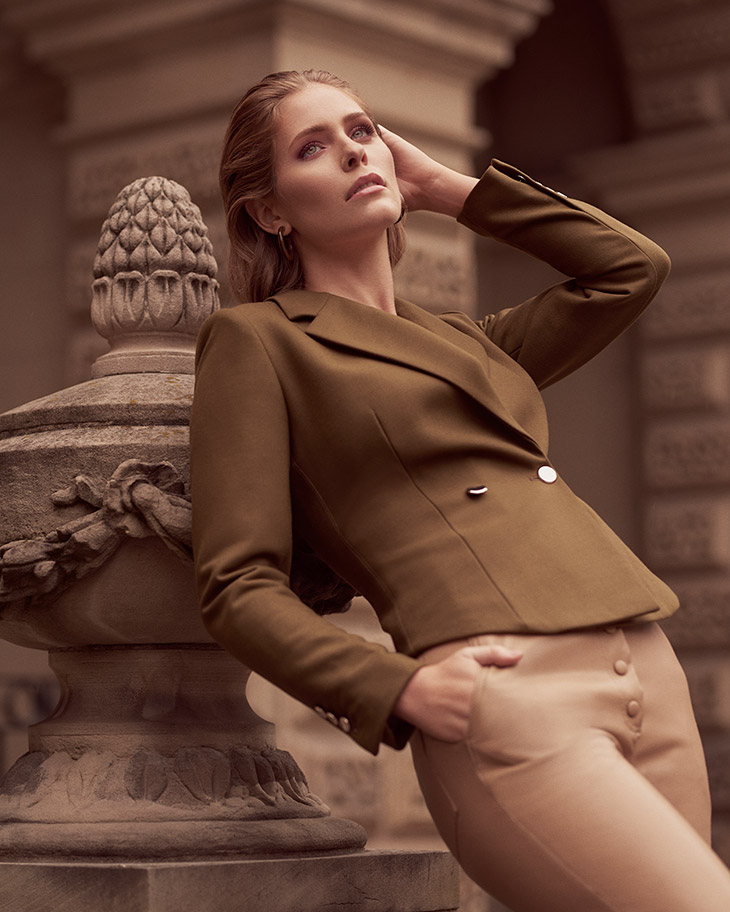 Keep up with Jordan on Instagram @jordanclairerobbins
Photographer KYLE KIRKWOOD – www.kylekirkwoodphoto.com
Stylist JULIA DEBARTOLO – www.juliadebartolo.com
Hair & Makeup Artist NEIL SILVERMAN – neilsilvermanbeauty.com
Talent JORDAN CLAIRE ROBBINS