It is the beginning of the new year, and with it comes a flurry of brand new trends that you simply cannot miss out on. This year has seen the merging of new and old trends into one pot of delicious accessories that you can add to your look.
Jewelry needs to be a vital component of your outfit every day. If keeping up with the latest fashion trends, and dressing up every day is not your style, jewelry gives you the opportunity to add that modern flair to your look. It is both cheaper, and easier to keep up to date with jewelry trends than to keep replacing entire outfits. A simple outfit can easily be zhuzhed up with the right accessories.
RELATED: JEWELRY
So, what is hot this year? We are thrilled to say that pearls have bowed back into the fashion world, and we couldn't be happier. Pearls have been, and will always be one of the most sought after additions to the jewelry box, and if quality pearl necklaces are high on your priority list, PurePearls is a great place for you to start doing some research into what design you actually want. We took a look at some of the biggest trends that you can integrate pearls into. Enjoy.
Read more after the jump: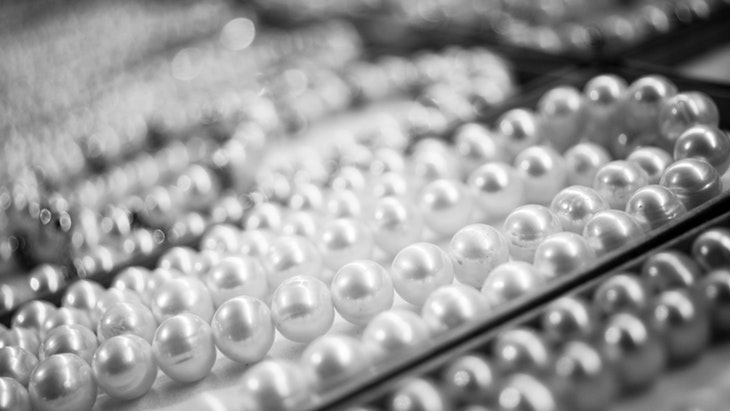 Oversized, Chunky Pearl Necklaces
We are over the moon that this trend is back in style. A chunky necklace can give any simple outfit that dynamic twist that it needs. It is a trend that can be worn with both summer and winter outfits and can be paired with a long summer dress, over a buttoned shirt or even over a snug jersey. Chunky pearl necklaces are even better. They can give that swish of elegance to any outfit, no matter how plain.
A plain white t-shirt, light denim boyfriend jeans, court heels and a string of oversized pearls can be a perfect combination to step out for a summery brunch. Oversized pearls can also add that bit of sparkle to a chunky jersey if it is cold. Not only can it break the monotony of the jersey, but it can add a feminine touch to what could look overwhelmingly unflattering. The added bonus, colorful pearls are a must-have, so you can match them perfectly to your outfit.
The One Pearled Earring Trend
This trend might not be for everyone, but it certainly adds character and personality to your outfit. 2019 saw the mismatched earrings making an appearance, and this year, the trend is taken even further. One earring is completely dropped, while the remaining one becomes as dramatic as possible. Earrings range from oversized hoops to geometric shapes, colorful tassels, and intricate designs.
Pearls are also high on this fashion trend. Whether it be an oversized pearl, drooping from the ear, or a set, delicately dropped onto the shoulder; pearls are a great accent to define one side of the face. Make sure you remember, if you have long hair, to accent the other side of your face with a strand or, even, set all of your hair to the non-earring side to add volume.
The Simple Pearl Necklace
It's almost as if the roaring twenties have just decided to repeat themselves a century on. Why not celebrate this by buying a few strings of simple pearl necklaces. As Jackie Kennedy said; "Pearls are always appropriate" and there are very little outfit combinations that you can go wrong pairing them with a string of pearls. But, how do you wear them?
A simple, casual outfit can be matched with a single, simple string of pearls. If you are adding this to a jersey, shirt or t-shirt combination, less is more. If you are swapping out the long pants, leggings, and jeans for a skirt or dress, you can start adding string on top of each other for a fuller, more elegant look. You can choose either length or volume to add more drama to the outfit, making sure you match the pearl color to the shades that you have chosen. Longer, more solid colored outfits can be broken with long dropped pearls, or you can double them up at different lengths to break monotonous colors.
Linked Bracelets
Our favorite bracelets are back on the scene and are even better than ever. 2020 has seen the return of the linked bracelet with the addition of quirky charms dangling off the arm. The predominant color of the bracelets this year is gold, which offsets a pearl white charm perfectly. What is great about this trend is that you can choose simple links, sized to your preference, and add as many additions as you like.
Charms can also be interchangeable. So, if your mood caters to it, and your outfit is calling for color, you can slip in some multicolored pearl charms, or you can keep to the classic gold and white for a more formal, classic look. It's an elegant look that will not go out of style, so you can really spend a little more on your investment bracelet if you are choosing a classic style as it will last years.
Last Thoughts
Pearls are a classic addition to any outfit and an absolute must-have for every woman at some point in her life. A good set of pearls can last years, even decades, so if you are looking to make the investment, do some research on the best place to purchase them, and make sure you know what you are looking for. If you are looking to spend more on pearls, keep the classic look in mind. Try and avoid any overly colorful sets that might, in a few years go out of fashion. Keep the basic principles of trends in mind; whites, blacks, silvers, and golds are the staple of any good outfit.