The ongoing Milan Fashion Week might not come to a happy end with designers opting for closed show in the fear of Corona virus spread. However, some good news for the fashion industry and fans of Prada. Miuccia Prada is to team up with Raf Simons!
We have all the details:
HOW DID IT ALL START?
The newly found appointment for Simons would not be the first time the designer has teamed up with Miuccia Prada. In fact back in 2005 thanks to Prada the designer got his first big break, post eponymous brand success, by becoming the head of Jil Sander. A label at the time owned by the Prada Group. Simons remained as the head designer of the brand for years after, even when acquired by Change Capital Partners and then GIBO Co. SpA, the Italian subsidiary of Japanese firm Onward Holdings Co. Ltd. Raf Simons remained at Jil Sander till the return of the original founder, Jil Sander herself, who came back in 2012 for a short stint.
Following his Sander ousting, Raf Simons wasted no time, previous years saw him as the creative director of Christian Dior as well as Calvin Klein's last push to revive the now defunct Calvin Klein Collection. Simons left Calvin Klein rather infamously, with the american label completely discarding it's runway collections. His ousting resulted in the cancellation of the Calvin Klein Collection, and greatly changing the fashion house's business concept. Today Calvin Klein is solely focused on it's Calvin Klein Jeans and Underwear collections. Calvin Klein 205w39nyc era by Simon's while celebrated for it's creativity showed all the weakness of brand's struggle to maintain the runway line as well as the editorial sample allocation. The 205w39nyc line was issued to magazines and stylists alike only as a total look option, allowing no re-interpretation of the designer's work. The stylists and magazines were met with a demand of featuring carbon copies of Simons' runway looks.
HOWS IT GONNA WORK?
Ras Simons and Miuccia Prada are to both work as co-creative directors. This working partnership between the designers will bring for both equal responsibilities both on the creative side and strategic decision making.
MUTUAL FRIENDS
Both Miuccia Prada and Raf Simons have a favourite photographer – no doubt a great connection between the two is photographer Willy Vanderperre. The photographer has worked regularly in the recent years on Prada campaign imagery, while with Simons' he's one of go-to photographers for decades.
Suitingly so the portrait of Raf and Miuccia together was snapped by Willy Vanderperre himself.
WHEN ARE WE TO GET THE RAF x MIUCCIA for PRADA?
Sadly, it will be a bit of a wait till we have our hands on the first Miuccia Prada and Raf Simons pieces for PRADA. The designers are to start working on their mutual collection as early as April this year. While we won't be able to buy the pieces this year, come September 2020 we will see the first collection. The first Prada collection designed by Miuccia and Raf simons will be the Prada Spring Summer 2021 womenswear collection. It is scheduled to hit the runway in September 2020 during the upcoming Milan Fashion Week.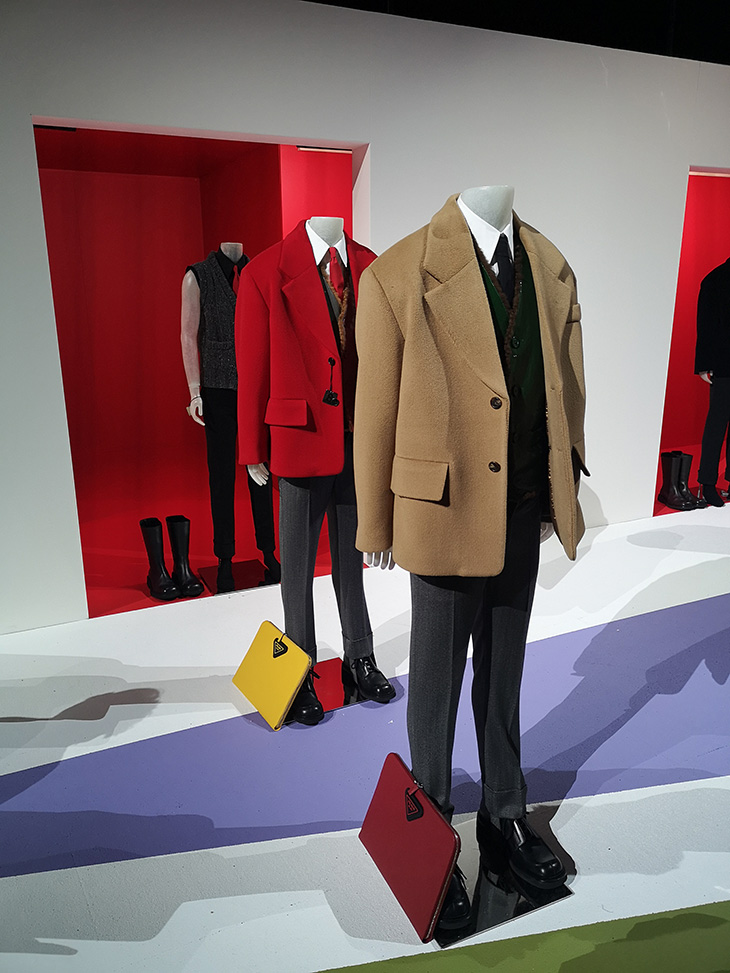 WHAT DOES PRADA GROUP HAVE TO SAY?
This new era while met with great expectation shows a unique challenge for the fashion house. With Miuccia's very own direction being the cornerstone of her own collections, the same design output exists with Simons and his design aesthetic. Prada label representatives shared the following:
This partnership, encompassing all creative facets of the Prada label, is born from a deep reciprocal respect and from an open conversation – it is a mutual decision, proposed and determined by both parties. It opens a new dialogue, between designers widely acknowledged as two of the most important and influential of today. Conceptually, it is also a new approach to the very definition of creative direction for a fashion brand – a strong challenge to the idea of singularity of creative authorship, whilst also a bold reinforcement of the importance and power of creativity in a shifting cultural landscape.
The fashion house reassures us with a promise of innovation, which till this day remained the cornerstone of Prada's unique sentiment:
Innovation is an inherent facet of the identity of Prada: a willingness to push boundaries, to experiment, to take opportunities to advance. If the notion of a partnership is to work jointly, the result of that conversation may not only be product but also the propagation of a thought and a culture.
WHAT IS TO HAPPEN TO RAF SIMONS EPONYMOUS LABEL?
By the time being Raf Simons' eponymous label has issued no statement. Nevertheless, Simons never stopped working on his eponymous line. Throughout Jil Sander and Christian Dior days to his equally demanding time at Calvin Klein.