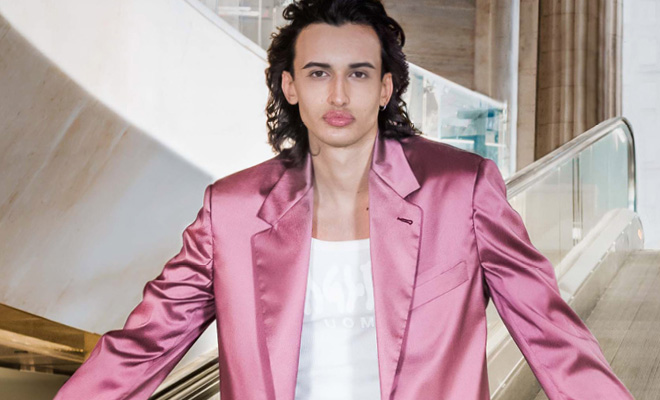 Milano Fashion Week Men's is back for the Fall Winter 2021.22 season with more brands scheduled than in the pre-pandemic days. However, in the final calendar released today by the Camera Nazionale della Moda Italiana only four fashion houses have confirmed organizing a runway show. Dolce & Gabbana with a show set for their Metropol venue Viale Piave location, Fendi, Etro at the Via Tortona 54 space and KWaw.
Scheduled to starts on Saturday 15th of January lasting through Tuesday 19th of January, Milano Fashion Week Men's is ready to showcase work of 40 fashion houses. Ten of these brands are showcasing as part of Milan Fashion Week for the first time listing Solid Homme, Dima Leu (winner of Who's Next 2020), Vaderetro, Dalpaos, Dhruv Kapoor, Tokyo James, Lagos Space Programme, Bloke and Nick Fouquet- Federico Curradi as well as KWay a brand taking part with a runway show.
Camera Nazionale della Moda Italiana is once again streaming the digital content on their web page following the scheduled time slots.
Fashion films have turned into a true cornerstones of the fashion industry in 2020 with brands finding innovative ways to present their runway collections with runways turned short films. This brings an important new aspect to the meaning of live-stream of Fashion Week events on a global scale. Milano Moda Uomo has also announced a simultaneous worldwide coverage across all time-zones by Camera Nazionale della Moda Italiana partners such as Kommersant Publishing House in Russia, Tencent Video in continental China (excluding Hong Kong, Macao and Taiwan) and The Asahi Shimbun in Japan.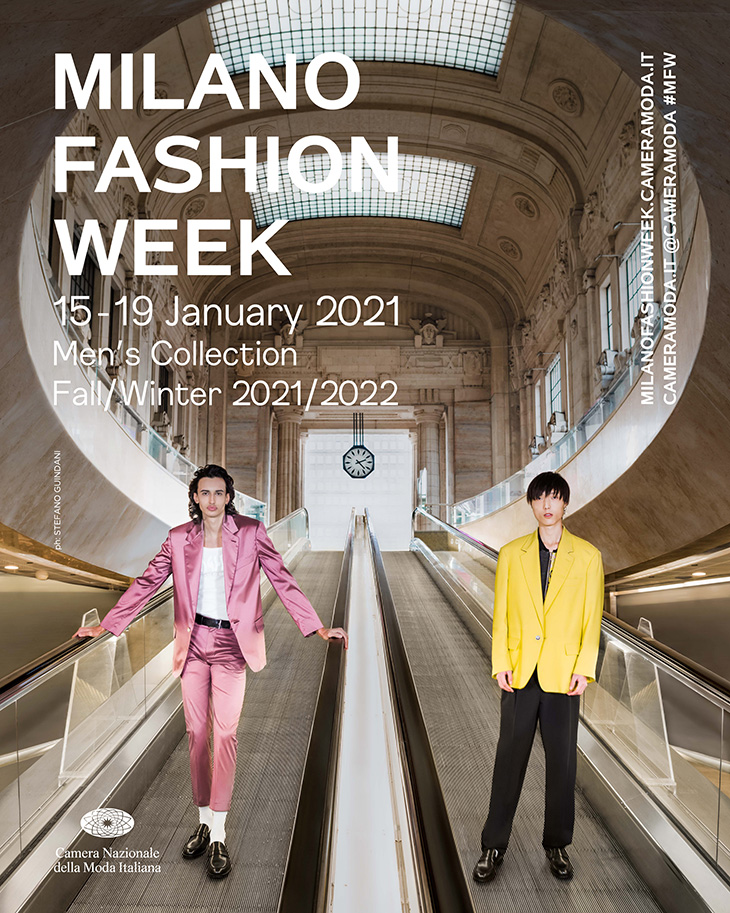 "This edition of the Fashion Week marks the start of a long-term partnership between Camera Nazionale della Moda Italiana and Fashion Film Festival Milano. The 7th edition of the Festival will in fact be covered on CNMI's digital platform from 13 to 19 January 2021. The selection for this year's Festival numbers over 200 fashion films out of the over 1,000 competing entries from 60 countries," adds Carlo Capasa in his letter sent out today to the press members of the Camera Moda.
The five day schedule comes with a visible absence of Milanse powerhouse Giorgio Armani who has decided to present its menswear collection alongside the womenswear line. Kicking off the Fall Winter 2021.22 Milano Fashion Week Men's is Ermenegildo Zegna with an already announced live stream.
Another exciting moment of the coming schedule is Prada, who is set to present it's first menswear collection since designer Raf Simons joined the helm alongside Miuccia Prada. The city of Milano and its fashion industry as part of one of the worst hit Covid19 hit areas has suffered immensely since the start of the pandemic. Almost a year later the city is again suffering from severe covid19 restrictions and to this day it is little known if the scheduled runway shows are to have audience members present. Mid-December fashion house Bottega Veneta has presented it's Spring Summer 2021 runway shows weeks after the schedule marking the ending of the SS21 season. The Bottega show filmed long before the actual presentation was presented in a very socially distanced salon like runway setting. Whether the scheduled runway shows in Milan next weekend will follow the same route it remains to be seen. Etro and Dolce & Gabbana were in the summer of 2020 the first brands to stick with the traditional runway format, holding the men's runway show in open space venues. The following womenswear season followed both of the brands with the addition of Fendi hosting closed venue runway shows with limited audience attendance.
The official fashion week promo shot at Stazione Centrale in Milan features looks for Milan's brand on the rise Magliano and it's work of photographer Stefano Guindani.
Continue reading to see the final schedule for Milano Men's Fashion Week 2021.22 runway season:
Friday 15 Jan
15:00 ERMENEGILDO ZEGNA
16:00 LAGOS SPACE PROGRAMME
17:00 NICK FOUQUET – FEDERICO CURRADI
Saturday 16 Jan
10:00 FEDERICO CINA
10:30 ELEVENTY
11:00 DAVID CATALÁN
11:30 SPYDER
12:00 CHURCH'S
13:00 CHILDREN OF THE DISCORDANCE
14:00 FENDI – VIA SOLARI, 35 – runway
15:00 MIGUEL VIEIRA
15:30 DOLCE & GABBANA – VIALE PIAVE, 24 – runway
16:30 KITON
17:00 SERDAR
18:00 ICEBERG
Sunday 17 Jan
10:00 MTL STUDIO
10:30 DHRUV KAPOOR
11:00 APN73
11:30 TOKYO JAMES
12:00 ETRO – VIA TORTONA, 54 – runway
13:00 MSGM
14:00 PRADA
15:00 TOD'S
15:30 HAN KJØBENHAVN
16:00 BLOKE
17:00 SUNNEI
18:00 KWAY – VIA DELL'APRICA, 12 – runway
Monday 18 Jan
10:00 PAURA DI DANILO PAURA
11:00 KB HONG
12:00 GALL
13:00 SOLID HOMME
14:00 VADERETRO
15:00 WOOLRICH
16:00 DALPAOS
17:00 NUMERO 00
Tuesday 19 Jan
10:00 A-COLD-WALL*
11:00 MAGLIANO
11:30 JIEDA
12:00 LES HOMMES
13:00 DIMA LEU