Spring brings a sense of renewal, to our natural world outdoors, to our mental state, and to our well-being. It banishes away the dark and gloomy days of winter and invites a fresh new season that is as rejuvenating as it is beautiful. Along with the sense of renewal and rejuvenation of the spring season comes the urge to declutter our homes, spring clean, and transform it into a charming sanctuary. So, if you're seeking a fresh new look of spring, it truly is a fantastic time to spruce up the home. From bringing the outdoors inside with a bouquet of freshly picked flowers to transitioning to lighter fabrics, here are nine ways to transform your home for springtime.
Hang a Spring Wreath on Your Front Door
Decorate your front door with a spring-inspired wreath. Just as you would hang a wreath for the holidays, give your door an eye-catching bouquet with some spring flowers, including forsythia, tulips, dogwood blossoms, and whatever type of spring sprigs you love.
Throw Down a New Welcome Mat
A wreath is not the only way to spruce up your home's front entrance. Invite all your friends and family members into your abode with a new springtime welcome mat. Go for something vintage-inspired with a cottage chic vibe that looks like you just scavenged a spring yard sale. Or a welcome mat that offers a cute illustration of spring critters like bunnies, birds, and bees. Be sure to add a potted plant at the front stoop too.
Add Greenery Indoors Too!
It's not just about the wreath or potted plant at the front door. Bring greenery indoors as well! Get outside on a beautiful, warm spring day and swing by your local farmer's market or your local grocery store to pick up some freshly cut flowers. Arrange a bouquet of tulips or daffodils in a cute vase and showcase it on your dining table or coffee table. You can even place a small bouquet of lavender beside the bed to give you a good night's sleep or some ferns and aloe vera in the bathroom to absorb humidity. Even if you don't have a green thumb, add a terrarium of faux succulents that can bring the outdoors in just as well.
Think Bright Colors
Since spring brings about a sense of renewal, remove the darker jewel-tone colors of winter and replace them with pops of bright pastels, greens, and even bold neons that are back in style. There are so many ways to add color! Toss a soft pink or lavender throw pillow against your sofa or chairs to add a springtime accent. You could even change out your bedsheets, replacing heavy flannels with crisp white linens or soothing cloud-like blues. The same concept goes with throws and even curtains and window treatments.
Another way to add some bright colors is to paint a focal wall (or repaint a room entirely). This kind of home project is best completed in spring, too, as it allows you to open the windows and flush the room of any toxic paint fumes.
Transition to Lighter Fabrics
Speaking of replacing heavier flannel bed sheets, be sure to transition into lighter fabrics throughout the home. Take away the faux fur throws and chunky knit blankets and replace them with something lighter and brighter, such as cotton and linens.
Also, while pops of color work wonderfully for accent pillows, stick to neutrals that can give the illusion of a larger space and which are capable of layering without clashing. Swap out your heavier drapes, once used to keep rooms warm in the chilly winter, with something more lightweight, breezy and flowy, such as sheers or textured flax linens.
Swap Out the Tableware and Glassware
Now that winter is gone, you can swap out any holiday tableware and glassware for something more casual. Think easily stackable, hand-blown tumblers you can carry outside on the patio or backyard. Replace metal chargers with natural woven rattan or textured glass material. Bring out the coffee mugs and decorative servers with floral prints. And, again, think brightly colored linens and crisp white plates to lend a fresh airiness to your table setting.
Swap Out Candle Scents
Spring means it's time to put away those rich-smelling, cranberry- and cedar-scented candles with something more fresh and lively. Swap out the winter scents like these with a fresh floral scent to bring spring indoors even more. Add a candle in each room throughout the home to lend a more spring-friendly atmosphere and ambiance. Citrus candles are great for adding an energy boost too. Even better, be kind to the environment and your body by lighting a soy wax candle, which burns cleaner and is more sustainable than its paraffin counterparts.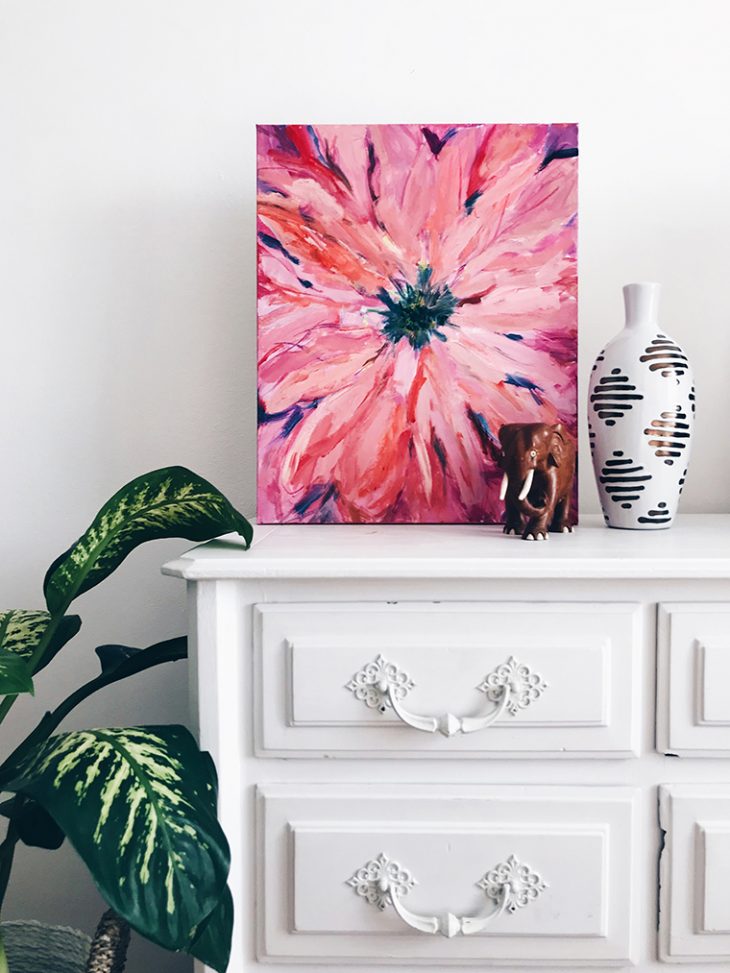 Reduce Clutter with Cute Baskets
Since it's time for spring cleaning, where your main mission is to get rid of all the clutter, you might as well store it somewhere cute. Add a basket to the living room for containing throws and all your pets toys. Think of baskets made of woven seagrass or heavy braided ropes to lend a natural, earthy quality. Also, consider baskets with handles, to easily carry them around, and with lids, to hide stuffed animals. Today, many baskets can be found in a two-tone look with blocking that adds a subtle hint of color.
Spruce Up Your Backyard Patio
Like the front door, don't forget to spruce up your home's outdoor living space as well. After all, it's nice to finally be able to enjoy some warm weather, so make it more inviting with some outdoor furniture and string lights so you can enjoy your outdoor space for many long hours. Add a few hurricane candles to cast a glow and throw some bright pops of color, just as you would indoors. Make your outdoor space eclectic, too, with some mismatched folding tables and poufs to complete a seating arrangement.